Teacher Appreciation TpT Sale and Other News
This has never happened before! Two TPT sales back to back!
Last month, we wanted to support you as you struggled to adapt to teaching online.
This month we want to show our appreciation for how hard you have worked to provide quality instruction to your students all the time and, especially, during this challenging time. Many teachers (including my own husband) have told me that teaching online is way more work than classroom teaching. In addition to your normal duties, you spend a huge amount of time learning how to connect with students, share resources, and assess work virtually.
So… THANK YOU! The TPT sale is May 5th and 6th and all my resources will be 20% off. You get an additional 5% off when you enter the code, THANKYOU20.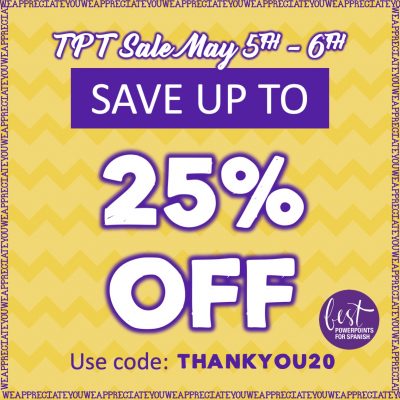 Teacher Appreciation TPT Sale
Don't forget to get your TPT credits after each purchase so you can save even more!  Click on, "My Purchases, Needs Feedback, Provide Feedback. Then go to your shopping cart and click, "Redeem TPT Credits."  20 credits = $1 off on your order.
Since my Google Drive and Digital Activities Bundle is already 20% off, that means you can purchase it for 45% off!!!  Now is the time to snag it. Additionally, I continue to add new digital resources to that bundle so any new activities will be free for you!
Also, I am on a quest to convert all my products to digital. When you buy any resource that says, "distance learning" either in the title or description, you will have resources that can be printed, taught in class, or assigned digitally or on a Google platform such as Google Classroom.
If you would like to quickly find which resources have digital versions, click on my custom category, "Distance Learning."
Other resources that can be used to teach online are the following:
Spanish Escape Rooms (These are included in the Google Drive Activities Bundle. That product is also a growing bundle.)
And, as always, all of my large bundles, including my year-long lesson plans are on sale.
They are only discounted a few times a year.
Make this the year you go home refreshed and have more time to spend with your family and friends!
Here are the links:
Spanish One Lesson Plans and Curriculum
Spanish Two Lesson Plans and Curriculum
Spanish One and Two Lesson Plans and Curriculum
Spanish Three Lesson Plans
Spanish Two and Three Lesson Plans
Spanish One, Two, and Three Lesson Plans
AP Lesson Plans
Spanish One, Two, Three, and AP Lesson Plans
French PowerPoints and Curriculum Bundle
Ask your school to buy them for you! Everybody's doing it!
Happy teaching and enjoy the sale!
Angie