What Do You Do at Back-to-School Night?
What Do You Talk About in Back-To-School Night?
In this post, I'll tell you what I do at Back-to-School Night. Hopefully, some of the ideas will help you have a successful experience with the parents, build credibility, and establish a good rapport for future communication. I will also give you the PowerPoint I use at Back-to-School Night so you can modify it for your needs. It's free! Link is below.
After each Back-to-School Night, my principal or VP would tell me parents had come by to say how much they had enjoyed the presentation. They even described it as FUN! Yes, parents need to know the learning goals of the class. Your grading system. Your classroom management system. But most importantly, they want to experience what their child experiences in the classroom.
But, let's start at the beginning.
How to Prepare for Back-to-School Night
Send home an invitation to the parents. To ensure most parents see it, one option is to make it a homework requirement that parents sign.
Prepare a PowerPoint with bullet points to help you seamlessly talk to parents. Don't put too much text on each slide. (See my example.)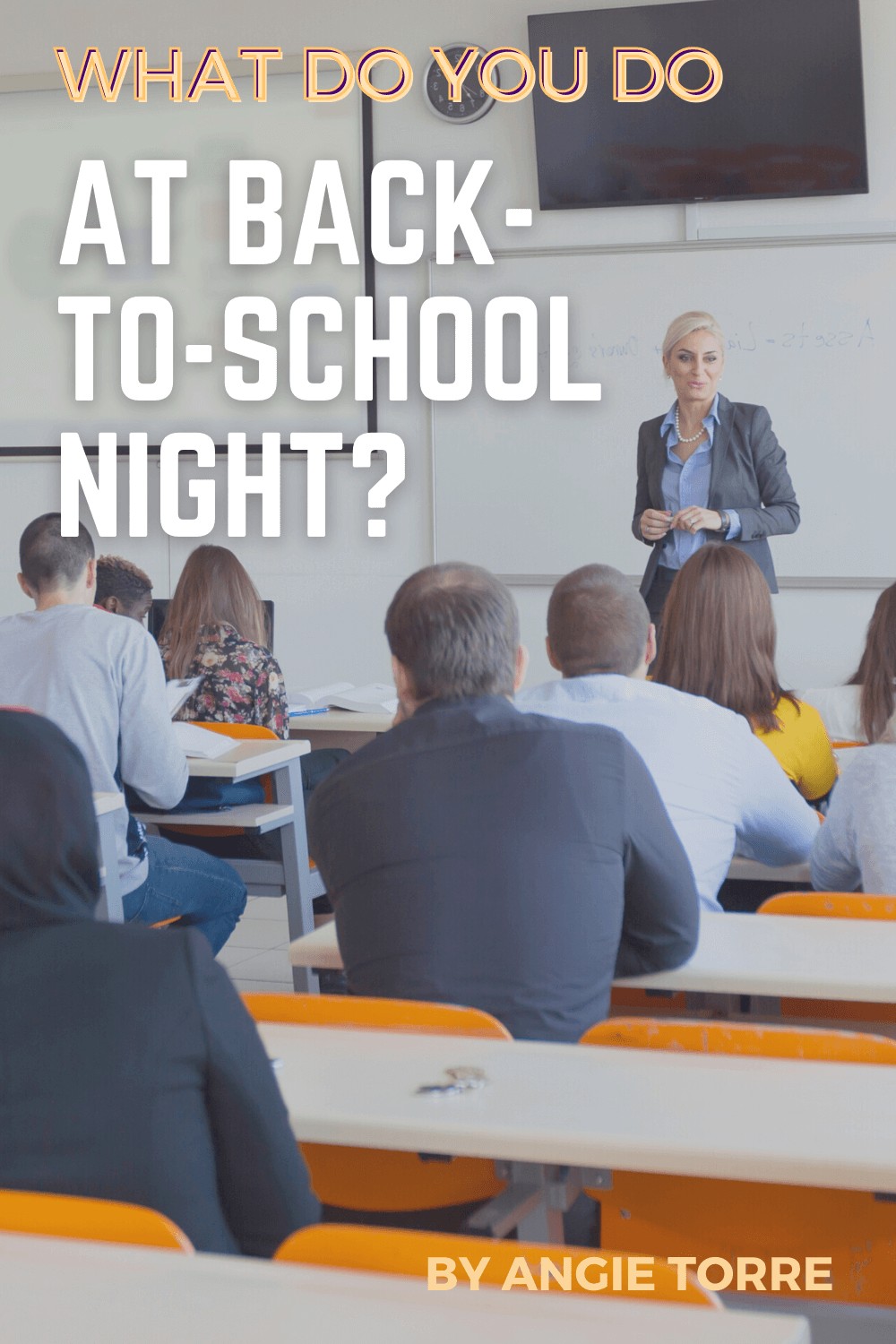 What to Include in Your Back-to-School Night Presentation
1. TELL A LITTLE BIT ABOUT YOURSELF
to establish credibility and build trust. For example: I always tell parents I studied in France, Spain, and Mexico, that I have my Masters, how long I've been teaching, how I studied second-language acquisition long before taking any methods classes, how all my AP Spanish students passed the exam, and any other information that will give parents confidence their child will learn in my class.
2. HAND OUT IMPORTANT INFORMATION
Pass out your learning targets and/or syllabus, your grading policy, homework policy, consequences. (Bonus: Parents use the papers during the practice and competition.)
3. EXPLAIN YOUR GRADING SYSTEM AND HOMEWORK REQUIREMENTS.
4. EXPLAIN YOUR CONSEQUENCES
Explain the consequences for behavior and your classroom management system.
5. PROVIDE ALL THE LINKS for getting in touch with you: Website, email
6. EXPLAIN YOUR TEACHING PHILOSOPHY
Explain the philosophy which guides your strategies and choice of activities. For example, I spoke about second-language acquisition and how one learns a language through comprehensible input. In fact, below is approximately what I say each time,
"Research has shown that language is learned through comprehensible input. That means that, if I get up and speak to you in a language you don't understand, it sounds like this, ' bvvvlllaalllvvvbbbkkk.' Because it's not comprehensible. I have to MAKE it understandable to you. That is the world language teacher's job. We use visuals, gestures, activities, digital tools, realia, and any other tool available to do that. Now, if I stand up here and say (pointing to my nose) 'la nariz' and (pointing to my arm) 'el brazo,' you will understand. That is comprehensible input.
And students must hear the language many times in context before it sticks. I have read they must hear it 72 times in context.
Also, the mind can only process so many new words at one time. Therefore, I can only add a few new words at a time. The input must be L+1, that is, slightly more difficult than what students already know. If I give them input that is too advanced (like a regular TV show), they will not acquire the language.
NOW, LET ME SHOW YOU WHAT A TYPICAL LESSON LOOKS LIKE."
And then I show them how that works.
HOW DO YOU MAKE BACK-TO-SCHOOL NIGHT FUN? THE MOST IMPORTANT BACK-TO-SCHOOL NIGHT IDEA:
7. TEACH A SUPER-ABBREVIATED LESSON
After getting the necessary, boring stuff out of the way as fast as you can dispense it, teach a warp-speed lesson using realia, gestures, and interactive notebook activities. There is no way you can teach a real lesson in ten minutes, which is about all the time you'll have.
I tell the parents,
"I'm going to teach you a typical lesson. I'm going to put you through the same thing I put your kids through. Sort of."
I go through my regular lesson template:
Explain, model, demonstrate: I DO; THEY WATCH.
For the lower levels, I alternately teach commands or clothing vocabulary, so parents don't get the same lesson two years in a row. For the commands, I command myself and obey myself. Then I command them and myself. They obey with me.
Then, I show them the words and they repeat them after me.
For the clothing, I show photos of clothing on a PowerPoint and say the words out loud. I walk around and say what each person is wearing. I show them the words on the screen, and they repeat after me.
I DO; THEY HELP:
I command myself and parents tell me if I'm obeying correctly. I point to the article of clothing and parents tell me if I am saying the right word. Is it this… or that? They tell me which word is correct. ¿Es una falda o una camisa?
Check for Understanding:
I command the entire group and they obey. I point to items of clothing, and they say what it is.
Guided Practice- THEY DO; I HELP:
Parents work in pairs and command each other, switch sides. Parents work in pairs and say what each is wearing. I walk around and help.
Closure:
I project the vocabulary onto the screen. I divide the parents into Team A and Team B. I give commands and the group that obeys the fastest wins. (I record points on the board.) I give each person in the group a number, point to an item of clothing and say a number. The first parent to stand and say what it is wins.
Back-to-School Night Win
In the end, not only do parents realize the class is fun, but they also have experienced, first-hand, how comprehensible input works and will be more apt to buy-in to your methods. Wow! I've only been in the classroom for fifteen minutes and now I can talk about my clothing or obey commands!
CAVEAT: At the end of each section of the lesson I tell parents, "Now, pretend we did that for 30 minutes. Now pretend we did that for a week." And I tell them they would be getting 100 times more repetition in context during the class, that I can only give them a simulation of what really occurs.
When students come with their parents, they are proud to participate and show off what they know.
If you would like to use the PowerPoint I use at Back-to-School Night as a guide, here is the link, as promised: BACK-TO-SCHOOL NIGHT PRESENTATION
What do YOU do at Back-to-School Night? Share your ideas in the comments.
What Do I Teach on the First Day of School?
Speaking of back-to-school ideas: Are you wondering what to teach on the first day of school? After years of experimenting, I came up with lesson plans with the perfect balance of connect-with-students, introduce-the-course, and learning activities for Spanish One, Two, and Three. Click on the link to get them: First Day of School Lesson Plan for Spanish One, Two, and Three
BELOW ARE MORE RESOURCES FOR THE BEGINNING OF SCHOOL:
SPANISH ONE
Spanish Alphabet PowerPoint and Activities
Los saludos PowerPoint and Activities
AP SPANISH
FRENCH ONE
FRENCH TWO
FRENCH THREE
FRENCH FOUR
TPR Story for the French Subjunctive
If you would like more bright ideas for what to do at Back-to-School Night, check out the following block posts:
Back to School Night Ideas from We Are Teachers for lower levels.
How to Prepare for Back-to-School Night from Differentiated Teaching
Don't miss out on freebies! Make sure to follow my STORE in order to get notified of updates on products, free resources, and new products. Happy teaching!
If you would like to receive these blog posts with teaching tips and freebies in your email, subscribe to my monthly newsletter: Best PowerPoints and More for Spanish and French Just scroll down to the bottom and click, "Sign up."
Connect with me on social media!