FLIRTY SPANISH WORDS: HOW TO FLIRT EFFECTIVELY IN SPANISH
You see a Spanish-speaking guy or gal, and it's love at first sight (amor a primera vista), but you don't have the language skills (or the courage) to approach the person. What do you say? What do you do? Wouldn't it be nice to have some flirty Spanish words in your arsenal? In this post, I'll teach you some basic phrases, and their English equivalent, to attract your love interest.
OK, some of them are cheesy lines, but native speakers will attest they often work. So, let's learn how to flirt in Spanish.
Flirting in Spanish is a skill that can come in handy and is a fun and playful way to express your interest in someone. And you know your students would love to know how to flirt in Spanish. Even your "Why-do-I-even-have-to-take-Spanish?" students and your, "I'm-only-taking-this-class-for-college" students will pay attention to a lesson on the language of love. How do I know?
When I was studying in France, as soon as I walked out my dorm room door, male students from all over the world who didn't know a word of English knew how to flirt in French and English.
"You have beautiful eyes."
"You are so beautiful!"
Right.
Teaching students how to flirt in Spanish can be a great way to add a bit of spice to your Spanish conversations in class and hook students into the lesson. It's hard enough to build up courage to approach one's love interest in one's own language, but to do it in a foreign language (It's foreign to you) is even more intimidating. Let's break the language barrier with these Spanish phrases.
---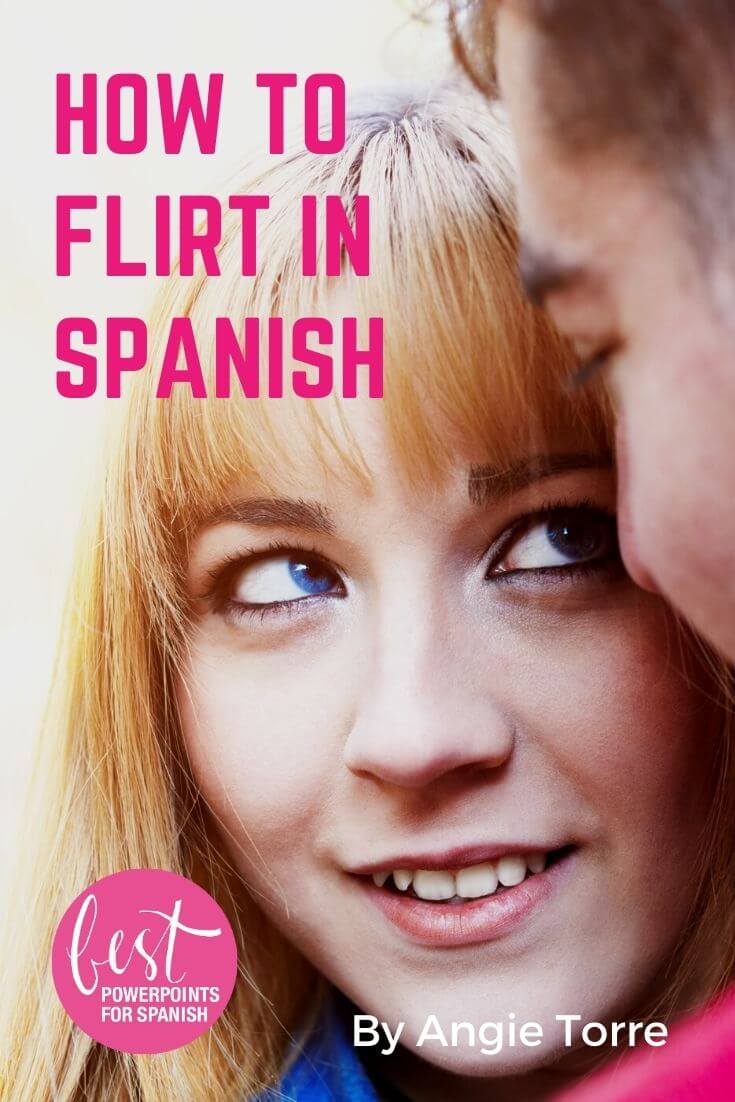 Below are some common flirty Spanish words and romantic phrases you can teach your students or use yourself!
1. LOS PIROPOS: USE COMPLIMENTS
Spanish speakers love to complement each other, so make sure you practice giving compliments in Spanish. Teach phrases like:
¡Eres muy linda! (You're so pretty!)
Tienes una sonrisa muy bonita. (You have a beautiful smile).
¡Qué guapa/o! (How good-looking!)
¡Te ves regia! (You look magnificent!)
¡Qué belleza! (What beauty!)
¡Pareces un ángel! (You look like an angel!)
¡Qué linda te ves! (How lovely you look!)
¡Estás guapo/a! (You look so handsome/pretty!)
¡Estás precioso/a! (You look beautiful!)
---
2.    PARA COQUETEAR: HERE'S HOW TO GET THAT FIRST DATE:
FLIRTY SPANISH WORDS AND PHRASES
FLIRTY BEHAVIORS
Nice conversation and romantic words are important, but equally important for attracting your true love is your behavior. (Now I know why no one asked me to dance at my high school dances. I avoided eye contact with guys at all costs, especially the ones I liked. LOL)
Below are a few suggestions for body language and actions you can take to show someone you're interested.
Mira fijamente a la persona en los ojos. (Stare into a person's eyes.)
Escríbele un mensaje de texto. (Write him/her a text message.)
Acércate e intenta establecer una conversación. Usa un pretexto. (Approach the person and try to begin a conversation. Use a pretext.) In a gym, a line that almost always works is, "Wow! You're strong!"
3.    PARA PEDIR UNA CITA: FLIRTING LANGUAGE TO ASK FOR A DATE
Now that you have his or her attention, you want to use the right words to ask for a date. You can say the following:
BOLD PICK-UP LINES
4.    PALABRAS Y EXPRESIONES DE AMOR: HOW TO TALK IN A ROMANTIC WAY
Once you got the prize, you'll want to express your affection with words of tenderness. Below are a few endearments to use with a guy or gal you love:
5.    PARA DECLINAR UNA INVITACIÓN:
Cudoo also has more ways to woo your Spanish-speaking crush: Cudoo.com
Fluentu.com has 20 authentic, clever pick-up lines. Check them out here:  Fluentu.com
By following these tips and practicing your Spanish, you'll be flirting like a native speaker. ¡Buena suerte! (Good luck.)
If you'd like some ideas on how to teach this vocabulary so it sticks, click the following link: The Best Way to Teach Vocabulary
RESOURCES FOR EL DÍA DE LOS ENAMORADOS OR SAN VALENTÍN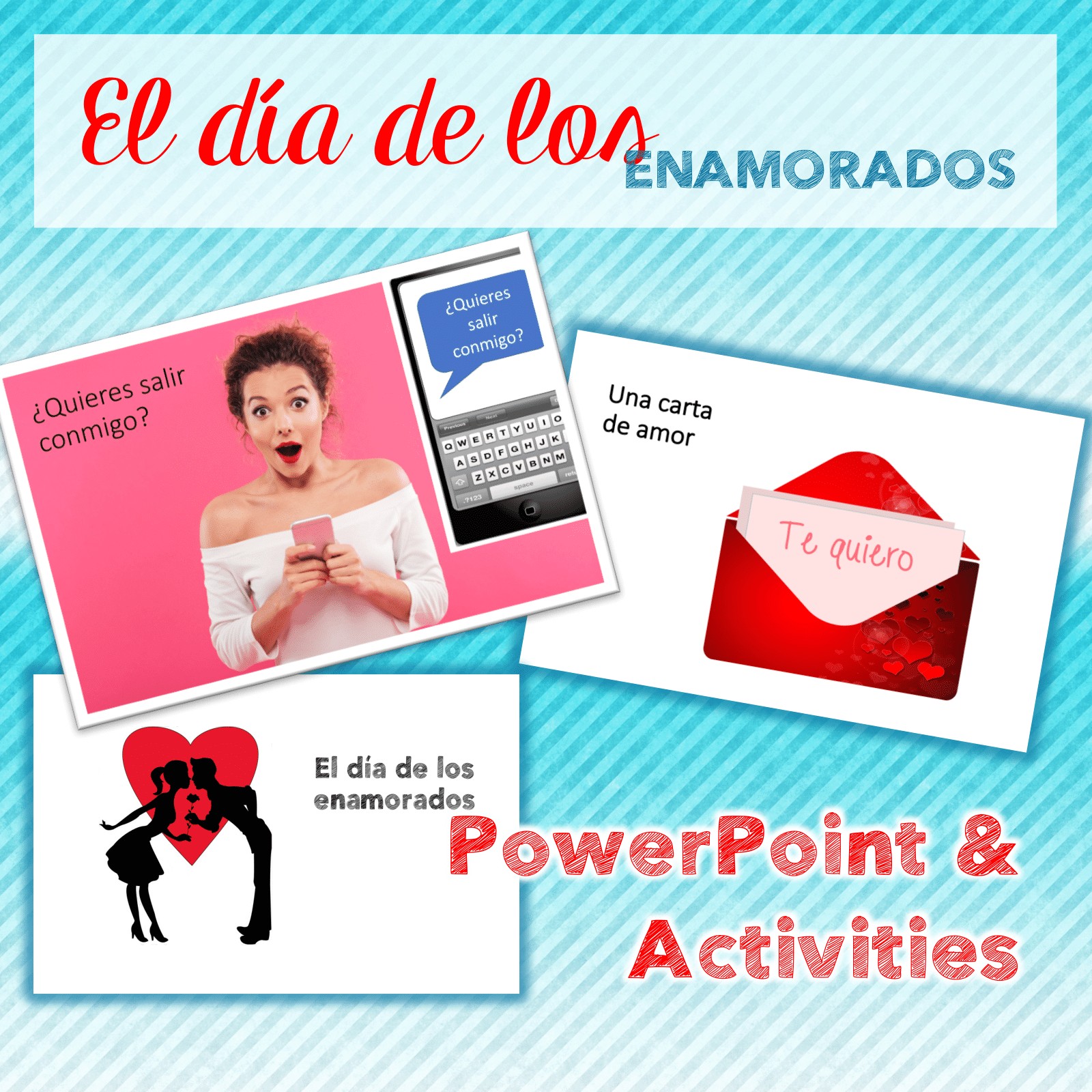 Now that students have a few ways to flirt in Spanish, let's give them more vocabulary words to discuss what interests them most, relationships, love, boyfriends, girlfriend, and romance! This Spanish Valentine's Day Bundle gives students the foundational words and phrases to talk about El amor y la Amistad, El día de los enamorados, or just relationships in general.
The eye-catching photographs in the PowerPoint hook students into the lesson and the hands-on interactive notebook and Google Drive activities keep kids engaged.
Another activity you could use for Valentine's Day is Speed Dating (La cita rápida). My students loved this activity, and it kept them speaking Spanish for over 30 minutes. It's also a great community building activity.
And I saved the best activity for last. Every time I play The Dating Game with my students, the students and I laugh so hard, it takes a while to gather my composure and continue teaching. Not only do the students love it, but it also provides great comprehensible input. Also, while students are playing, they learn the Spanish descriptive adjectives and how to describe themselves and others.
I hope you can use a few of these flirty Spanish words and your students will love learning how to flirt in Spanish.
Don't miss out on freebies! Make sure to follow my STORE in order to get notified of updates on products, free resources, and new products. Happy teaching!
If you would like to receive these blog posts with teaching tips and freebies in your email, subscribe to my monthly newsletter. Click on the following link: Best PowerPoints and More for Spanish and French , scroll down to the bottom and click, "Sign up."
Connect with me on social media!