How to Set Up Your Classroom for World Language Success
You will be going back to school soon and it will be time to set up your classroom. If you want to have a successful year, it's important to prepare properly.
You wouldn't invite 30 people to your house for dinner without spending time to ensure a successful evening: finding a recipe, shopping, cooking, cleaning the house, planning activities, setting up the furniture optimally to facilitate conversation.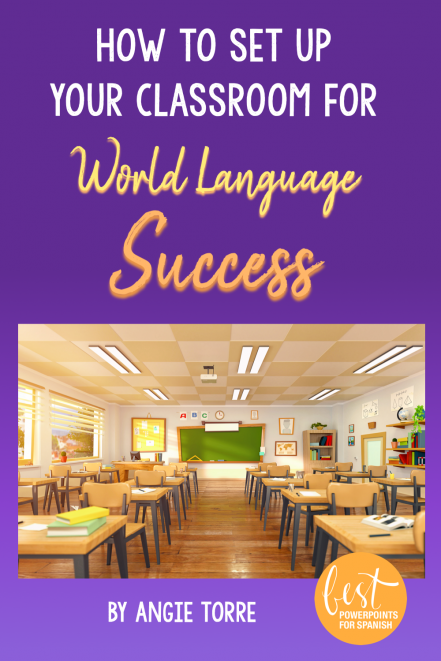 Well… you will have 30 + students every day for ten months. Now is the time create the environment that will allow you to do your best teaching.
Here are five ways to set up your classroom for success.
Plan your furniture strategically.
Make sure the student and teacher desks are positioned in such a way as to allow you unhindered, quick access to all students. Proximity is key to keeping students on-task. You need to have a set-up that allows you to walk around the room.
There was a time I wasn't able to control the furniture.  Years ago, as a long-term sub, I had to teach in a room in which a long half-wall separated the teacher's desk from the students. I could never get into my students' space. I still have nightmares about that experience.
The teacher desk is one of the largest pieces of furniture and can hinder your movement if not strategically positioned.  Move your desk to the side or back of the room so it is not blocking your path and so you are as close to your students as possible.
Choose a design that allows you to reach every student in a few steps. After I set up my room, I physically walk it out to make sure I have quick access with no obstacles. My preferred arrangement also places every student facing me.
Here is the arrangement I use.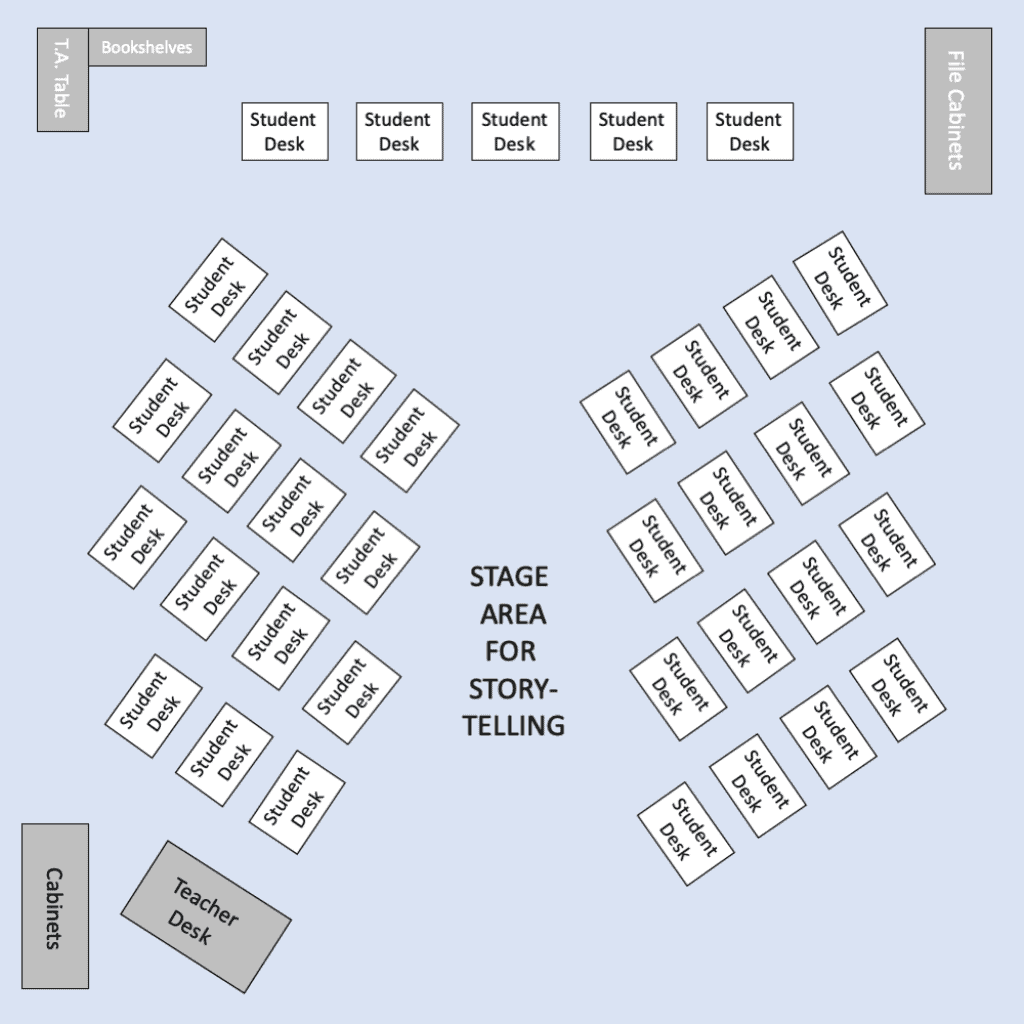 There are many workable arrangements, including the deskless option. You have to experiment to find what works best for you. Fred Jones has many examples.
If you are considering going deskless, the following blog posts will provide information to help you decide if that is the option for you.
Elementary: Fun for Spanish Teachers 
Secondary: Mis Clases Locas
   2. Create a text-rich environment.
Within a few weeks, I speak 90-100% of the target language and reward students for speaking to me in the TL. The way to facilitate student production is by posting high-frequency words, daily-use words, such as classroom objects, and question words all around the room.  I also use Sra. Cruz's clock flower so that, by the time we are studying LA HORA, students are already somewhat familiar with the vocabulary.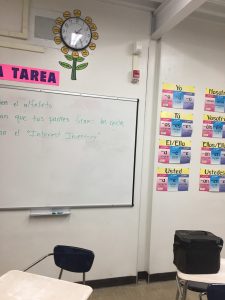 Make it easy for your students to communicate by giving them a wall of quick-reference words.
   3. Organize
Set up your classroom for optimum efficiency by organizing. The only way to survive teaching is to be organized (which is a huge struggle for me.)  Hundreds of handouts and worksheets combined with absent and absent-minded students work together to drive you crazy and distract you from teaching if you don't have a system mapped out in advance.
This absent student file saved my sanity.  It is divided into days 1-31 for each month. Absent students pick up the papers they missed from the previous day.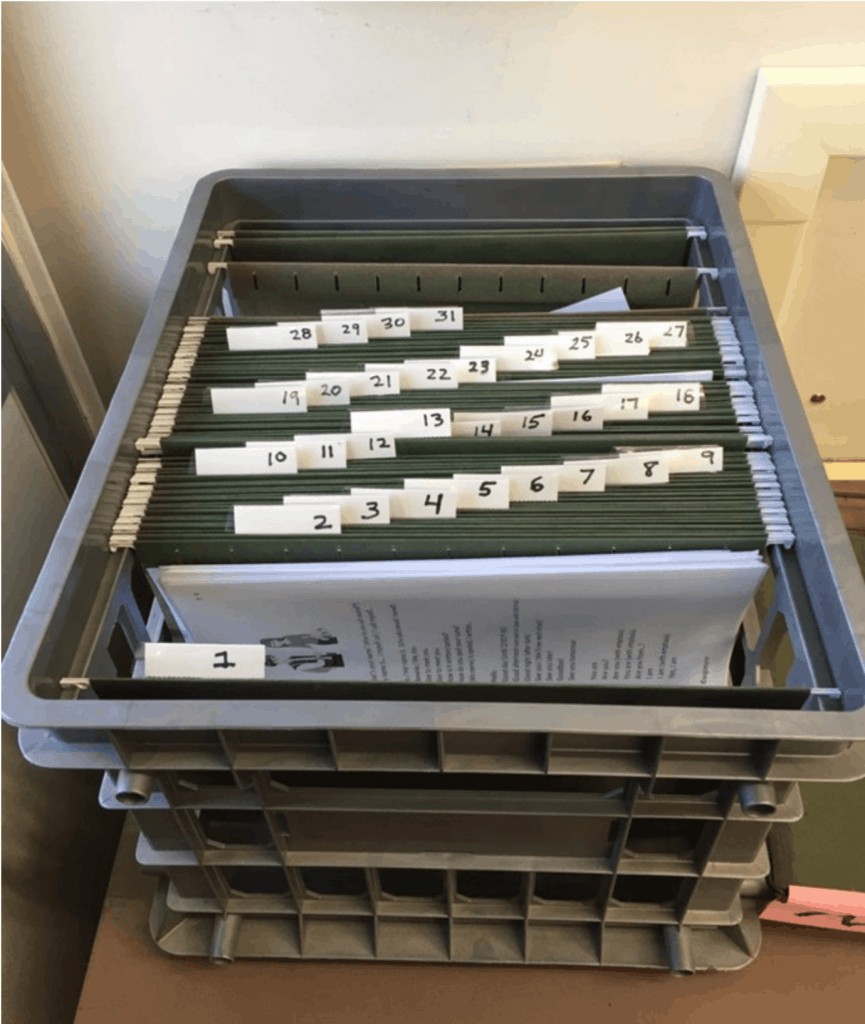 Keep all your lesson plans and resources organized in a binder or in a folder on your desktop. That way you don't have to re-create the wheel.
Here is how mine looks on my desktop: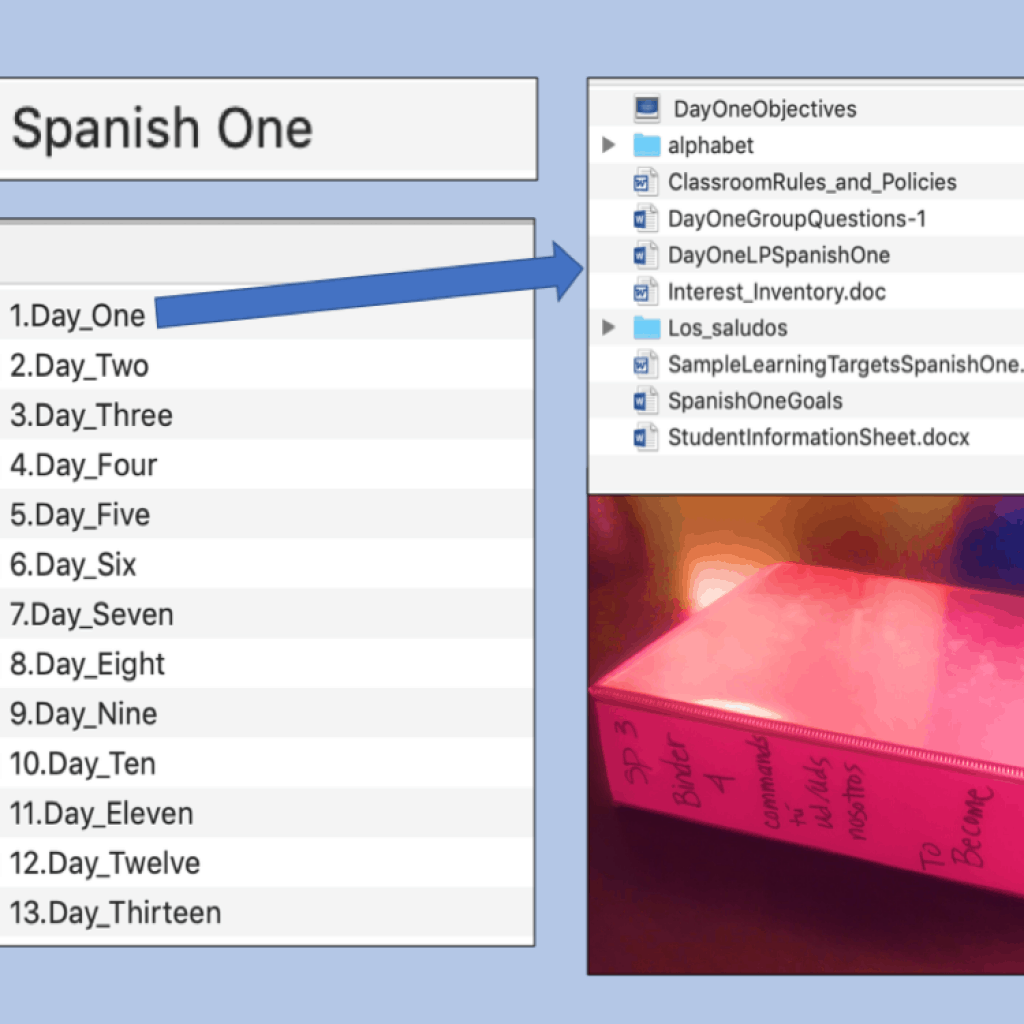 4. Hang a phone holder in the room.
You need a system for cell-phone use or you will fight the cell-phone monstor all year.
Here's how it works: Students drop their phones into the pouch as they walk in and pick up their phones as they leave. They are allowed to use them for emergencies, Minimaratón or other class activities if they ask me in the TL: ¿Puedo usar mi celular?
The pockets should be transparent so you can readily see whose phone is missing from its pouch. Assign a number to each student or put their names on the pouches. I have my T.A.s check at the beginning of class and report back if any are missing.
Here is what my phone pockets look like.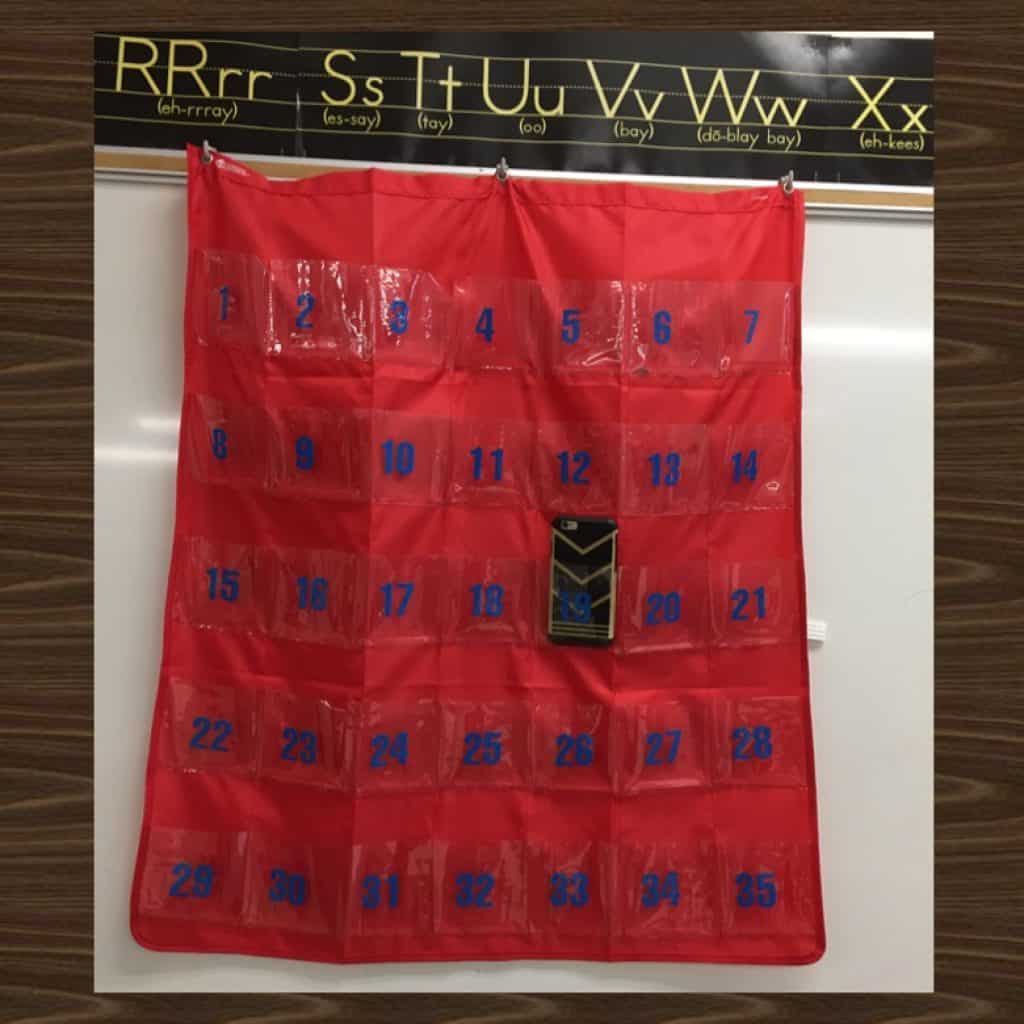 5. Plan for being out of the classroom.
I know, you think you won't get sick. Or the VP won't ask you to leave your students for a day to present a PD. But it WILL happen. When it does, it makes life so much easier to have a plan in place.
Whenever I got sick, it was a nightmare. It was rare to find a French or Spanish-speaking sub and, if I was able to find one, I had to spend two extra hours making the lesson plan understandable for another person when all I wanted to do was collapse and drop my head on a pillow. Then, I had to hope he/she didn't ditch the lesson and tell jokes instead.
Students rarely got comprehensible input when I was gone.
The solution:
Have lesson plans at the ready that include comprehensible input whether the sub speaks Spanish or not.  Plans you can plop on your desk and leave. I created these lessons for the unexpected sick or PD day: Sub Plans for Spanish One, Two, and Three
Now you've set up your classroom and you're ready! Have a wonderful school year!
Stay tuned. Next month we will talk about how to differentiate in a World Language class.
Would you like to get teaching tips and freebies in your email? If so, click on Best PowerPoints for Spanish and French and scroll to the bottom. For signing up you get a FREE 122-slide PowerPoint on regular verbs and infinitives.
Are you following my store? Be the first to see new products and updates on existing products. Click on MY STORE to follow me.
Connect with me on Social Media: