Spanish Resources: Everything You Need to Successfully Teach Spanish 4
Spanish Four is my favorite level to teach because students are highly motivated, but you don't have to spend hours every day correcting essays as you do in AP Spanish.
You DO have to correct essays for about two months, but that will not kill your brain cells like the unending stack of AP Spanish compositions and emails. And if you already have the resources you need, teaching Spanish Four will be a breeze. In this post, I will share the Spanish resources and activities I use that make for engaging and effective lesson plans.
The challenge of teaching Spanish Four is that students must be AP Spanish-ready when they complete the class. To adequately prepare for the advanced Spanish class, students must learn to write and organize essays, learn new vocabulary, review grammar, study culture, practice listening and speaking, and begin to read authentic books.
---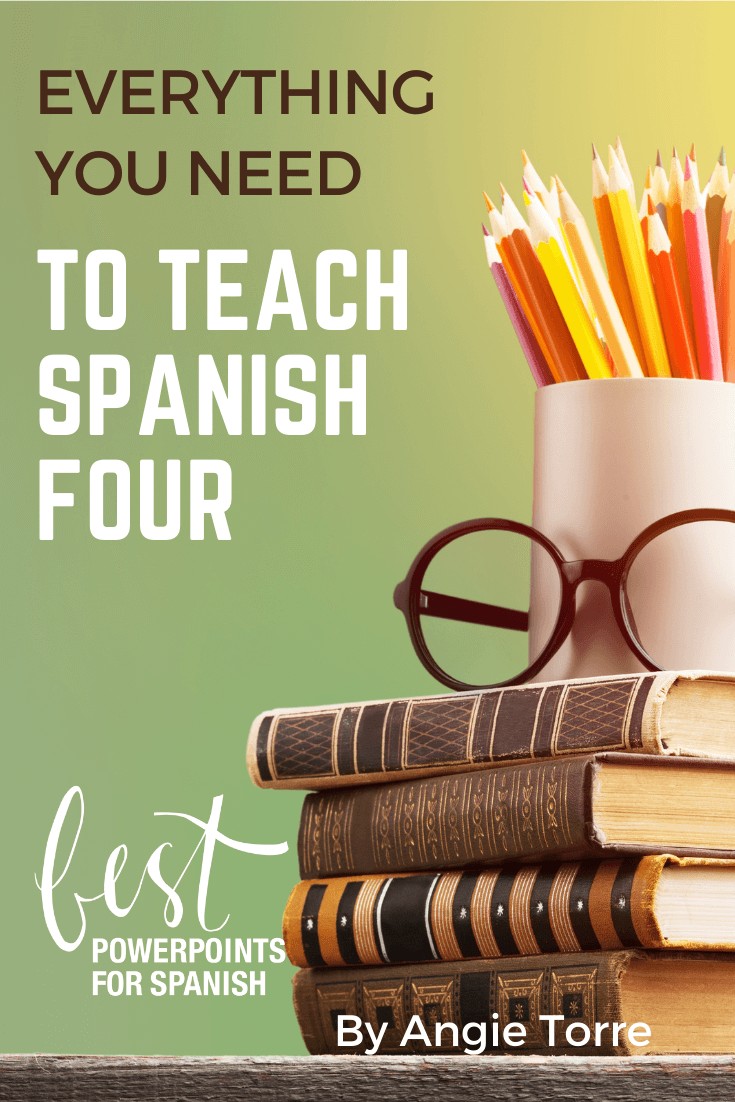 SPANISH READING COMPREHENSION
Reading novels expands students' vocabulary, introduces them to Spanish and Latin American literature, and accustoms them to longer texts. My Spanish learners greatly enjoyed the following novels and readings:
Cajas de cartón by Francisco Jiménez
Una carta a Dios by Gregorio López y Fuentes
Yo y el ladrón by Wenceslao Fernández Flórez (LOVE this one!)
Los ojos de Carmen by Veronica Moscoso
Un día de estos by Gabriel García Márquez
El dueño del sol (Can't find the author for this.)
---
Each novel or lectura has vocabulary lists, comprehension questions, and quizzes in the lessons. The vocabulary words for Cajas de cartón are listed alphabetically so students can find words quickly and read more fluidly. If they hunt for too many words in the regular or online dictionary, they will get discouraged and, even worse, lose the joy of reading, which would be a terrible shame.
In Spanish Four, students finally have enough foundation to be able to enjoy reading, especially with the help of the teacher.
SPANISH GRAMMAR AND REVIEW
The following concepts must be covered to give students the proper grammar foundation so they can begin to communicate well in speaking and in writing. I spend quite a bit of time reviewing Spanish Three concepts, expanding on the themes and adding more details as I go.
Spanish Accents and Spanish Pronunciation
Irregular Verbs
Orthographic Changes
Stem-changing Verbs in the Present Tense
Ser vs. Estar with the Present and Past Participle
Ser and estar as Auxiliary Verbs with the Progressive Tenses
The Passive Voice
Comparing Reflexive and Non-Reflexive Verbs
Direct, Indirect, and Double-Object Pronouns
The Present Subjunctive helps students write about emotions, denial, doubt, and implied commands. Must master the subjunctive
The Spanish Preterite Tense
The Preterite vs. The Imperfect
Review of the Perfect Tenses: present perfect, pluperfect, future perfect, conditional perfect, infinitive perfect
Por and Para
Non-intentional Expressions using SE
Spanish Compound Tenses
Por y para
IF TIME:
The Present Perfect Subjunctive and the Pluperfect Subjunctive.
If you need Spanish resources to help you teach these concepts, click on the links below. All resources have digital and printable resources.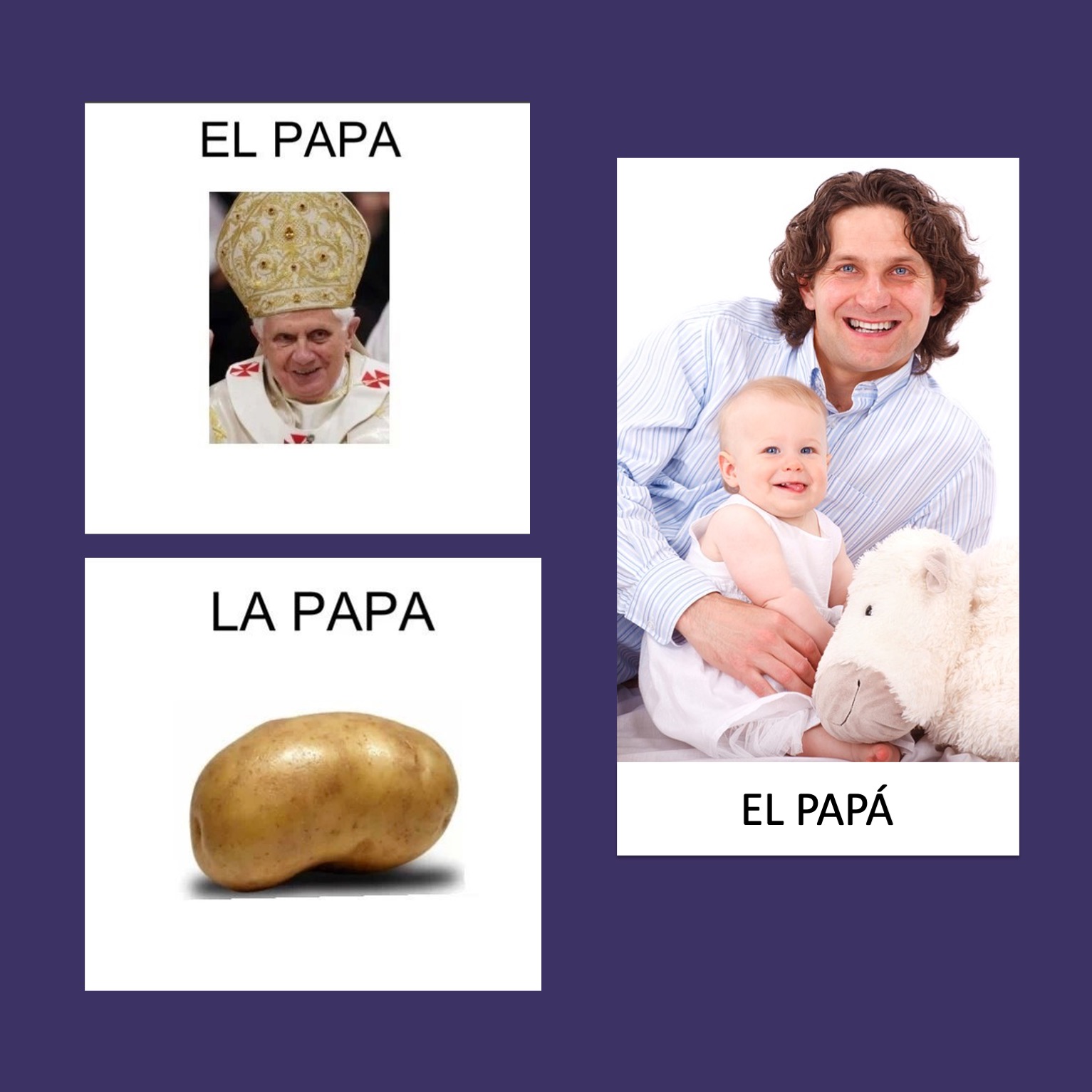 SPANISH FOUR RESOURCES
SPANISH ACCENTS
Spanish Accents Attention Getters use humor to teach students the importance of regular and diacritic accents.
Spanish Accents PowerPoint and TPRS teach and test the rules for accents and pronunciation and include a story that demonstrates the meaning of diacritic accents.
Spanish Accents Lesson Plans and Curriculum: This resource does everything for you, including lesson planning. All you do is teach and correct.
SPANISH PRESENT TENSE AND IRREGULAR VERBS
Los cambios ortográficos PowerPoint and Activities
Stem-changing Verbs for Spanish Three
Spanish Present Tense Lesson Plans and Curriculum: These Spanish lessons teach students all the present tense so they have the necessary foundation for the subjunctive. They provide clear grammar explanations with practice activities and assessments.
SER VS ESTAR
Ser vs. Estar Lesson Plans and Curriculum
Ser vs. Estar Autocorrecting Tests and Activities
SPANISH RESOURCES FOR THE SUBJUNCTIVE
Spanish Present Perfect, Imperfect, Pluperfect Subjunctive PowerPoints
Spanish Present Subjunctive Digital Escape Room
Subjunctive Autocorrecting Digital and Printable Tests and Activities
Spanish 8-Stations Speaking Activity for the Subjunctive
Subjunctive Google Drive Activity
Subjunctive Lesson Plans and Curriculum includes all the above resources as well as the no-prep, step-by-step lesson plans.
Si yo fuera PowerPoint for the Imperfect Subjunctive with Si clauses
PRETERITE VS. IMPERFECT
Preterite in Spanish Lesson Plans and Curriculum
Preterite vs. Imperfect Lesson Plans and Curriculum
Preterite vs. Imperfect Videos for Comprehensible Input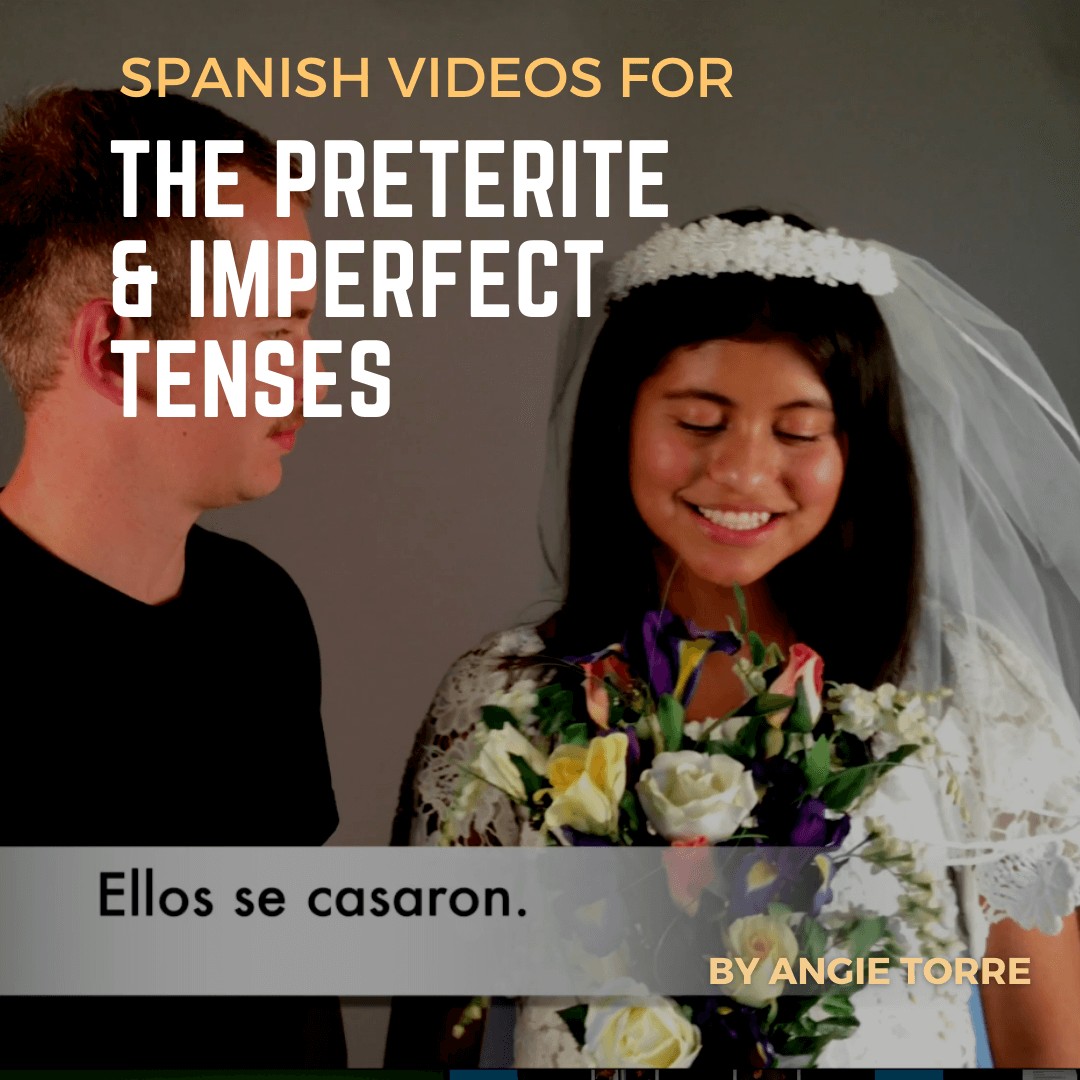 EL SE IMPERSONAL Y LA VOZ PASIVA / THE IMPERSONAL SE AND THE PASSIVE VOICE
El se Acciones no intencionales Speaking Presentation
El se impersonal y el no intencional Lesson Plans and Curriculum: Explains all the uses of SE in Spanish and the grammar rules for La voz pasiva
SPANISH COMPOUND TENSES
By the end of Spanish Four, your students should be able to use most compound tenses with ease. On the block schedule, I had to wait until AP Spanish to teach the pluperfect subjunctive.
Spanish Compound Tenses PowerPoints and Curriculum
POR Y PARA PowerPoint to help students speak more authentically.
IDIOMATIC EXPRESSIONS
To improve communication and proficiency, students must learn Spanish idiomatic expressions, which will also prepare them for the more authentic written and audio texts they will be exposed to in AP Spanish. Students learn all the different ways to say, "to become" with the resources below.
Expressions for TO BECOME in Spanish PowerPoint, TPRS Story, and Activities
Spanish TO BECOME Autocorrecting Activities
ESSAY WRITING
In Spanish Four, students must learn to organize their thoughts and write coherent essays, skills that will greatly help them when writing the argumentative essay in AP Spanish.
Students learn how to write a thesis statement, introductory paragraph, the developing paragraphs and theconclusion ultimately writing 150-word essays. They also become skilled in writing formal and informal Spanish.
The lessons below teach students, step-by-step, how to write an essay starting with the very basics: How to write sentences, then thesis statements, developing paragraphs, and complete essays. Students peer-edit, work on transitions, and analyze sample essays.
How to Write an Essay in Spanish No-Prep Lesson Plans
VOCABULARY
One of the goals of the Spanish Four curriculum is to build vocabulary. This is accomplished with extensive comprehensible input, readings, stories, videos, etc. In addition, I have one other tool to expand students' vocabulary.
Every day, I write the "Palabra del día" on the board with the translation. As part of the warm-up, students write a sentence using the word or expression of the day. I model a few sentences so students can see the Spanish words in context. I have added to this list over the years including common expressions and words that help language learners increase their proficiency. Students must keep the list in their binders.
Some of the words and expressions on the list are:
Acabo de…
Dejé + infinitive
En cuanto a…
En lugar de…
Lo que…
Aguantar
Me parece que…
Debido a…
I also teach vocabulary related to health, self-care, and illness with vocabulary lists and an illustrated PowerPoint. These words and expressions are not only useful for daily conversation, but will be a good foundation for the, "El cuidado de la salud y la medicina" AP Spanish subtheme.
COMPREHENSIBLE INPUT: VIDEOS, STORIES, READINGS
In addition to novels, I provide comprehensible input in a variety of ways. At this level, it is so fun to share videos, stories, and articles with students that they couldn't understand before but now can appreciate and enjoy.
Below are a few of the videos and movies I show to the students. All of them have authentic language with native speakers and accompanying vocabulary and activities to recycle the language.
VIDEOS AND MOVIES
Three Preterite vs. Imperfect Videos:
Three Day of the Dead Videos: Three Spanish speakers from different countries talk about how the Day of the Dead is celebrated in their countries.
Spanish Present Subjunctive Video for Comprehensible Input: Óscar asks Jessica to marry him and she tells him what he must do before she considers answering yes.
Las cláusulas adjetivales Video: Melanie asks Rodrigo what he is looking for in a woman and he tells her. The video repeats the subjunctive with adjective clauses many times in context.
Spanish Direct, Indirect, Double-Object Pronouns Video
Spanish Future Tense Video: Jessica talks about what she will do after she graduates from high school.
Spanish Conditional Tense Video: Melanie talks about what she would do if she won a million dollars.
El hombrecillo de bizcocho with vocabulary and activities (The activities are not found on the site, but in the lesson plans below.)
Bajo la misma luna: My students loved this movie. It's easy enough to understand and shines a light on the struggles of immigrants. A touching story. The vocabulary and questions reinforce the vocabulary.
El toro Ferdinando with vocabulary and activities. Great for the preterite and imperfect in context.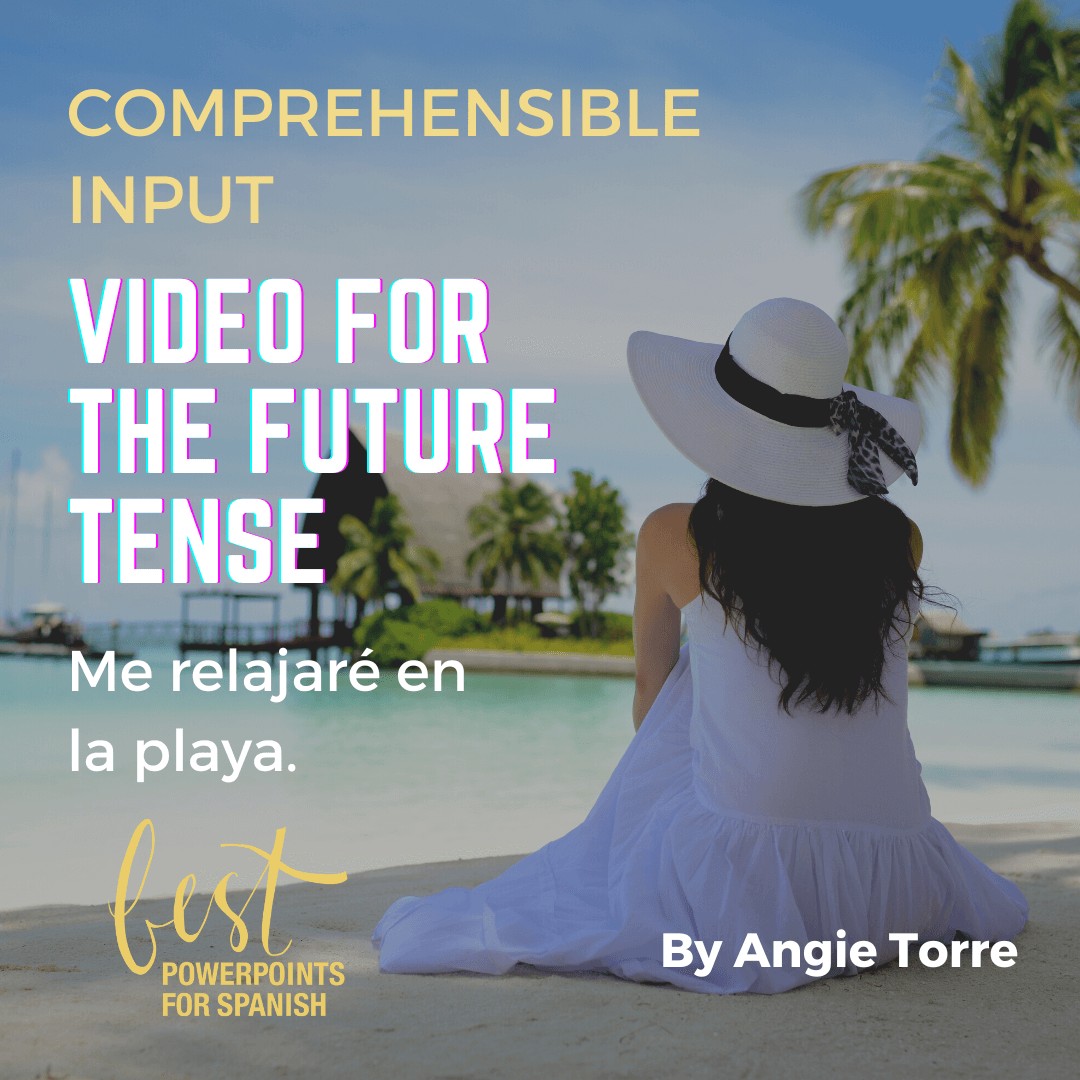 TPRS STORES, SONGS, POWERPOINT STORIES, READINGS, ETC.
El restaurante Elegante from Blaine Ray's "Look, I can talk more!"
Te busqué Song by Nelly Furtado y Juanes with lyrics and activity
Por más que intento Song by Gilberto Santa Rosa
Telenovelas
Strip Stories
Dialogues
El subjuntivo Illustrated Story PowerPoint
Las cláusulas adjetivales Present Subjunctive Illustrated Story
La obesidad infantil: Includes vocabulary and comprehension questions in the lessons below.
CULTURE
Students must be exposed to as much Latin American and Spanish culture as possible not only because it's super important to learn about other cultures, but, if they plan to advance to AP Spanish, they will need a vast knowledge of cultural practices to succeed on the oral presentation part of the exam. For that reason, I teach the holidays and customs below:
La plaza mayor Cultural Activities
La tomatina
Los mayas
Los aztecas
La sobremesa Digital and Printable Cultural Activities
La Navidad y las tradiones navideñas
SPEAKING PROFICIENCY
Of course, students must reach a high level of speaking proficiency to succeed in level four or to advance to AP Spanish. To help students improve their speaking skills in the target language I put them into paired and group activities and also assign prompts that students answer in Google Voice. For example, one prompt I gave was: Describe your worst date. I grade each one according to a rubric (provided in the lesson plans).
In this paired activity, students write a story, describing the drawings. They present the story orally. Preterite Speaking Paired Activity
Here are 20 paired and group activities to practice the Spanish subjunctive: Spanish Subjunctive Paired and Group Activities and Worksheets
And the MOST fun speaking project of all: Students make an authentic dish from a Spanish-speaking country, bring it to class, and describe how they made it, in Spanish. They will not be able to do this without the extensive vocabulary list and instructions provided. I grade it using the rubric. (If you assign this activity without the vocabulary, students will be forced to use Google Translate. They will not have the necessary vocabulary to complete the task.)
Spanish Recetas Food, Cooking, and Culture Project
LISTENING
The first time your AP Spanish students hear an authentic audio, they will hear only gibberish and be convinced they are in the wrong class. I tell them that's normal at first. However, it's important to give your students as much authentic listening practice as possible. Here are a few activities and Spanish resources I give to my Spanish Four students.
¿Agua o Coca Cola? This video not only improves listening skills but also educates kids on how to make healthy choices. The lesson comes with vocabulary and reading comprehension activities.
ONLINE RESOURCES
If students have internet access, they can avail themselves of many useful sites for language learning. Spanish teachers who are not on the block schedule can provide authentic listening activities in a cultural context to students using the free and paid sites below, some of the best online Spanish resources I have found:
Authentic Spanish Language: This free website designed for teachers provides authentic oral input appropriate for beginners through intermediate learners. All the language samples are also transcribed.
Spanish Proficiency Exercises: I have used this site often and even assigned it for homework. The description says, "Spanish Proficiency Exercises is a compilation of brief video clips in which native speakers of Spanish from various locations throughout Latin America and Spain demonstrate various language tasks." Different levels are provided from absolute beginners to advanced students and transcripts are available, also.
News in Slow Spanish is a great resource because it allows students to listen to news at their speed and level. Unfortunately, there is no free version, but they do have a 7-day free trial. A monthly subscription costs $23.
AP SPANISH SUMMER HOMEWORK
What? Summer homework? When I go a few months without speaking Spanish or French, I get rusty, and I am fluent. When students who are not yet fluent spend two entire months without exposure to Spanish, they will struggle the first few weeks of AP Spanish.
The homework I assign serves several purposes: It keeps students exposed to Spanish during the summer months or semester breaks and provides preparatory practice for each section of the AP Spanish Language and Culture Exam. It provides training wheels in the form of vocabulary and sheltered language for the reading and audio sources. It prepares students for the rigor of AP Spanish without overwhelming them.
Here is the homework: AP Spanish Summer Homework
In case you don't want to write your own lesson plans, all of the above resources are included in the Spanish Four Curriculum and Lesson Plans including the midterm, final, and all tests and quizzes.
By using these Spanish resources, you can create a comprehensible and engaging curriculum for Spanish 4 that will help your students develop their language skills and deepen their understanding of Spanish-speaking cultures.
BELOW ARE THE FREE RESOURCES FOR THIS POST:
Spanish Future Tense Eight-Stations Speaking Activity
Iba a + Infinitive and Imperfect Tense Video
Don't miss out on freebies! Make sure to follow my STORE in order to get notified of updates on products, free resources, and new products. Happy teaching!
If you would like to receive these blog posts with teaching tips and freebies in your email, subscribe to my monthly newsletter. Click on the following link: Best PowerPoints and More for Spanish and French, scroll down to the bottom and click, "Sign up."
Connect with me on social media!