My BEST TIP for Keeping your Class Functioning in the Target Language
In this post I'm going to share with you my most effective strategy for keeping my class functioning in the target language: Positive Peer Pressure- the BEST motivator.  Not only is gentle peer persuasion at the centure of my classroom management system, it is what drives my students to speak the target language almost 100% of the time.
At the beginning of each class period, I write, "inglés" (anglais in French) on the board.
If I hear English, ANY English, I erase a letter – Now it spells, "inglé". No, "Yeah, wait, I mean" allowed.  If I hear those or any words in English, I write the Spanish or French word on the board so that students eventually express themselves the next time in the target language.  Every English word spoken thereafter prompts me to erase another letter.  If, at the end of the period, even one letter remains, students get a point added to the next test.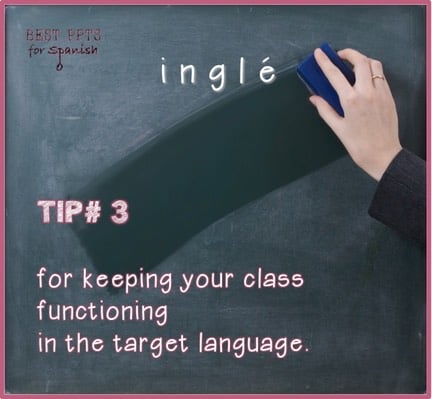 Of course, the first few days students do not get any points.  It takes a while for them to realize what "No English" really means.  The first points added to a test ignite their desire to speak only in the target language because the rewards have become real to them.  Thereafter, any English spoken by peers is met with angry glares or, "Shhh".
In level two, for two weeks, I tell them, every day, "we will be going to all-Spanish soon!  Be prepared.  Then, the day before, I explain the rules.
I also tell them that their job is to GUESS what I am saying,
that I don't expect them to know everything I say or they would not need to take the class.  We practice every day during those two weeks.  I say, "Who can guess what I just said?" and I reward them with points for guessing, right or wrong.
Give them tools.
I should add here that I give students tools to ask me what I am saying or how to say a word.  I teach them to say, "¿Qué quiere decir? (Qu'est-ce que ça veut dire?)" and, "¿Cómo se dice?(Comment dit-on?)" and I give them points for asking.  Then I write the word on the board and it becomes a bonus word on the next test. That way, students don't feel powerless to express themselves and get into the habit of guessing what I am saying or searching for meaning.  I also tell them, however, that I only allow them to ask how to say one or two words, not an entire string of words or sentences.  We spend quite a bit of time practicing the use of those expressions.  Students have to get used to asking me what I am saying when they don't know the word well enough to pronounce it.
Of course, there will be whispers you don't hear and the class becomes very quiet until the students become more proficient.  I have become adept at reading lips- the faster they are moving, the more sure I am that they are speaking English and I erase a letter anyway.  They only protest loudly when I'm wrong.  When I'm right, I get the sheepish look.
Works like a charm! Try it and you'll be able to keep your class functioning in the target language too!
Maintain Your Fluency.
It's important to mention that, in order to speak the target language 90-100%, I must be fluent and as native-like in my speech as possible.  Since I am NOT a native speaker, I read Spanish novels prolifically.  I also occasionally watch Spanish videos and movies to keep my listening sharp.  Spanish Mama always keeps us up to date on the latest books, movies and programs to watch to keep up our proficiency.  Check out her blog: Spanish Mama
Click here to see tip # 2 for keeping your class functioning in the target language.
If you would like to get these tips in your email, subscribe to my newsletter on the HOME PAGE.  Make sure to scroll down. You get a freebie for subscribing!
To receive freebies and notifications of new products, click here to FOLLOW MY STORE.
SaveSave
SaveSave
SaveSave
SaveSave
SaveSave
SaveSave
SaveSave
SaveSave
SaveSave
SaveSave
SaveSave
SaveSave