Top, Kid-Tested, Popular Books for Spanish Beginners: The List You Need
When I was teaching, I could not find books for Spanish beginners or French learners, levels one, two, and three. There were plenty of novels for advanced students but not for principiantes.
So, it occurred to me: Why don't I ask world language teachers to recommend novels their students read and actually LIKE? So, I did and I'm going to share the results with you.
In this blog post, I will give you a list of teacher-recommended, kid-tested novels for lower, intermediate, and advanced levels with links to those books. There are many available novellas to purchase, but I listed only the ones that were recommended and classroom-tested or that I personally have used with success.
---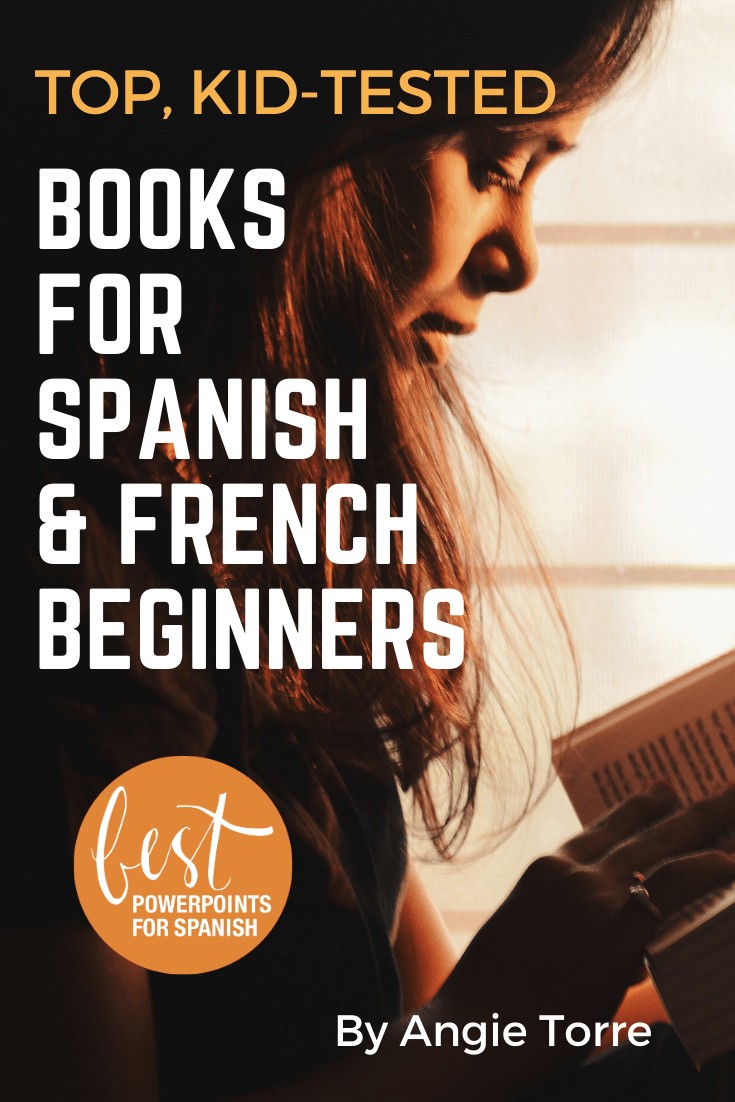 The Compelling Component of Comprehensible Input
One year, my department used a popular book for Spanish One. My students and I found it boring. It definitely did not fulfill the "compelling" component of comprehensible input. It's hard enough to inspire students to read in a second language when the plot is a page-turner. However, insipid stories turn students into reluctant readers. For that reason, I wrote many French and Spanish short stories, illustrated TPRS stories and other cuentos with accompanying activities to recycle the vocabulary and concepts.
Those French and Spanish stories hooked students into the plots so they almost forgot they were reading in another language. They provided great comprehensible input to my students and led them to higher proficiency levels, which in turn enabled them to read longer, more advanced novels.
---
Visual Stories, i.e., Videos
Showing videos is another excellent way to introduce useful vocabulary. I created 41 Spanish videos with native speakers to give my students authentic input. These videos were not only a hit for students and super-easy for teachers to use, but they provided the best repetition in context of the vocabulary and language structures. One of the best ways to provide CI is with videos that use authentic, but simple language. Here are two free videos for your repertoire of CI resources: Using Two Verbs in a Sentence and Iba + a + infinitivo
The Comprehensible Component of Input
The biggest challenge of writing a novel for novice and intermediate language learners is to make it understandable for students who have little foundational vocabulary. Good Spanish and French easy-to-read books for levels one and two make use of cognates, visuals, and high-frequency words, shelter vocabulary, and have comprehensive glossaries to introduce new Spanish vocabulary. Practice exercises for comprehension checking and interaction with the text also help students assimilate the language.
What does it Mean to Shelter Vocabulary?
Simplify sentences, using fewer words and shorter sentences
Use cognates and words students already understand
Provide lists of new vocabulary words
Rephrase sentences so students capture the meaning
Convert a complicated story into a simple story
Books for Spanish and French Beginners: Why novels instead of short stories?
Even though I had a huge repertoire of resources and strategies for providing comprehensible input, I would have loved for my students to enjoy the benefits of reading novels. So, what are the advantages of novels over short stories?
Novels provide continuity.
Students become attached to the main character and have an emotional investment in the outcome.
The reading of books of fiction at novice levels prepares students for longer, authentic French and Spanish literature. When novice and intermediate learners are assigned books written for Spanish speakers, (Gabriel García Márquez or Voltaire anyone?) they will have more confidence.
I know you want your students to enjoy the benefits of reading novels and you don't want to lose an entire year experimenting with a book your students don't enjoy, like I did. Therefore, I have compiled a list of novels with links for Spanish one, two, three, four, and AP and French one, two, and three. I hope these lists are helpful to you. (Most books listed below are available at www.CPLI.net)
AND NOW: THE LIST OF BOOKS RECOMMENDED AND TESTED BY TEACHERS
Third – Fifth Grade Spanish Learners
Teacher Kathy Perry said:
The guide is fantastic. It is great because it is about the famous baseball-playing family and because it contrasts Felipe's experience of racism in the US in 1950's with life in the Dominican Republic under Trujillo. He is so amazing, and the story is so inspiring. I like to teach it so it overlaps with Black History. It is also interesting since he is biracial (mother was white, father black). He is so inspiring and despite the odds, he opened up baseball for so many to follow him. They wouldn't let him speak Spanish with his brothers. So many interesting things about that book.
Books to Read in Spanish for Level One: Libros para los principiantes
One teacher said:
Brandon Brown gets into all sorts of trouble because of bad decisions. My students usually get frustrated at him because he makes bad choices, lol. I tend to use these because the students have been introduced to the character and are sort of invested in him.
Carlos hates Spanish class with a passion but finds the will to survive when he lays eyes on Jessica. She is the reason he "tolerates" his boring class. However, his secret crush is compromised when his teacher decides to "shake things up a bit" in class. A simple writing assignment turns out to be a lethal injection to his social life and by extension his chances with Jessica.
Spanish Two: What are the best Spanish books for beginners?
One teacher said:
I also love to watch Bajo La Misma Luna after reading Esperanza and compare and contrast the book and film.
A true, interesting story of a boy who witnessed a gang killing of his friend and had to flee Guatemala. The book came out in 2020 so it is very recent, and the kids really liked that.
This book can be purchased at Teacher's Discovery: It is a true story about Lorena Ramírez, an indigenous Rarámuri woman who lives in the unexplored sierra of Western Mexico. One day, she emerged from the forest to run a marathon.
Books to Read for Spanish 3
Teacher Kathy Perry said:
It is fun since every other chapter is narrated by the dog/hero (Orión) and the young girl he ends up saving along with 36 other people (Paz). It allows you to talk about hurricanes, landslides, extreme weather events, prejudice (since the townspeople originally were prejudiced against Rottweilers).
Books for Spanish Four Students
Novels for AP Spanish
BOOKS FOR FRENCH BEGINNERS
Many of the books in Spanish also have French versions, including the Señor Wooly series. If you see one of the Spanish novels that interest you, follow the link to see if there is a French adaptation.
French One: What is the best French book for Beginners?
French Two
French Three
Le petit prince (The Little Prince) by Antoine de Saint-Exupéry: My students loved this book. It's a classic!
WHICH BOOK SHOULD I ASSIGN FOR WHICH LEVEL? WHICH BOOK IS THE RIGHT BOOK?
You may have noticed that the same book was often recommended for different levels. For example, "Tumba" was recommended for both beginner level and intermediate. You will be able to determine which book best fits the level of your students.
FVR Reading: Encouraging Reading for Pleasure
You may also want to allow students to choose the book they feel comfortable reading, especially for FVR (Free Voluntary Reading) or SSR (Sustained Silent Reading).
Allowing students to choose the level of book they want to read works quite well. In my AP Spanish course, I was surprised to see that my students self-identified accurately. I was also happy I didn't have to embarrass anyone or imply they were subpar by giving them a lower-level reader.
What are your favorite books for each level? Email me at [email protected] and I will add them to the list.
Don't miss out on freebies! Make sure to follow my STORE in order to get notified of updates on products, free resources, and new products. Happy teaching!
If you would like to receive these blog posts with teaching tips and freebies in your email, subscribe to my monthly newsletter. Click on the following link: Best PowerPoints and More for Spanish and French , scroll down to the bottom and click, "Sign up."
Connect with me on social media!