How to Engage Students in Distance Learning
How do you engage students during distance learning? That's the question I have heard multiple times from frustrated teachers grappling with the challenges of the new learning environment. In this post, I will share strategies for engaging students during remote teaching, synchronously, asynchronously, and both.  I invited five veteran teachers to share their best practices with you.
But first, let's commiserate.  I remember the joy I felt when, after being out of the classroom for two years, I was back in front of smiling, energetic teenagers. I remember thinking I could put up with the grueling lesson planning, essay correction, and lunch detentions in exchange for the delight of interacting with the students.  What a wonderful profession to be so intertwined with the lives of 100+ students that, at the exhausted end of each day, I suffered not one boring moment.
Not that the appreciation wasn't hard won. I had spent many years through professional development and practice learning how to engage students and create captivating activities.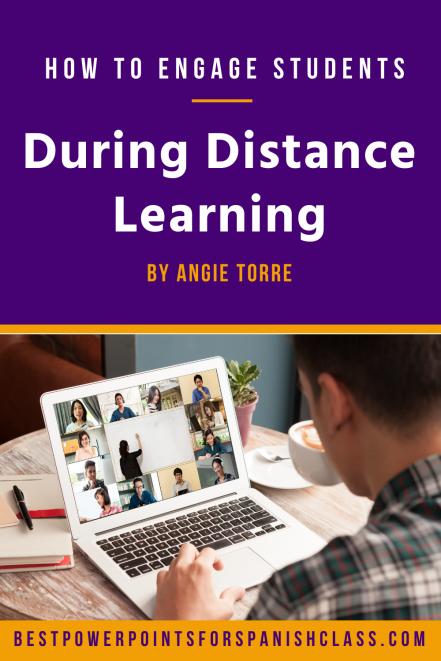 Then COVID happened.
Now I have to start all over and learn new skills.  How do I connect with students who don't turn their cameras on? Who don't participate? How do I GET them to participate?
HOW DO YOU ENGAGE STUDENTS IN DISTANCE LEARNING?
Below are many strategies for promoting participation in a remote teaching environment. There are ideas for synchronous, asynchronous, and hybrid, and also for those using the platform, "Canvas." You may wish to skip to the ones that are relevant to you.
5 WAYS TO ENGAGE STUDENTS REMOTELY WHILE TEACHING SYNCHRONOUSLY AND ASYNCHRONOUSLY BY ELLEN SHRAGER.
USE MUSICAL TRANSITION VIDEOS
As a "Baby Boomer GC Zoomer" Spanish One teacher, I keep my virtual students engaged for eighty-minute periods by adapting five of my tried-and-true comprehensible input activities to our online environment.
First, I am a big believer of staying in the target language by using musical transition videos.
Our dozen new virtual videos include:
Buenos días, m'ijos

Abran el chat escriban en el chat

Reactivan la cámaera

Entren en grupitos
Music seems to keep the endorphins flowing and to enter their subconscious. They hear the first few notes and know what to do without using English, because the cartoon videos with students their age show them what to do.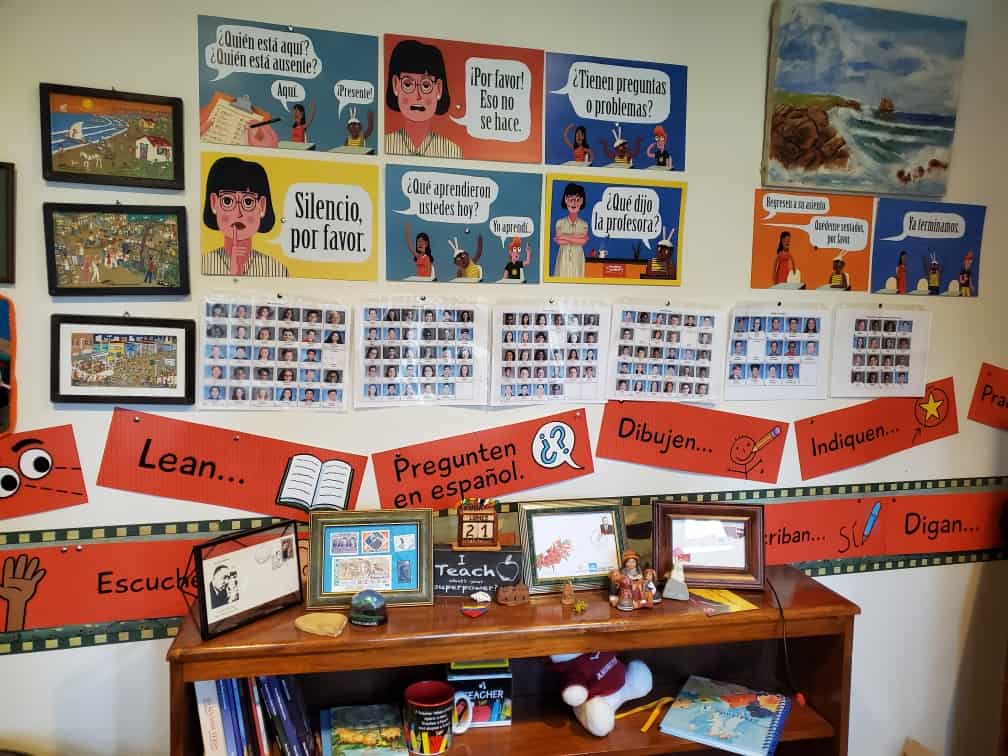 USE PRERECORDED AUDIOS
Second, as a comprehensible input teacher, I want to drench my students with reading and listening activities.  In the past I created many 30 second audios for students in order to preserve my voice.  Now these 30 second breaks from my speaking enable me to build community and create bonds with my students.  I carry on many personal conversations with students in the private Zoom chat.  They tell me all kinds of things from their internet being laggy to it being their birthday this weekend.  Students struggling or with questions ask in the chat and I can answer without disrupting learning. Who knew that back in the 70's when my super strict teacher insisted we learn to type without looking at the keyboard that one day I would be staring into a computer camera and typing words of encouragement to students I can't even see!
USE ZOOM PRIVATE CHAT TO ENGAGE STUDENTS
Third, I use the chat to engage students. I replaced asking the class questions and their responding in unison or on a white board with their answering in the Zoom private chat.  Every day I ask them ¿Cómo están ustedes? I read some of the answers as they fly in with a commentary.  "Cansado, bien, regular, cansada, lo mismo de siempre, cansado cansada cansada, wow es lunes. ¿Cuál es la fecha de hoy?" and I comment on the number writing it in numerals correctly.
In the chat I ask them to predict how many of the listening sentences they will get right and then have them report back to me their actual score. I ask them many of the storytelling yes or no questions or ask them about their preference and they answer the chat in a flurry. I respond to their answers.  I always save the chat and am amazed by the high number of responses from my 30 students.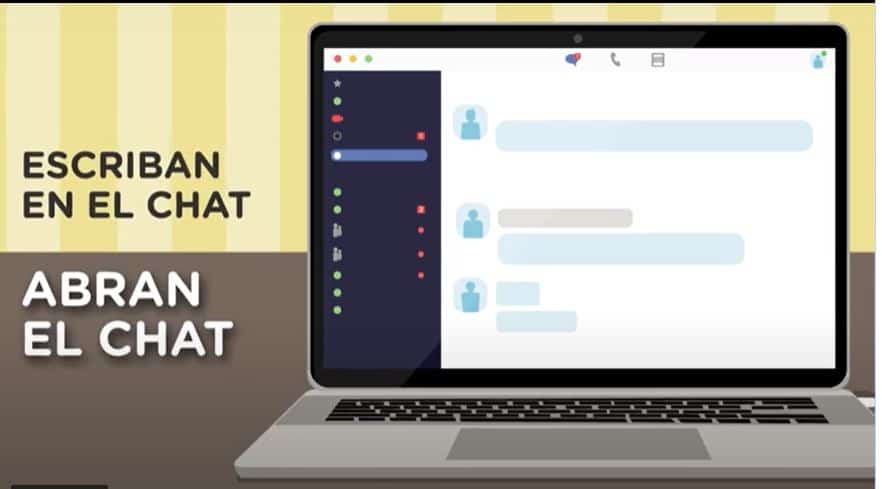 USE WARM-UPS WITH ENGAGING VISUALS WHILE CHECKING IN STUDENTS
Fourth, it takes me at least five minutes to check in each student individually, to keep us safe from Zoom bombers.   During daily warm-ups, students look at an intriguing image and write what they see, what they think and what they wonder.  We always go over the answers the next class period and they enjoy exploring images of money, landscapes, and other cultural items that pique their curiosity and keep them engaged. I ask them in the chat if they would want to visit this place when it is safe to do so, offering them hope and a vision of better times.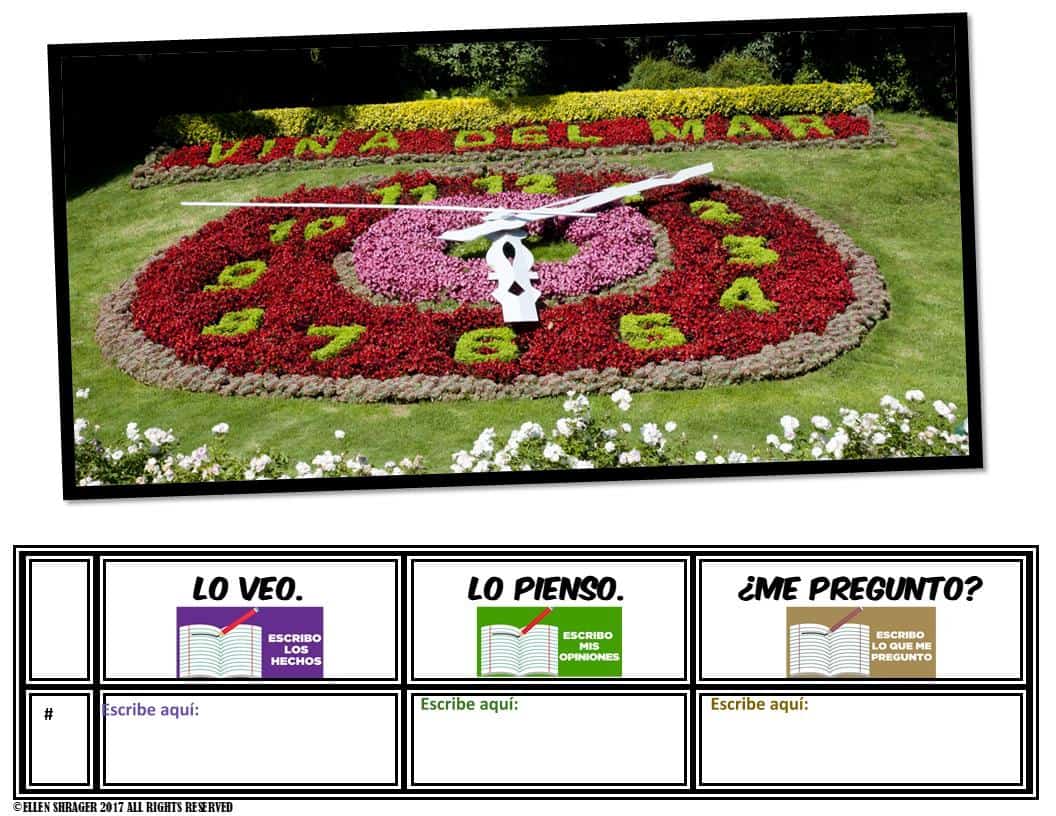 USE ASYNCHRONOUS TIME FOR LEARNING OF CULTURE
On Wednesdays, the students work asynchronously for forty minutes.  In class, they are drenched in comprehensible input.  I debated using this time for them to practice on Quizizz or some other input program. I decided that when they aren't with me, they have the chance to pursue their interests and fall in love with the culture, increasing their engagement.  Families report it has been a great decision.
ENGAGE STUDENTS IN DISTANCE LEARNING WITH A CHOICE BOARD
Each week we highlight a different country in our choice board that lays out everything they need.  They choose one activity:
Review the artist's work and recreate American Gothic in the artist's style – submit the picture.
Read about a sports figure and answer questions.
Make one of the recipes and submit a picture.
Try a dance and answer the questions.
Create a craft and submit a picture.
Record saying the tongue twister.
Listen to the song and answer the questions.
Complete a sudoku with this week's vocabulary.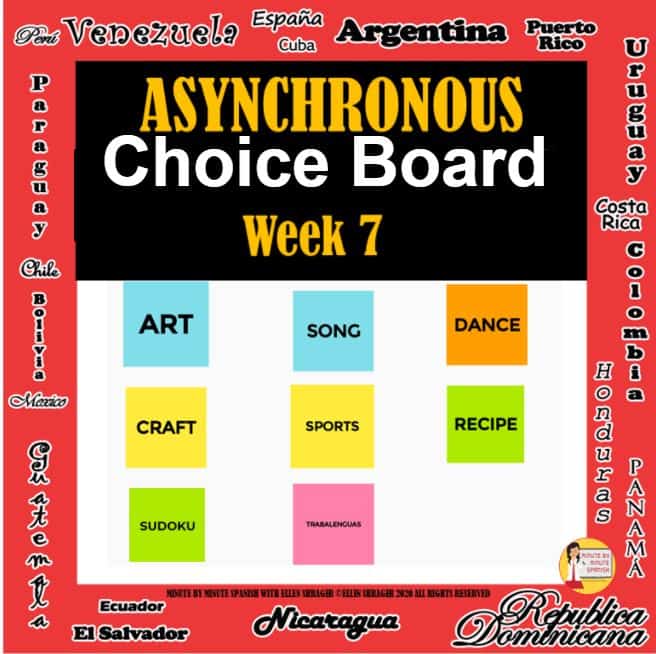 Many parents have told me how they all review the choice board when it drops into their Google Classroom and decide together – building engagement with the families and Shragervilla, as I call my community.
USE MOTE TO RESPOND
When I review and grade their choice boards, I use MOTE to respond.  It is a chrome extension that allows me to answer using my voice in the private messages so that students feel like we are talking. I comment on what they made or with whom they practiced the dance.
"You danced with your new puppy? What's his name? What kind of a dog?  I want a picture of this!"
"Wow that tres leches cake makes me hungry – how long did it take to make and who helped you?"
The unintended consequence is that I easily have 50 emails a day from students and families, but it is a small price to pay for the level of engagement they represent.
This is the hardest teaching I have done since I started over thirty years ago.  Many students do not turn on their cameras and we don't use the audio because I average 30 students per class.  I miss our little interactions that I never appreciated before.  But, by using these five steps to engagement, we are building a sense of community. It keeps students engaged even when their cameras and microphones are off, they are texting me in the chat with their answers, observations, and feedback to the different activities I create.
It is one of my core values that no education is ever wasted.  While virtual teaching is far from ideal, our students need us now more than ever to validate the importance of their learning by investing our time in engaging them.
HOW TO ENGAGE STUDENTS REMOTELY WHILE TEACHING SYNCHRONOUSLY.
Teacher, Pam Nielson Lester uses, "Wheel of Names" to call on her students. Pulling popsicle sticks with students' names works well for calling on students in a physical classroom, but this works in and out of the classroom and is way more fun.
HOW TO ENGAGE STUDENTS IN DISTANCE LEARNING WHILE TEACHING SYNCHRONOUSLY BY SPANISH TEACHERS, AMY AND KATIE FROM SPARK ENTHUSIASM.
This is Amy's 29th year teaching high school Spanish.  Amy is teaching remotely for the first Quarter and then a combination of hybrid and full in-person the remainder of the year depending on COVID numbers. Katie is teaching online Preschool Spanish this year for the first time.  Amy and Katie love creating fun materials for students that include games, movie units, song bundles, and grammar & cultural units.
STAY ORGANIZED AND DEVELOP A ROUTINE
We are teaching fully remotely at our public high school in Ohio.  We only get to see our students twice a week, so it is important to stay organized and to set up a routine that is familiar for the students.  During an hour and 15-minute class, the students Zoom.  Prior to the Zoom, I set up all of the Edpuzzles, Google Forms, Quizlet Live links and Kahoots so they are ready to use during class.
Thank goodness I made interactive notebooks for each topic with colorful student notes, related vocabulary, several practices, and a culminating activity that requires students to write about and present what they have learned about that topic.
USE BREAKOUT ROOMS AND GOOGLE VOICE
We just finished learning about seasons and weather in Latin American countries, and the students shared their presentations about their favorite seasons in Breakout rooms and via Google Voice.  Students stay on task and do a much better job in their Breakout rooms when they have a slide that takes them step by step through what they need to say and do.  Here is an example Breakout room slide teachers can use.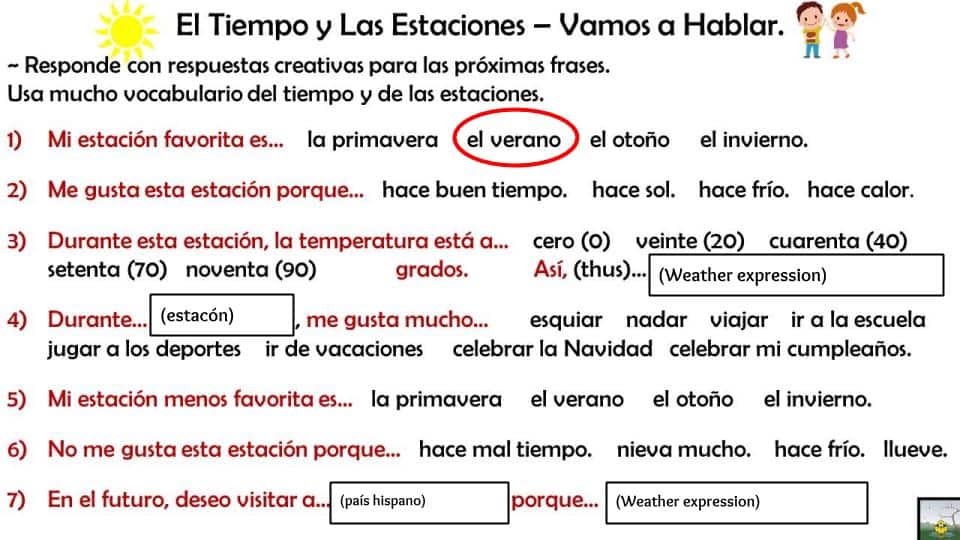 USE VIDEOS AND EDPUZZLE TO ENGAGE STUDENTS IN DISTANCE LEARNING
During each Zoom, I love teaching a new concept such as weather expressions or time and then have the students watch a short video or do a quick Edpuzzle while they are still on the Zoom.  During each Zoom, the students watch at least two short videos and do at least one Edpuzzle to reinforce the learning.  I have found IT HELPS A LOT IF THERE IS AN ACTIVITY WAITING FOR THEM TO DO WHEN THEY FINISH THE VIDEO OR EDPUZZLE, AND I ALWAYS HAVE A VISUAL CUE TO REMIND STUDENTS WHAT TO DO WHEN THEY FINISH.  The students love Quizlet Live and Kahoot so I play that a lot with various types of questions and activities.
INCORPORATE THEMES, SONGS, AND DANCING
I also have a theme for each week.  This week is Luis Fonsi week so I sent the students my top five Luis Fonsi song videos and we sing one during each Zoom class.  I shared a YouTube playlist with the students for several popular Latin artists and I made them a music library to keep on Google classroom to encourage them to get hooked on Spanish music.  We will dance "Échame la culpa" together this coming week as well.
One of my favorite weeks has been our social justice week where I used Juanes songs and videos to teach about poverty, child soldiers, landmines, violence in Latin America, Hispanic heroes, and migrant workers.  The song, "Girasoles" by Luis Fonsi and the video, "Cuerdas", were the perfect authentic resources to finish out this mini unit.
So, my best advice to keep students engaged during this crazy time in education is to change activities frequently, organize the content to maximize the most important topics, and set up your routines and Google Classroom so students can easily follow your procedures.  Also, remember to add fun components like music and culture, and praise them sincerely and frequently when they do a nice job.
~ Amy Haney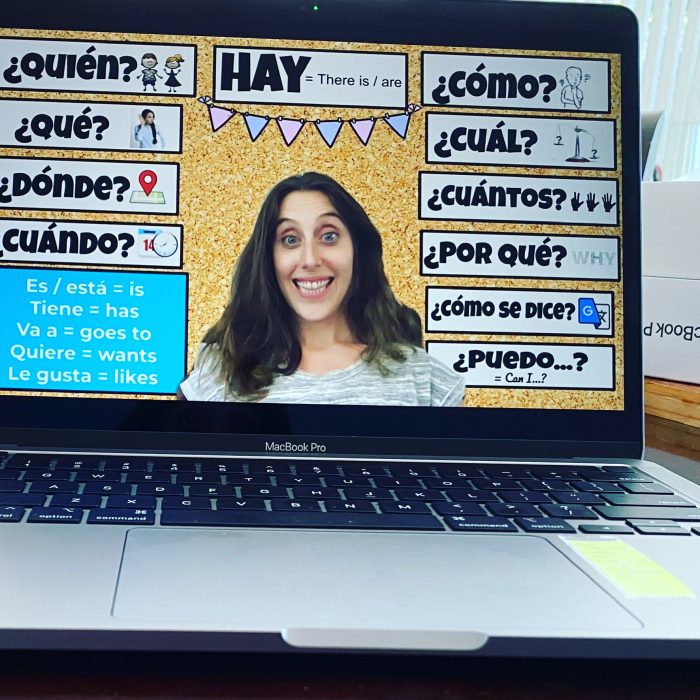 HOW TO ENGAGE STUDENTS REMOTELY WHILE TEACHING ASYNCHRONOUSLY AND USING CANVAS
OR,
HOW TO ENGAGE STUDENTS IN DISTANCE LEARNING WHEN YOU CAN'T SEE THEM
College professor, Terry Sherbondy, shares his best strategies for engaging students asynchronously using the instructional platform, Canvas.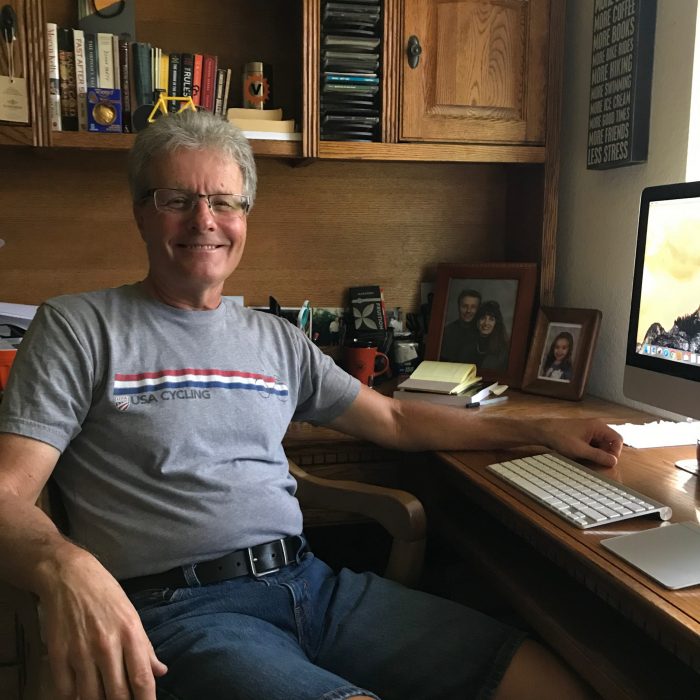 Previously, I taught in a classroom and enjoyed the dynamics and intangibles of face to face interaction with the students.  Not now.  This Fall I teach online, asynchronously.  The challenge has been replicating the classroom community.  Below, are a few strategies I use to promote student engagement and collaboration.
SYLLABUS & HOMEPAGE
I set the stage by reinforcing expectations in the areas outlined below.  I remind students about "netiquette," namely, respectful and relevant posts.  I let the students know I'll be involved in their online community as a guide and monitor, of sorts, to ensure the class is a safe place.  No bullying allowed!
MEET & GREET
I start the semester off with a Meet & Greet assignment.  I post a video providing some background on myself then instruct the students to introduce themselves.  I give them a few questions to help guide their posts.  They can text reply or create an audio only or audio/video response.  They are required to respond to two of their classmates' posts.
USE DISCUSSION BOARDS
I use community Discussion Boards for students to post replies to assignments and reply to at least two of their classmates' posts.  This online cross traffic helps foster interaction and promotes learning.  I also chime in with ideas or comments that might help guide/reinforce the discussion.  I've discovered the students have been largely complimentary of one another's posts.  It has also stimulated some discussion that is on topic but a variation of the initial theme.
ASSIGN GROUP PROJECTS
I assign a Group Project that requires 3 to 4 students to interact, remotely, with one another.  Canvas can randomly divide the class into as many groups as you need.  The students can see who is on their team and they can email one another or use the assigned Discussion Board to begin organizing themselves.  They are instructed to post a short video of their work on a community Discussion Board so the other groups can view their work and comment.  There is a Peer Review component, too, so each teammate assesses the participation of his/her group members.
GUEST SPEAKERS
I recorded a guest speaker during an optional Zoom session.  Only three students joined in but the Discussion Board assignment (Your Thoughts About the Guest Speaker's Presentation) was popular and the posts were excellent.  The guest speaker was a criminal street gang dropout who joined a gang at the age of 10 culminated by an adult conviction and a 7-year prison term for Attempted Murder and how he redirected his life.  The online interactions between the students at the Discussion Board was great.  Key point, I think, is the choice of guest speakers.  But, he agreed to be recorded and the session lasted about 50 minutes.
COMMUNICATE IN VARIOUS FORMS
I use the Canvas Announcements feature to remind students of important upcoming Due Dates, elaborate on an assignment's details, and encourage them to keep up the good work.  I create a video then post it to the Announcement Board and allow comments from the students.  Additionally, I use email to comment on their work, exam results, and answer their questions.  I spend considerable time emailing.
EMAIL RESPONSIVENESS
I encourage the students to check their student email every day and I try to respond to their questions within 24 hours M – F, and only as needed on the weekends.

That's all I can think of.  I hope it helps with your student engagement efforts.

~Terry Sherbondy

Whether you are teaching synchronously, asynchronously, hybrid, or in Canvas I hope you have discovered some useful ideas for engaging your students.

Here's another idea for engaging students during distance learning. Use Google Drive Activities. Students LOVE them. Here's a free one for you to try: La ropa Google Drive Activities.

There are 38 Google Drive Activities in this bundle: Spanish Google Drive and Digital Activitites.

Want more freebies? Make sure to follow my STORE in order to get notified of updates on products, free resources, and new products.

Happy teaching!

If you would like to receive these blog posts with teaching tips and freebies in your email, subscribe to my monthly newsletter: BestPowerPointsforSpanish Just scroll down to the bottom and click, "Sign up."

Connect with me on social media, too!