How to Tell a Story Using TPR Strategies
TPR Storytelling Strategies
Have you wanted to incorporate TPR Stories into your lessons but were unsure how to go about it?  In this blog, I will teach you how to use TPR Strategies for storytelling. After reading the post and watching the videos, you will be on your way!
TPR Strategies: #1
Before telling a story, pre-teach the vocabulary by acting it out with the students.
(I give students the new vocabulary with English next to it.  That is the only time they will see or hear English.)   Then, act out the vocabulary until you are sure they know it.  First, do the actions with them, then say the words out of order.
If you use illustrations, tell the story first while students look at the illustrations.  As you tell the story, stop occasionally and ask students to tell you which illustration you are on.  Then, tell the story with student volunteers.  Here is an example of a story in which I use illustrations: (Click on the illustration on the right to see a preview.)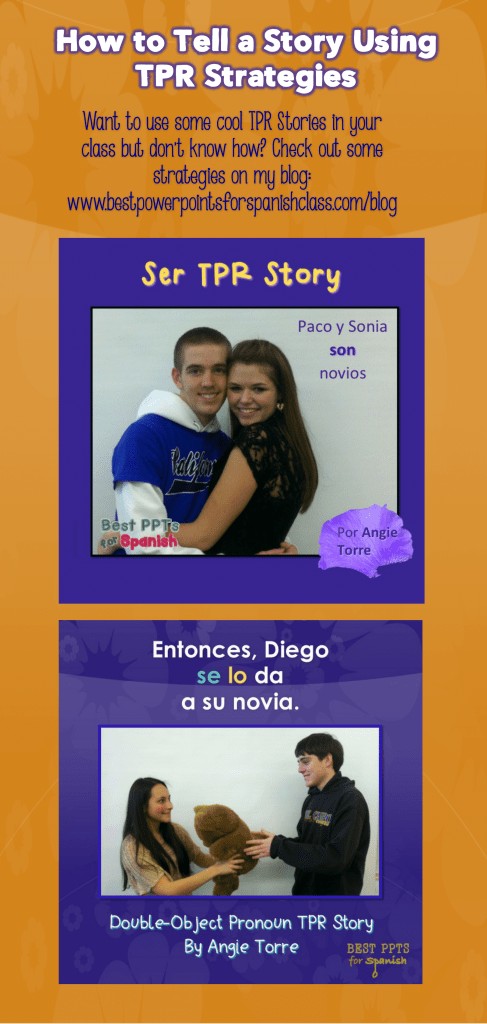 If you do not have illustrations, begin by telling the story with student volunteers.  Make sure to useprops.  It makes the story-telling more interesting.
Ask questions as you are telling the story.
Begin with yes / no. Purposely make mistakes and have students correct you.  Progress to either / or and finish the sentence.  Finally, ask, "who, what, where" type of questions. The purpose is to recycle the vocabulary as often as you can.
#Strategy 2: MORE OPTIONS FOR RECYCLING VOCABULARY
Retell the TPR Story and have students draw what you are saying.
After telling story A, tell another story using the same vocabulary.
This "Classroom Objects" TPR Stories include several different stories using the same vocabulary.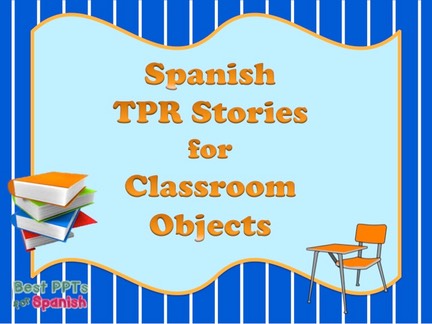 TPR Strategies: #3
After telling the story, continue to recycle language with activities, again, progressing from easy to more difficult.  To see examples of activities click on the picture below: Two stories that reinforce the vocabulary for the "House and Chores":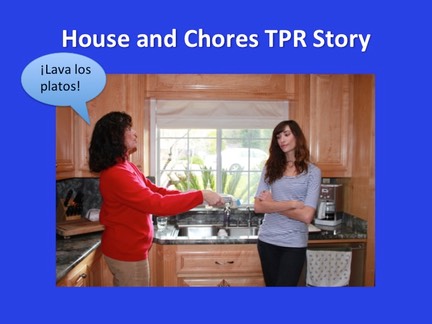 Here is a common progression of questions:
True false
Fill in the blank
Put the events in order
Answer the questions
GOING FROM RECOGNITION TO PRODUCTION
 Finally, practice telling the story with the students and have them retell the story.  I have them practice and present in pairs.
Remember, it is ten times harder to go from recognition to production.  It uses a different part of the brain.
More options for recycling language.  
TPR Strategies: #4
Have students rewrite the story from the point of view of one of the characters.
 Have students write or rewrite the ending.   Then, what happened?
Use cloze stories.  After telling a story, give a cloze version to the students with words left out.  I do this often, especially when teaching verb tenses.  I leave out the verbs and students must fill in the verbs using the proper tense, conjugation, and spelling.
Here is an example of a story that demonstrates the use of "ser" and "estar" with a cloze activity: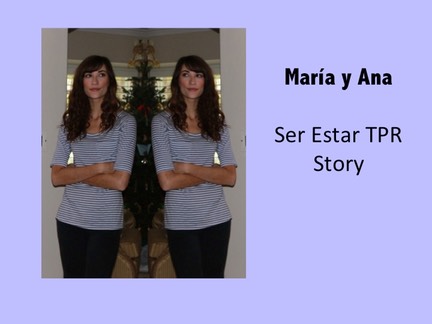 TPR Strategies: #5
Rewrite the story changing the present tense to the past (just the preterite or the preterite and imperfect.) In the following story, students must rewrite the story changing the present tense to the preterite: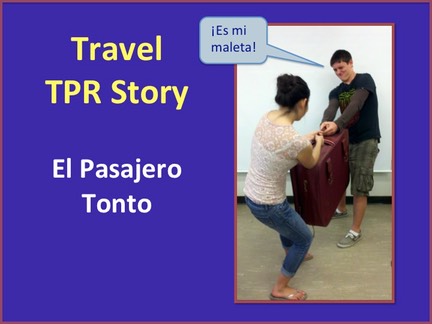 TPR Strategies: #6
Give students the story with certain parts underlined.  They must change the underlined parts.   This way they get practice writing correct grammar, syntax and transition words but are still rewriting the story and recycling vocabulary.  The following story reinforces the irregular preterite.  After watching it and answering comprehension questions, students must rewrite the underlined parts: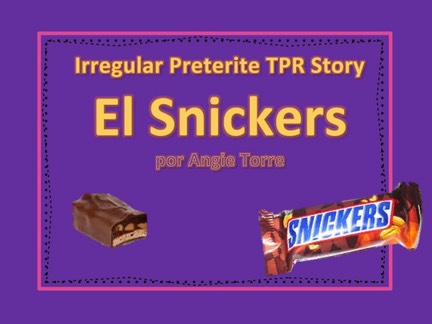 Here's the same story in French: Le Passé Composé
TPR Strategies: #7
Tell the students to write their own story using the new vocabulary.  Make sure to give them a rubric so they know exactly hat is expected of them.
TPR Strategies: #8
A picture is worth a thousand words.
Tell stories using  illustrated PowerPoint TPR Stories.  The illustrations make the language obvious, replacing the gestures.  Here is an example of an illustrated PowerPoint that reinforces the use of the double-object pronoun.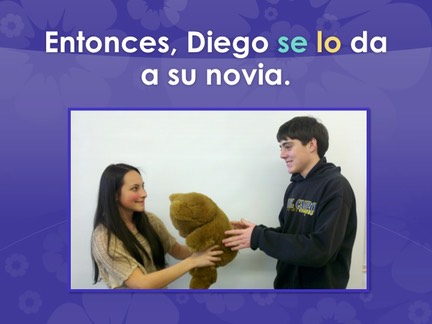 Here's the same story in French: French Double-Object Pronouns TPR Story
 One final note:  In order for TPR Story-telling strategies to work, the language must be heard.  Students cannot hear the teacher if the class is noisy.  "Discipline before instruction" is my motto and I learned it from Fred Jones.  I  highly recommend his "Tools for Teaching" workshops.  They changed my life. Here is the link to Fred Jones if you are interested:  Fred Jones
If you would like to see all my TPR Stories, click here:  All my TPR Stories
This bundle includes 41 videos for all levels.
Here is an example of some questions I used in my "How to" video on TPR Story Telling:
Hay un chico.  Se llama Paco.
¿Se  llama Juan?  ¿Se llama….?  ¿Cómo se llama?
Paco y Sonia son novios.
¿SON AMIGOS? ¿SON ENEMIGOS? ¿SON HERMANOS?  ¿SON AMIGOS O HERMANSO?  Paco y Sonia son….
 Paco quiere a Sonia y Sonia quiere a Paco.
¿PACO QUIERE A MARÍA?
Paco es guapo.
Sonia es guapa también.
Ellos son guapos.
¿ELLOS SON FEOS?  ¿QUIÉNES SON GUAPOS?
Los dos son trabajadores.
¿SON PEREZOSOS?  ¿SON TRABAJADORES?   ¿SON TRABAJADORES O PEREZOSOS?
Los dos son altos.
SON TRABAJADORES Y….

¿SON BAJOS?
Aquí está Alejandro.  Él es guapo también.  Pero, a veces, es malo.
¿QUIÉN ES MALO? ¿QUIENES SON GUAPOS?  ¿QUIÉNES SON TRABAJADORES?
Alejandro vive en la casa al lado de la casa de Sonia.
¿VIVE EN FRENTE?  ¿AL LADO DE LA CASA DE PACO?  ¿EN FRENTE DE O AL LADO DE?
Here is a video of me explaining and demonstrating how to tell a story using TPR Story-telling strategies.  It's 22 minutes but when you finish, you should be a pro:
In this video I am telling a story to my Spanish Three class using TPR Storytelling Strategies:
In this video I give a short overview of TPR Storytelling Strategies:
Jump right in and start using TPR  Storytelling strategies right away! You'll enjoy teaching, your students will enjoy learning and they will acquire the language quickly.
SaveSave
SaveSave
SaveSave
SaveSave
SaveSave
SaveSave
SaveSave
SaveSave
SaveSave