How to Use Edpuzzle for Comprehensible Input
The more strategies you have for comprehensible input, the more engaging your lessons will be. After all, you can't tell TPR stories all day every day. It's exhausting, and students will get bored. And bored students means headache for you! In this post, I'll show you step-by-step, how to use Edpuzzle so you will have another awesome CI tool.
Videos are, in my opinion, one of the best tools for comprehensible input. Add the interactive features of Edpuzzle and you've got a great lesson!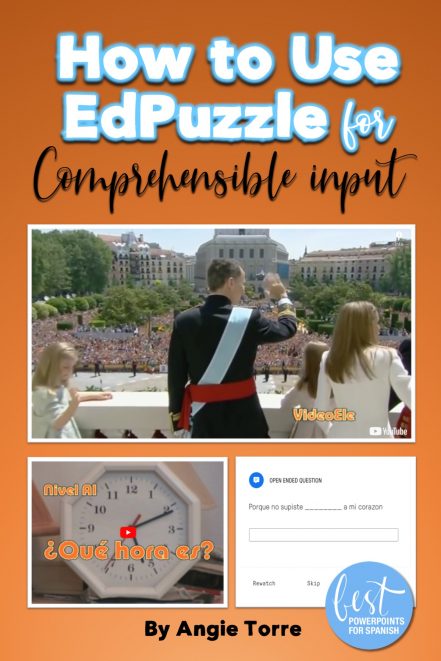 WHY USE EDPUZZLE?
To draw students into the lesson as they interact frequently with the video
To help students improve listening comprehension
Comprehension of audio and video is often difficult and anxiety-producing for students. With Edpuzzle students can replay parts of the video until they understand.
To assign proficiency-oriented homework
To make grading a snap with Edpuzzle's auto-grade.
If your questions are multiple choice Edpuzzle auto-grades it for you. Woo hoo! If they are open-ended questions, it's still super-easy to grade.
To check for understanding
To teach in small chunks
After every few scenes, students must answer questions.
The teacher can stop the video and repeat or clarify vocabulary or expressions.
To optimize the use of videos for repetition in context
To optimize instructional time by having students watch the video and answer questions at home so you can analyze and discuss it the following day
To save planning time by using other teachers' prepared questions/quizzes
You can modify existing quizzes, which takes much less time than creating your own. Although time-consuming, you will still want to create some of your own Edpuzzle video questions, but once you have them, instant lesson plan! It's easy to find videos according to subject and level. Take a look at these done-for-you videos: Spanish Edpuzzle Videos and Quizzes
You may be required to obtain parental consent before showing videos. If this is the case, you can use the templates that Edpuzzle provides at the bottom of this article: Parent Consent Form
HOW TO USE EDPUZZLE
Once you find the YouTube video you want to use, there are ways you can make it interactive with:
Quizzes (the most common)
Voiceover (You talk over the video.)
Audio Notes (You stop the video and periodically interject comments or questions)
For those of you who have never used Edpuzzle or would like a refresher, I've created a nine-minute video tutorial to show you how to do it. If you're in a hurry, you may want to check out only certain tasks:
36 seconds and 4:59: Quizzes
2:13: Voiceover
3:10 Audio Notes
How to use visuals: 6:00 (Super cool! But watch the tutorial so you don't waste time trying to figure out the sizes.)
Below is the nine-minute video tutorial.
WHAT ABOUT NOVICE LEARNERS?
A difficulty that may present itself when you are looking for videos is the scarcity of understandable flics for lower-level students. No worries! Click on the following links to access FREE videos.
Spanish Videos for the Present Progressive and Subjunctive
There are over 30 videos in my TPT store that students from Spanish One to AP can easily understand. The native speakers speak naturally, but at an understandable pace. Also, the Spanish subtitles and pop-in images aid in comprehension. You can access them individually or in a bundle by clicking on the following link: Spanish Videos for Comprehensible Input
The videos cover a variety of topics and concepts including vocabulary, grammar, and culture. All the videos have accompanying activities and most have interactive listening activities so students will be engaged while watching.
If you would like more information on how to use videos for comprehensible input, click on the following link: Using Videos for Comprehensible Input
How to Make Videos Private in EdPuzzle
Click the circular profile icon in the upper right-hand corner.
Click on your name to access your profile.
Click the "Settings" tab.
Under "Privacy," click "Private" to share EdPuzzles with your students only.
If using Angie Torre's videos in Edpuzzle,  please make them private. Otherwise they will be made public and that would violate copyright.
Next month we will take a look at Fluentkey– SO AWESOME! I had no idea there were so many already created videos for world language! Stay tuned!
If you would like to receive more freebies and teaching tips in your email, subscribe to my monthly newsletter: BestPowerPointsforSpanish  Just scroll down to the bottom and click, "Sign up."
Don't miss out on freebies! Make sure to follow my STORE in order to get notified of updates on products, free resources, and new products.
Happy teaching!
Connect with me on social media, too!