Using Spanish and French Videos for the Best Comprehensible Input
Do you use Spanish and French Videos for Comprehensible Input?
Videos are excellent comprehensible input, if carefully chosen, (they must be understandable) and the mesmerized students forget they are learning a language as they follow the plot. But understandable beginner videos at novice and intermediate level are practically impossible to find.
But, I DID find them, and those I couldn't find, I created. In fact, there are many to choose from, paid and free, and I will share them with you along with some accompanying activities. Keep reading.
---
SPANISH AND FRENCH COMPREHENSIBLE INPUT VIDEOS FOR LISTENING AND GRAMMAR PRACTICE
WHAT!? Videos for grammar practice? Yes! Short videos with native speakers in real-life situations give students the needed repetition in context of the grammar structures as well as the basic vocabulary necessary for particular topics.
I usually teach the concept, then cement it with extensive comprehensible input: videos, TPRS, graphic novels, and other resources.
After watching the videos, students complete fun activities, which recycle the language even more.
---
Not only are videos great resources for improving listening and language skills, but they are also low prep and low energy for the French or Spanish Teacher. Instead of doing a theatrical song and dance while students misbehave (so exhausting), teachers casually walk around the room and monitor as the students watch the screen. (TPRS and short stories are effective, but who's watching the kids while you act out the story? That always caused me stress.)
Let the video do the hard work. You can even divide a short movie into minute segments with comprehension checks, using EdPuzzle.
Lastly, videos are a great way for the independent learner to work on comprehension and listening skills, especially if subtitles in the target language are provided. Students can replay a clip as many times as they want or watch it at a slower speed, providing more control and diminishing stress. Additionally, they can use pause and rewind features to review content that may have been difficult to understand.
Do you need a good homework assignment to reinforce the day's lesson? Upload a video to Google Classroom or YouTube and assign it as homework along with accompanying activities or comprehension questions.
SPANISH VIDEOS IN THE WORLD LANGUAGE CLASSROOM
BEGINNER VIDEOS
For high school Spanish One, beginner level, or elementary, Muzzy (Spanish version of Sesame Street) is a good choice. My nieces and nephews loved it.
I bought the entire series, but some of them are on YouTube. It's a real challenge to provide CI to language learners who have little to no foundational vocabulary, but Muzzy manages to provide hours of input all while entertaining!
INTERMEDIATE VIDEOS
Wouldn't it be boring to tell a story using mostly stem-changing or irregular verbs? No! Students love to follow Jessica as she goes about her day, distracted from her studies by one boy, who is not her boyfriend and then another, until she finally has to buckle down and study in order to be able to go out with… which one? Click on the link to get the video: Spanish Stem-changing Verbs Video
The following video is good practice for irregular verbs, but still engaging: Los verbos irregulares Video
SPANISH VIDEOS FOR LEVEL FOUR AND AP SPANISH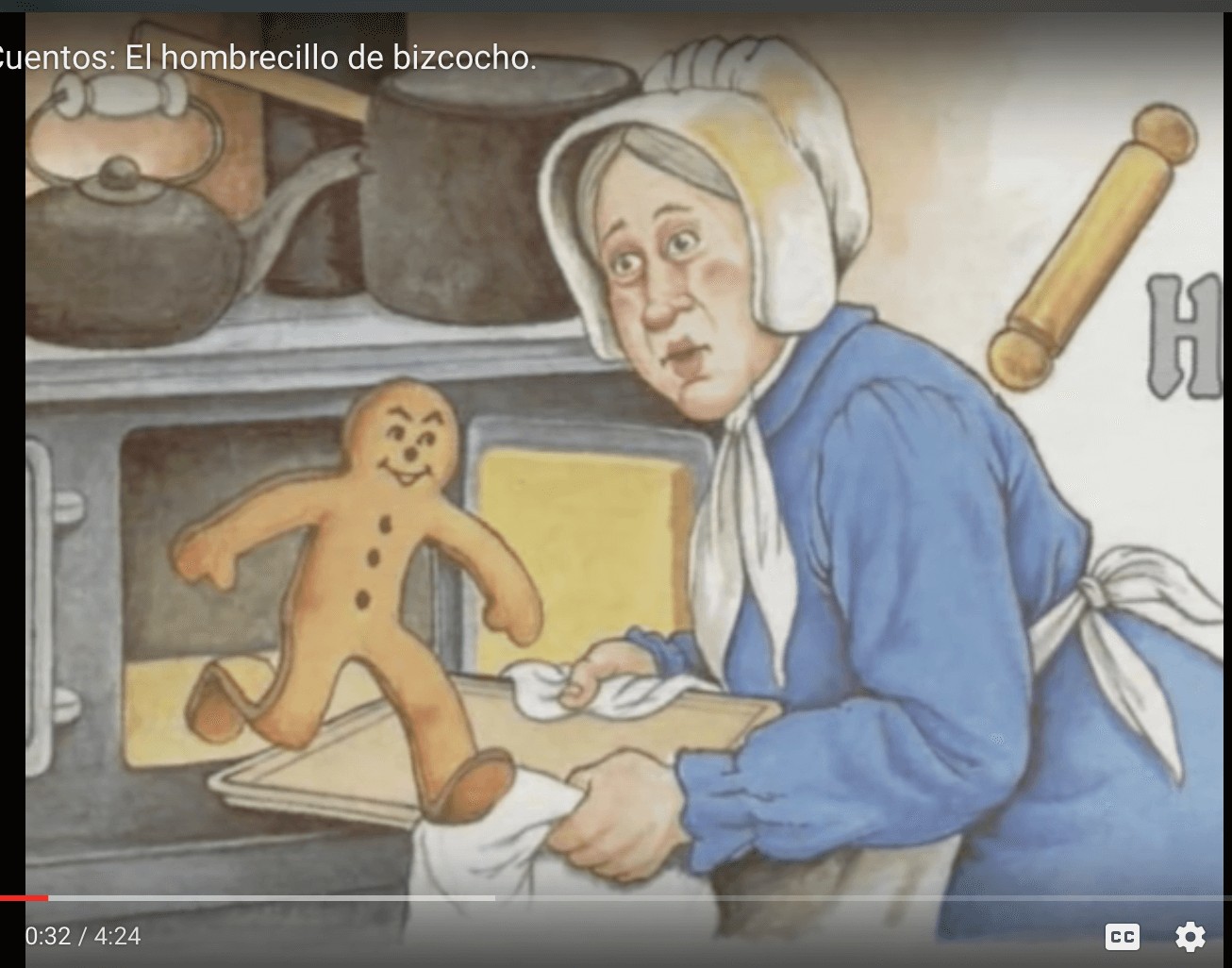 It's much easier to find videos for advanced learners because they can often use authentic resources such as animated children's books, fairy tales, news, TV shows, or current events. The video content does not need to be sheltered as much, if at all. My AP Spanish learners enjoyed El hombrecillo de bizcocho, El toro Ferdinando, and El espantapájaros. Click on the link below to get El hombrecillo de bizcocho.
Here is a QUIZ and ANSWERS that can be used with the video.
EL TORO FERDINANDO: CUENTO INFANTÍL EN ESPAÑOL
EL ESPANTAPÁJAROS
COMPREHENSIBLE INPUT FOR THE PRETERITE VS. IMPERFECT TENSES
El espantapájaros is a great video for providing comprehensible input of the imperfect and preterite. I pre-teach the vocabulary with this LIST of Vocabulary for Espantapájaros. Students watch once, then underline the the verbs in the imperfect and preterite. Then (without the script), they watch/listen again to the video and fill in the verbs. (Or fill them in without watching)
Here are those documents: El espantapájaros Activities
AP Spanish Students must write out the entire script themselves. It takes them a few days.
Here is a FREE video that provides comprehensible input for the expression: IBA A + INFINITIVO
FRENCH VIDEOS FOR LISTENING SKILLS AND GRAMMAR PRACTICE
And now, for the French teacher: Thirteen French Videos with subtitles, spoken very slowly. French learners get exposure to the passé simple.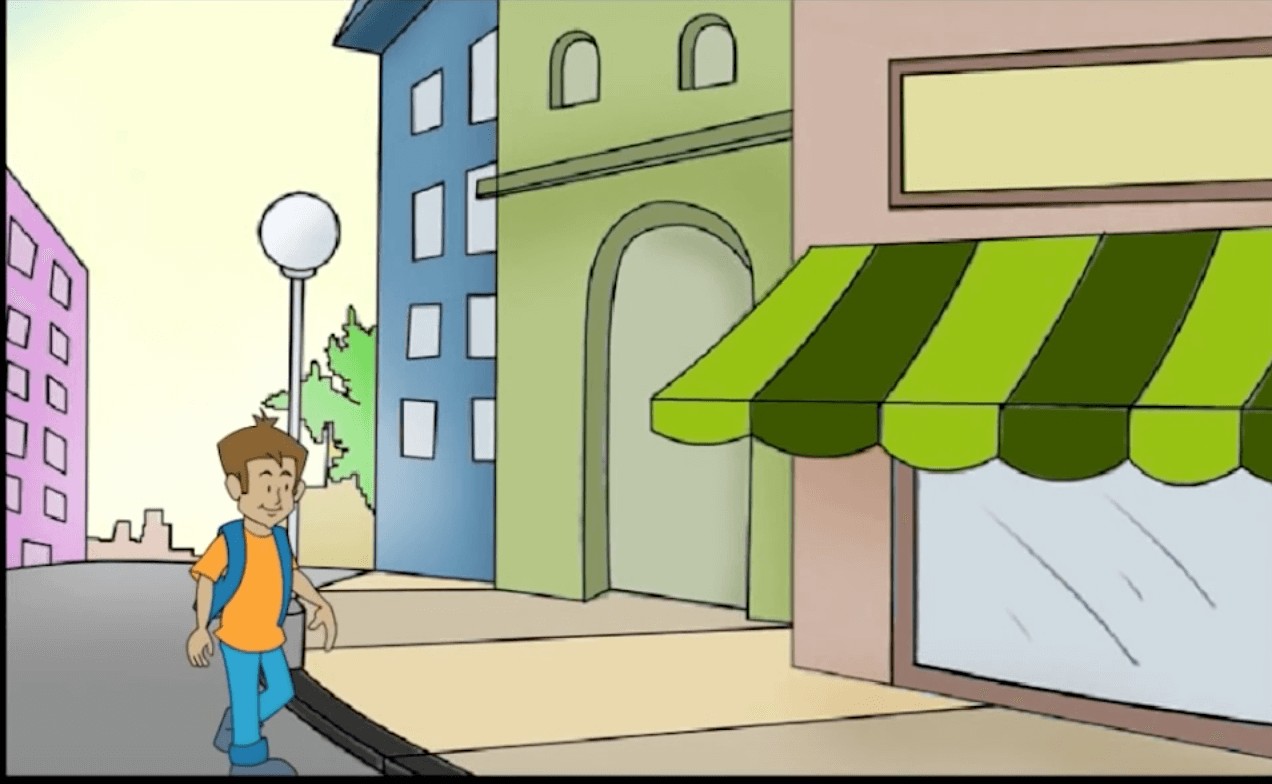 USING VIDEOS FOR STUDENT PRODUCTION
Students love movies and their phones.
Put them together and they will be excited to produce for you. Meredith White's students used their smart phones to describe themselves and another person. Some also used Snapchat. What a great idea, and so much fun! See a sample of her student's work below.
USING SNAPCHAT FOR STUDENT PRODUCTION IN YOUR WORLD LANGUAGE CLASSES
What's better Comprehensible Input than conversation with a native Spanish speaker? Videos of native speakers with Spanish subtitles AND overlaid visuals and animation to aid in comprehension, with music and corresponding activities for recycling and repetition of vocabulary and concepts.
Even better, videos that repeat targeted vocabulary or grammar concepts in context. World Language Teacher Heaven!
Here are some previews of my Spanish One Videos:
SPANISH VIDEOS WITH SUBTITLES AND ACTIVITIES
Here are the videos I have been promising you. Click on the images below and to the right to see the videos.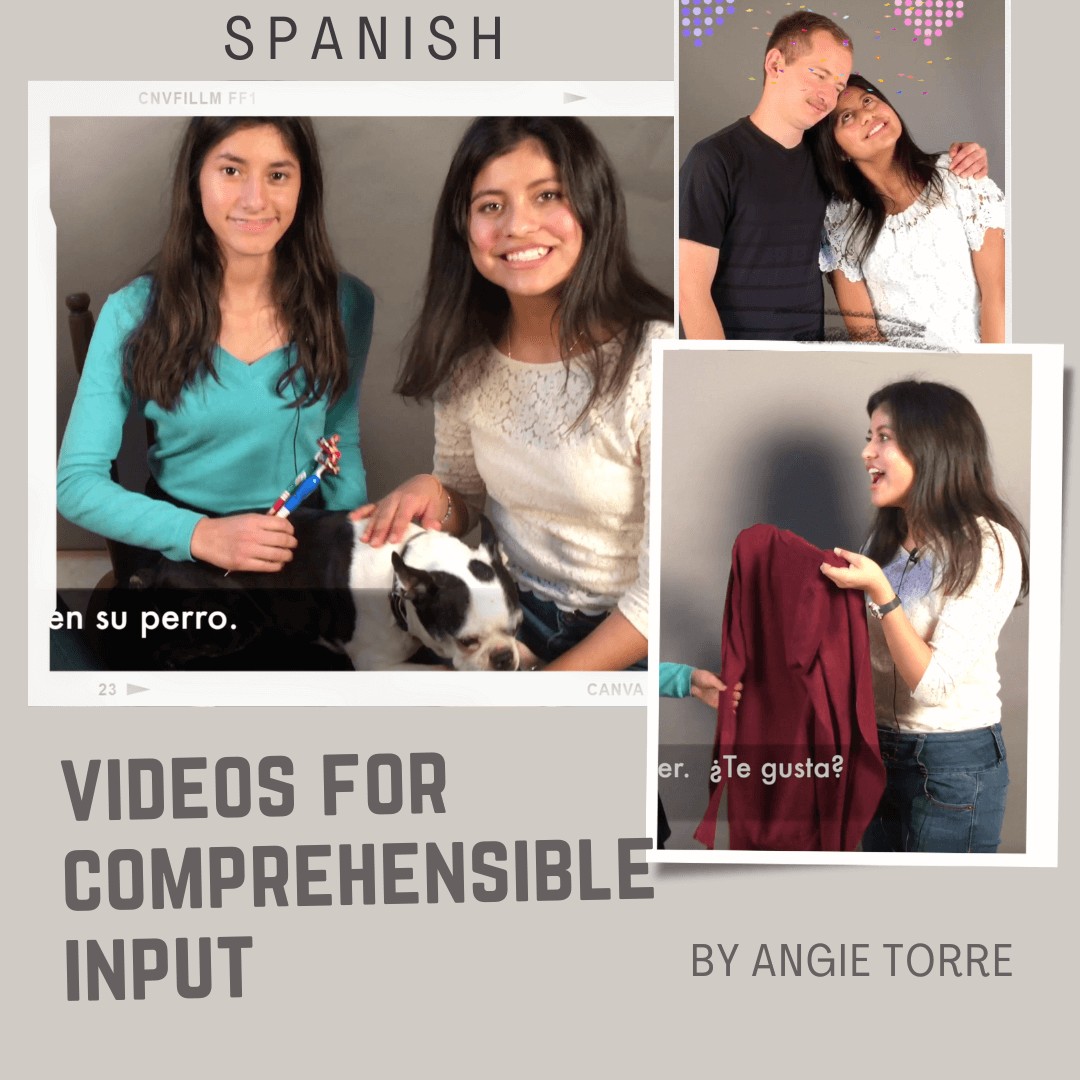 FREE VIDEO FOR SPANISH IMPERFECT
Students need to hear the expression, " Iba a + infinitivo" many times in context before it becomes part of their working vocabulary.
If you would like a FREE video that provides comprehensible input for that expression, click on the following link: Spanish Video for the Imperfect Tense
You will also receive my monthly newsletter with more freebies and teaching tips.
Now you have an abundance of videos to use for comprehensible input to add to your teacher tool-bag. 🙂
If you know of any videos that provide good comprehensible input, make a comment below or on my facebook page! And I'd appreciate it if you'd like my Facebook page!
IN THE NEXT NEWSLETTER
We will be talking about classroom management strategies. It is impossible to use the target language 90-100% of the time if students aren't listening and, as a result, many teachers give up on using it, resorting to English translations, thereby reducing the effectiveness of their instruction.
Veteran teachers may find this topic basic and your input is welcome. However, classroom management skills need constant honing and require consistency and mental discipline.
I remember when I started teaching (30 years ago) thinking, "We got all this training but no one told us how to manage the class and that's what I need the most help with."
If you would like to receive these freebies and teaching tips in your email, make sure to subscribe on the home page.
Read more about how to add comprehensible input into your lessons in this blog post: How to Add the Best Comprehensible Input
Don't miss out on freebies! Make sure to follow my TPT Store, ANGIE TORRE in order to get notified of updates on products, free resources, and new products. Happy teaching!
If you would like to receive these blog posts with teaching tips and freebies in your email, subscribe to my monthly newsletter. Click on the following link: Best PowerPoints and More for Spanish and French , scroll down to the bottom and click, "Sign up."
Connect with me on social media!