SPANISH VERB CONJUGATIONS: HOW TO MAKE IT FUN WITH WORD PROBLEMS AND CI
Oh, the horrors of grammar and conjugations charts! We want students to properly conjugate verbs, but we don't want to drill and kill. Is there a way to provide comprehensible input for verb conjugations without directly teaching conjugation forms? Why, yes, there is!
Of course, there are many different ways you can provide comprehensible input, so students assimilate the Spanish language, such as videos, TPRS, and listening activities, to name a few of my favorites.
BUT I WANT TO TALK ABOUT WORD PROBLEMS.
Word problems are an ingenious way to help students acquire the regular patterns of verbs and automatically use the appropriate ending. In this post, I'll give you 16 word problems in Spanish, and four free resources you can use in your classroom tomorrow!
But first, let's talk about the benefits of word problems for cementing verb endings. Below I've outlined reasons you might want to incorporate them into your lessons.
---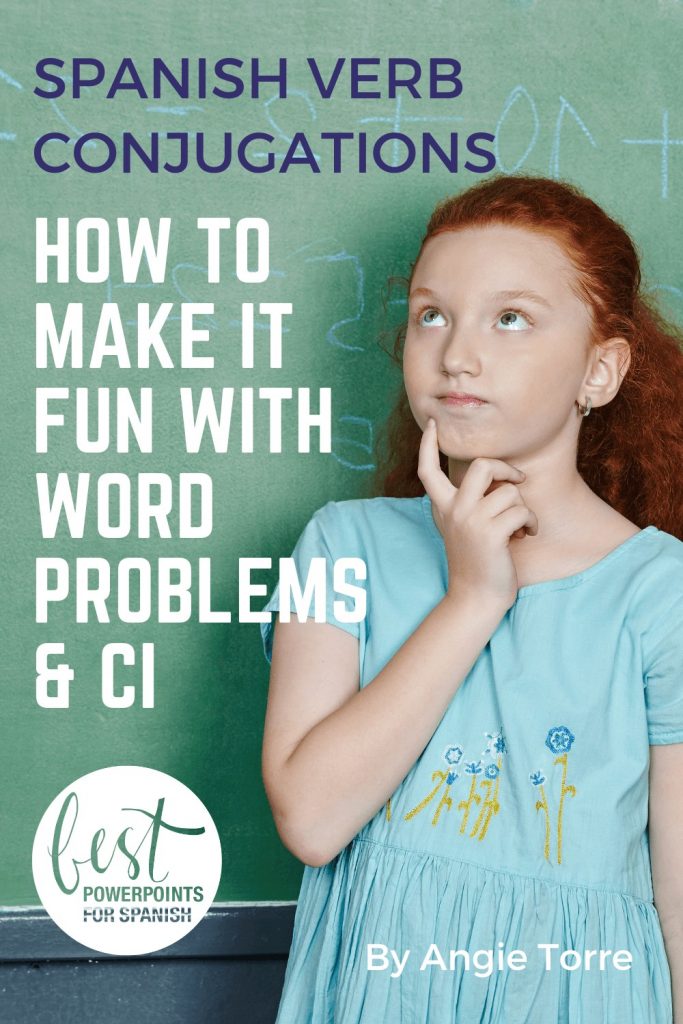 Benefit #1: If we insert all conjugations into a word problem, students hear a message that makes sense, and focus on the message until they solve the problem.
Benefit #2: It's fun! When learning is fun, students engage more and retain more.
Awesome Benefit #3: You can recycle the word problems for every verb tense you teach, starting with the simple present tense and ending with a compound tense with an auxiliary verb. Just change the wording to fit the different tenses you are teaching: preterite tense, present subjunctive, present progressive tense, imperfect tense, the verb IR with the near future, reflexive verbs, etc. No need to use more brain juice.
Benefit #4: Word problems are a concentrated way to expose students to all verb endings in a short amount of time.
Benefit #5: Students improve their Spanish conversation skills by saying the problems out loud and answering them.
---
WHAT ARE THE 6 SPANISH CONJUGATIONS?
For my word problems, I used only yo, tú, él/ella, ellos/ellas, and nosotros for the question, then ustedes for the answer. I did not include vosotros, but you can easily replace "ustedes" with "vosotros".
For French, you can use je, tu, il/elle, ils/elles, nous, and vous for the answer.
SWEET 16 VERBS
We make the exercise even better when we put high-frequency words in our game, such as the sweet 16 verbs.
What are sweet 16 verbs? They used to be called the Super Seven Verbs, originated by Terry Waltz. The idea was to introduce and repeat the most commonly used verbs so students could understand messages and communicate as quickly as possible. Terry's super seven verbs are: es, tiene, le gusta, hay, está, va a & quiere.
Mike Peto expanded on the idea and suggested the sweet 16 verbs.
Spanish Teacher, Robert McCarson came up with the idea of word problems as another form of comprehensible input. The questions help students assimilate Spanish Verb conjugations without having to drill verb endings or study conjugation charts.
SPANISH VERB CONJUGATION WORD PROBLEMS
Here is Mr. McCarson's word problem for the present tense conjugation of the verb TENER:
Si yo tengo dos caballos y tú tienes dos, Carlos tiene uno y Rita y Tita tienen tres, entonces, ¿cuántos caballos tenemos? UDS. TIENEN OCHO CABALLOS.
I LOVE IT!
Although the following video is not a word problem, it uses all verb endings of the Spanish verb TENER and is super adorable. My students loved it. It also reinforces the Spanish possessive adjectives. After watching the video several times, students act out their own version in groups of three or four, further cementing the concepts and improving speaking proficiency. Check it out! SPANISH POSSESSIVE ADJECTIVES VIDEO
Below are a few example sentences I cooked up for the remaining sweet 16 verbs. I hope you enjoy them!
PODER
Si yo puedo comer dos manzanas y tú puedes comer una, Ana puede comer una y mis padres pueden comer seis, entonces, ¿Cuántas manzanas podemos comer entre todos? UDS. PUEDEN COMER DIEZ MANZANAS.
GUSTAR
A mí me gusta el bróculi y a ti te gusta la lechuga, a Miguel le gusta la lechuga y a Ana y Pablo les gusta la coliflor, ¿Qué nos gusta a todos nosotros? LAS VERDURAS o LOS VEGETALES (NOS GUSTAN).
PONER
Yo pongo un dólar en la cesta y tú pones tres dólares en la cesta. Elisa pone dos dólares en la cesta y Eduardo y Pancho ponen diez dólares en la cesta. Entonces, ¿cuánto dinero ponemos en la cesta?
THIS MAKES MORE SENSE IN THE SPANISH PRETERITE:
Yo puse un dólar en la cesta y tú pusiste tres dólares en la cesta. Elisa puso dos dólares en la cesta y Eduardo y Pancho pusieron diez dólares en la cesta. Entonces, ¿cuánto dinero pusimos en la cesta?
QUERER
Si yo quiero once billetes y tú quieres uno, Victoria quiere tres y mis amigos quieren cinco, ¿cuántos billetes queremos todos? UDS. QUIEREN 20 BILLETES.
IR
Yo voy al supermercado y tú vas a la escuela. Víctor va a Francia y Alicia y Pedro van al parque. Nosotros vamos a diferentes lugares. ¿Quién va más lejos? VÍCTOR VA MÁS LEJOS. VA A FRANCIA.
SER
Yo soy maestra y tú eres alumno. Inés es alumna y Paco y Patricia son estudiantes. Todos somos trabajadores. ¿Cuántas personas van a la escuela? TRES PERSONAS VAN A LA ESCUELA.
ESTAR
Yo estoy contenta y tú estás triste. Juan está alegre y mis hermanos Andrés y Martín están emocionados. No todos estamos felices. ¿Cuántas personas están contentas? CUATRO PERSONAS ESTÁN CONTENTAS.
HACER
Yo hago el pollo asado y tú haces una ensalada. Mario hace el gazpacho y María y Javier hacen la paella y una tortilla española. Entonces, ¿cuántos platos hacemos? UDS. HACEN CINCO PLATOS.
DAR
Le doy un anillo a mamá y tú le das un vestido. Felipe le da un suéter y mis hermanos le dan un cuadro. ¿Cuántas cosas le damos a mamá? LE DAMOS CUATRO COSAS.
Le doy un lápiz a la maestra y Lucía le da tres lápices más. La maestra le da un lápiz a Juan y otro a Álvaro. ¿Cuántos lápices le damos a la maestra? UDS. LE DAN CUATRO LÁPICES.
DECIR
Alba pregunta, "¿Estoy gorda en este vestido? Yo le digo la verdad, pero tú le dices una mentira. Isabel y Lorenzo le dicen una mentira también. No todos le decimos la verdad. ¿Cuántas personas le dicen la verdad? UNA PERSONA LE DICE LA VERDAD.
SABER
Yo sé jugar tenis y tú sabes jugar baloncesto. Ignacio sabe esquiar y Lupita y Lola saben jugar béisbol. ¿Qué sabemos hacer todos? UDS. SABEN PRACTICAR DEPORTES.
VOLVER
Vuelvo a casa a las doce del mediodía y tú vuelves cinco minutos más tarde. Luego, Ana vuelve a la una. Luego, Rafael y Vicente vuelven a las cuatro y media. ¿Volvemos por la mañana, por la tarde, o por la noche? UDS. VUELVEN POR LA TARDE.
VER
Yo veo un gato y tú ves un perro. Javier ve un tigre y Belinda y Manuel ven unos elefantes. ¿Qué vemos nosotros? UDS. VEN ANIMALES.
SALIR
Yo salgo con Ryan Reynolds y tú sales con Tom Hanks. Will Smith sale con Jada Pinkett. Harrison Ford sale con Calista. Goldie Hawn y Kurt Russell salen juntos. ¿Con quiénes salimos nosotros? UDS. SALEN CON ACTORES / CON CELEBRIDADES.
OÍR (Preterite Version)
Ayer oí a los pájaros cantando y tú oíste a un bebé llorando. Sara oyó a los perros ladrando y mis hermanos oyeron la lluvia. ¿Qué día oímos ruido? EL…UDS. OYERON RUIDO.
VENIR
Yo vengo de Salamanca y tú vienes de Sevilla. Marcos viene de León y Victoria y Ángela vienen de Valencia. ¿De dónde venimos todos nosotros? UDS. VIENEN DE ESPAÑA.
HABER
Hay dos perros, tres gatos, cuatro hipopótamos y cinco jirafas en el zoológico. ¿Cuántos animales hay? HAY 14 ANIMALES EN EL ZOOLÓGICO.
WAYS TO USE THIS ACTIVITY AND THE ABOVE EXAMPLES
Add a word problem to your Bell Work or use it alone as a warm-up.
Assign a question for homework each night.
Student presentations: Assign a pair or group of students two or three of the verbs and have them memorize the questions and answers and act them out in front of the class. The benefit of doing this is that students will hear the questions and answers multiple times. The more repetition in context they hear, the more the language sticks.
If you are musical, put the problem to music and have the students sing it. I have been known to come up with some bad tunes, but students sang along heartily, and no one complained.
FREE RESOURCES!
For those of you who are not aghast at the idea of introducing the Spanish verb conjugations before providing comprehensible input, here are two FREE PowerPoints:
Click on the following link to get the Eight-Stations speaking activity for the Subjunctive Mood
BELOW ARE MORE FUN ACTIVITIES TO REINFORCE SPANISH VERB CONJUGATIONS:
Spanish Present Tense Regular AR, ER, IR Verb Conjugations Google Drive Activities
Spanish Digital Escape Room for Stem-changing Verbs
The Verb Estar and Emotions TPRS Story
Don't feel like creating your own test? Click on the following link to get a self-correcting, auto-grading Google Forms activity or assessment: Spanish Present Tense AR, ER, IR Regular Verbs
No time to write lesson plans? The good news is you don't have to! Try these Spanish GO Verbs and Irregular Verbs Lesson Plans and Curriculum
There are also online games that students love that would be perfect for practicing verb conjugations. Have you tried Blooket? In the following post, I tell you all about it: Fun Spanish Grammar Exercises Game: Blooket
You could also use Chat Mats for students to use as reference while you are providing comprehensible input.
SPANISH TENSES, SPANISH VERB INFINITIVES, STEM CHANGES, OH MY!
English verbs are easy to conjugate and understand because, even if you use the wrong endings, the personal pronouns tell you who the subject is, and most verbs end the same way: I play; you play; he plays; we play; they play. In Spanish, students need to get the verb form and conjugation correct, or they won't make any sense.
I hope you will consider adding word problems to your basket of comprehensible input strategies. If you do, I'd love to hear how it worked for you.
Don't miss out on freebies! Make sure to follow my STORE in order to get notified of updates on products, free resources, and new products. Happy teaching!
If you would like to receive these blog posts with teaching tips and freebies in your email, subscribe to my monthly newsletter. Click on the following link: Best PowerPoints and More for Spanish and French , scroll down to the bottom and click, "Sign up."
Connect with me on social media!