SPEAKING ASSESSMENTS FOR WORLD LANGUAGE: WHAT'S THE BEST WAY TO TEST PROFICIENCY?
World language speaking assessments frustrated me for many years until I figured out how to incorporate them into my lessons in a time-efficient manner. Until I figured out how to enjoy doing them without feeling like I was juggling 30 balls in the air.
World language teachers have no trouble providing performance assessments for reading, writing, and listening language skills. But speaking is a crucial language skill that often goes untested. The main issue is that there is not enough instructional time to assess the speaking proficiency of every student in the class and still cover the material. So, how do you evaluate speaking skills and still have time to teach? I'll tell you how I did that in this blog post.
WHAT I DID BEFORE WASN'T WORKING
BEFORE I solved the problem of how to test students' speaking ability, this was the scenario: I would be asking questions to an individual student while other students, who were supposed to be working on a different task, took advantage of my lack of vigilance to socialize or cheat on the written portion of the exam.
My attention was divided as I tried to assess, scan the class, redirect the class, scold misbehavior, and focus again, distractedly, on the student I was evaluating. Sound familiar? And I would do this during most tests and many activities. It was not working, and I was getting super stressed out.
---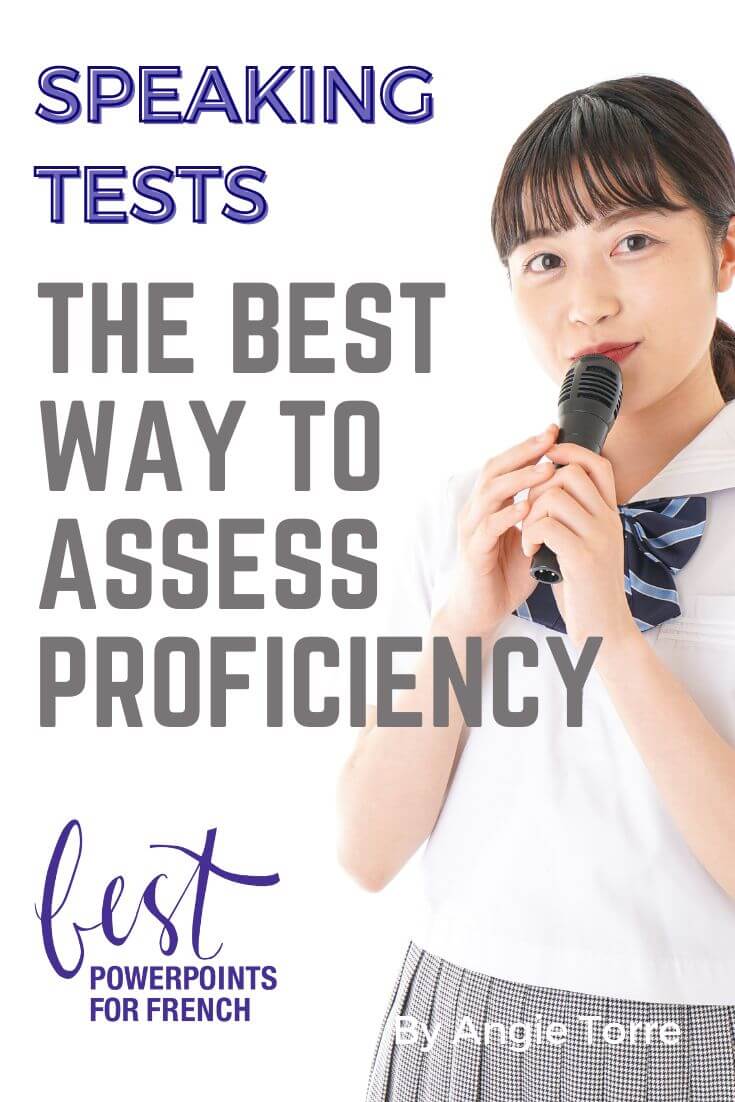 HOW DO YOU ASSESS INTERPERSONAL SECOND LANGUAGE SPEAKING SKILLS?
One of the pitfalls of using the question/answer method of assessment is the students are answering, but not asking questions. Receptive communication is much easier than creative. The following strategy solves that defect:
Students ask students: After studying a certain concept or topic, I assign, as partial homework, the writing of five to ten questions that must include the grammar or vocabulary studied.
For example. If we are studying the past, students must write ten questions about what someone has done in the past using the preterite or imperfect tense, or the passé composé.
If we are studying the clothing unit, students must write five questions about what people wear, etc. Before assigning the questions, I model how to ask them repeatedly by posing questions to my students.
---
The following day, I call on a student who has not yet taken an oral exam. I call this person "La víctima" or "la victime" for humor. I say, "¿Quién es la víctima hoy?" and search the room for a hapless student, stroking my imaginary evil mustache.
Students take out their homework and raise their hands to ask questions. If the question is correct, I give them two points and they ask the victim the question. If it is incorrect, I give the questioner a point.
I usually ask one or two questions as well. The test-takers are graded on fluency and accuracy, and I enter the grades, test scores from 0-30, into the grade book. Here is the rubric I use when evaluating their proficiency: Oral Exam Rubric
Since students do not know ahead of time what the questions are, communication simulates real-world scenarios.
These question sessions take only five minutes of class time, and they take place two to three times a week. Once every student has taken an oral exam, I start over.
2. Debates and group discussions, such as Socratic seminars: I use these activities for informal assessment. I describe the activity and explain the rules and expectations. I also give students a list of vocabulary words and expressions commonly used in a debate. Students research their specific topics, and prepare main arguments and possible rebuttals. Here is the link to my instructions and rubric: Debate Instructions
HOW CAN SPEAKING SKILLS BE TESTED DAILY? DAILY SPEAKING ASSESSMENTS
I use daily participation points to promote and assess speaking skills. I call on students to answer questions. If they raise their hands and answer correctly, I record two points on the seating chart. If they raise their hands but answer incorrectly, I record one point. Rewarding all target language use, correct and incorrect, encourages participation and lowers the affective filter.
When students answer incorrectly, I repeat what they say, changing the incorrect part, but not blatantly announcing the incorrectness of the answer. For example: ¿Cómo te llamas? Me llamo es Roberto." I SAY: ¿Cómo te llamas? Yo me llamo Angie. ¿Te llamas Roberto? Sí, me llamo…
My assistant adds up the points at the end of the week and the totals get tallied and added to the speaking or participation grade at the end of the grading period.
If you wish to enter a score for participation but NOT speaking proficiency, do not give points to students who answer correctly but did not volunteer.
GROUP AND PAIRED PRESENTATIONAL SPEAKING ASSESSMENTS
I rarely had fewer than 30 students in a class, so paired and group presentations were a necessity, but also effective activities to encourage speaking, as students are less fearful when working with and collaborating with other students.
Below are several options for assessing students' speaking skills in groups or pairs:
Students write a story using the vocabulary or grammar concept, then act it out. Students take turns acting and narrating.
In pairs, students tell a story describing the drawings. They take turns narrating.
Spanish or French commercials: In my advanced classes, I show Spanish or French commercials, which I buy from Teacher's Discovery. I show the commercial as often as needed until students understand it, helping them with any words they don't understand. Then, students choose a commercial they like and embellish it to make it longer, at least 90 seconds. They act it out as a group. Each person must speak. Click on the following link to get the FREE Student Instructions and Rubric. Students love this activity.
Students work in pairs or small groups to write and act out a skit. All students must speak.
Puppet Shows: Anxiety will affect test takers' performance. One way to decrease stage fright is to allow students to hide behind a curtain or object as they act out their dialogue or script. You may think puppets are too juvenile and uncool for middle or high school students. Quite the contrary! My students loved working with puppets and often asked to borrow mine. (I use them for comprehensible input when dialogue is needed.)
8-STATIONS SPEAKING ACTIVITY ASSESSMENT
This activity solves the problem of the 30 to one teacher-student ratio. And the best part? Students LOVE it and beg to do it again.
During this exercise, students speak Spanish or French the entire period. The teacher's presence is multiplied by 8 because students ask the questions.
There are eight stations (bank, school, gym, house, etc.) that we practice every day for eight days before the event. Students answer the questions for homework and orally answer the following day in class.
I choose eight exemplary students to be maestros or professeurs. I model for them how they are to ask the questions. I put students into groups of three or four by ability, so the stronger students can help the weaker ones. If student A answers incorrectly, the maestro repeats the question for student B, and so on until a student answers correctly. Once all the questions have been asked and answered, the teacher rings a bell, and students advance to the next station. Only the professeur is allowed to look at the paper.
When students answer correctly, they are given poker chips which are valued at one point each.
For more detailed instructions and the 8-Stations Speaking Activities and Questions, click on the following links:
FREE: Spanish Future Tense 8-Stations Activity
Preterite Eight-Stations Activity
Spanish Subjunctive Eight-Stations Activity
Spanish Present Tense Eight-Stations Activity
French Present Tense Eight-Stations Activity
Le passé composé Eight-Stations Activity
ASSESSING SPEAKING TASKS WITH GOOGLE VOICE
There may not be enough time during the class period to evaluate speaking proficiency, but students can answer questions or talk about a specific topic, then submit a recording in Google Voice. You can learn how to do that here: How to Use Google Voice in your Foreign Language Class
Follow the step-by-step instructions in the post above to set up your Google account and Google Voice. Give students the number, then model how to record and submit a recording of the speaking task. This is effective for evaluating individual student performance. However, you must set up guidelines to minimize cheating. Do you allow students to read the script? If not, how will you know? I told students if it sounds like they are reading the script, I will ask them to do it again. Because of technological advancements, there are even better ways to test students individually, as mentioned below.
HOW TO ASSESS SPEAKING SKILLS AND PREVENT CHEATING
Have students submit a video recording in Google Classroom, in Canvas, in Schoology or whatever learning management system you use at your school. Make sure to give students detailed instructions, a model of what superior performance looks like, and a rubric or rating scales.
HOW TO PREPARE STUDENTS FOR A SPEAKING PROFICIENCY ASSESSMENT
Students will not feel comfortable speaking until they have heard YOU speak the target language, modeling language in context and repeating the words in many scenarios. They will not dare to utter a word until you have inundated them with comprehensible input. Once they have heard and read the TL extensively, they will risk communicating verbally.
A way to encourage oral communication and still provide comprehensible input is to put students in pairs and have them play dice games. Why? Because they ask the already correctly written questions (CI), and answer with the already correctly written answers. All they must do is read the questions and choose the correct answers.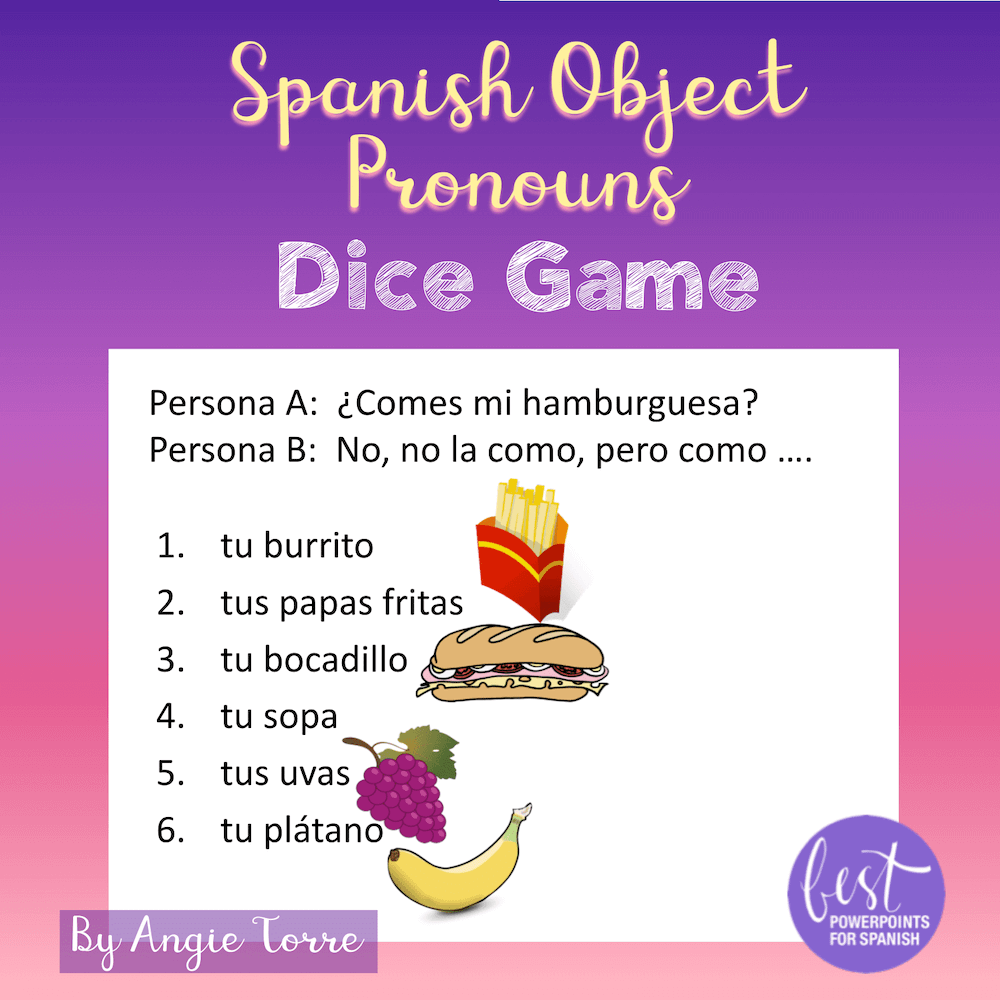 Since they are reading grammatically correct statements or questions, they can practice without fear of making mistakes. And the games are super-fun. Whenever I assign dice games, there is laughter throughout the classroom. Usually, students used small dice, but they really loved it when I used a super-large, sponge die for group dice games.
CLICK ON THE LINKS BELOW TO SEE EXAMPLES OF DICE GAMES:
Spanish Object Pronouns Dice Game
Spanish Possessive Adjectives Dice Game
PAIRED AND GROUP PRACTICE SPEAKING ACTIVITIES AND GAMES
Students will feel more comfortable speaking in front of the teacher after they have first practiced with a peer. Paired and small or large group speaking activities can be fun and take many forms. Below are a few examples:
WOULD YOU LIKE SOME FUN PAIRED AND GROUP ACTIVITIES TO SPICE UP YOUR LESSONS? CLICK ON THE LINKS BELOW:
Spanish One Paired and Group Speaking and Listening Activities
Spanish Two Speaking and Listening Paired and Group Activities
Spanish Three Speaking and Listening Paired and Group Activities
HOW TO GRADE SPEAKING ASSESSMENTS
The best way to evaluate the students' speaking proficiency level is to use a rubric. For AP Spanish, I used the College Board rubrics, of course.
For lower levels, I created my own to guide me AND the students. They need to know exactly what is expected of them. For example, in level one, the first speaking test may assess only pronunciation. Here is a rubric I use to grade a memorized skit students do in pairs: Spanish One Speaking Proficiency Test Rubric
Here is an example of a rubric taken from the Ohio Department of Education: Speaking Proficiency Rubric
The ACTFL Can Do Statements can also serve as a rubric, to help students self-assess, or to help you write your own rubric for the oral language test.
HOW DO YOU ASSESS STUDENTS' SPEAKING SKILLS DURING FINAL EXAMS?
I don't. If there were a way to test speaking skills using multiple-choice questions, language teaching would be easy. But there isn't.
Since I have been testing oral proficiency for various levels all throughout the year, I omit the task of the speaking test on the day of the final exam. I do, however, give oral exams to the remaining students who do not yet have a score in the grade book for oral proficiency. On that day, students do not help me ask the questions as they are busy taking the parts of the test that assess reading, writing, and listening.
Is it possible to give speaking assessments to every student in the class on a regular basis? Yes! And without losing control of the class, or your mind! I hope you found some of these ideas useful. Now you have some strategies for how to test speaking abilities in the world language classroom.
Don't miss out on freebies! Make sure to follow my STORE in order to get notified of updates on products, free resources, and new products. Happy teaching!
If you would like to receive these blog posts with teaching tips and freebies in your email, subscribe to my monthly newsletter. Click on the following link: Best PowerPoints and More for Spanish and French , scroll down to the bottom and click, "Sign up."
Connect with me on social media!