World Language- How to Educate Your Administrators
Are you wondering what to do
when your administrators insist that you teach using the translation or grammar worksheet method?  Educate your administrators!
Are you tired of being evaluated by people who are not familiar with what you teach? Educate your administrators!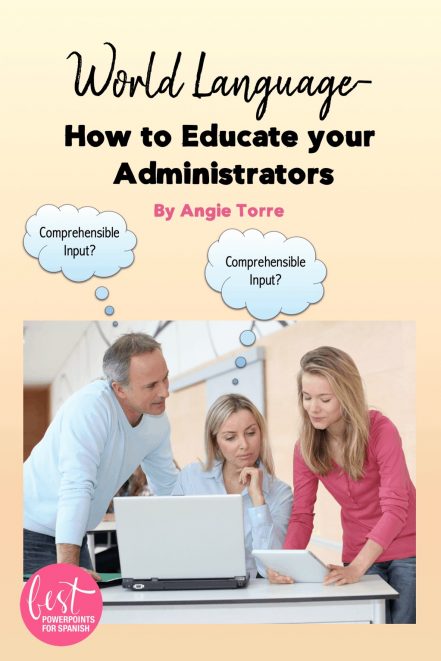 Are you bursting brain cells trying to figure out how you are going to write your mandated STUDENT-CENTERED lesson when your level-one learners have no foundational vocabulary and are not able to speak the language yet?
Then this blog post is for you.
Students will not acquire the target language when the teacher is forced to use methods unsupported by research.  And World Language teachers cannot teach in isolation.
If level-one students don't hear enough repetition in context because the teacher isn't using the target language 90-100%, when they reach the next level, they will be hearing L+3 or L+5 or even L+100 which the brain is incapable of processing.
The input they receive must be only slightly above what they can understand (L+1) or they will never acquire the new vocabulary and structures.  Therefore, it is ideal for foreign-language teachers to work together and to use the same, proven methods.
BUT, HOW DO YOU GET EVERYONE ON THE SAME PAGE? (PLC ANYONE?)
You can fight for years in the fog of ignorance or you can do what I did, use evidence to educate your administrators (and any interested colleagues).
HERE IS MY STORY
I spent approximately 15 of my 31 years in education trying unsuccessfully to convince my colleagues to speak 90-100 % of the target language and to use comprehensible input. I felt like a salmon swimming upstream toward the goal of proficiency.
Finally, after fifteen years of seniority and a few retirements, several principals asked me to participate in the interviewing of Spanish teacher candidates. One of the interview questions I suggested was, "What strategies do you use to provide comprehensible input to your students?"
Comprehensible input? What's that?
So, I explained, in great detail.  And they listened.  I also explained to the Vice Principals in charge of our department. And THEY listened.
Filled with hope, I downloaded articles from ACTFL and shared them with my administrators and colleagues. Here are two that we read together:
I told my bosses that ACTFL was the main authority for world language teachers, like the National Council of Teachers of English (NCTE) is for English teachers.
I also created a check-list for the V.P. to use so he/she knows what to look for during observations. You can access it here:
CHECK LIST FOR ADMINISTRATOR OBSERVATIONS
Don't be discouraged.  It is impossible for your principal to be knowledgeable in the teaching methods of all disciplines. Offer to educate your administrators and watch your working environment change for the better.  More importantly, watch your students succeed and become proficient.
Speaking of proficiency, did you read my last few post about all the cool apps and tools for connecting students to native speakers outside the classroom? In case you missed them, here are the links:
How to Find Conversation Partners for Your Students
How to Get Your Students Speaking the Target Language Outside the Classroom
If you'd like to receive more teaching tips and freebies in your email, sign up for my monthly newsletter.  You can sign up HERE and receive a FREE 122-slide PowerPoint on infinitives and Spanish verbs. (Scroll to the bottom.)
Would you like to be the first to hear about new products or updates on existing products? Click on the following link to follow my store: ANGIE TORRE
Don't go away! Next time we will talk about how to juggle the responsibilities of work and family and still lead a balanced life.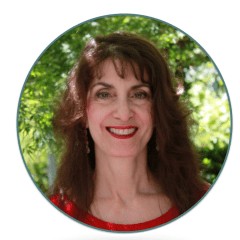 Pinterest
Get More Freebies and Teaching Tips!
Testimonials
You are saving this new teacher countless hours of work!!! The preview showed great resources and examples for AP students can't wait to begin using! Worth every single penny. Gracias for all your time and energy spent on creating awesome curriculum!

Angela A

Such a lifesaver! Love the lessons! Creative and excellent resources. Thanks so much. You made my year much easier.

My kids loved it and said it helped clarify this very difficult concept. Muchas gracias!

Mrs. F's Room
Youtube VideosMy Youtube Videos