How to Get Your Students Speaking the Target Language Outside the Classroom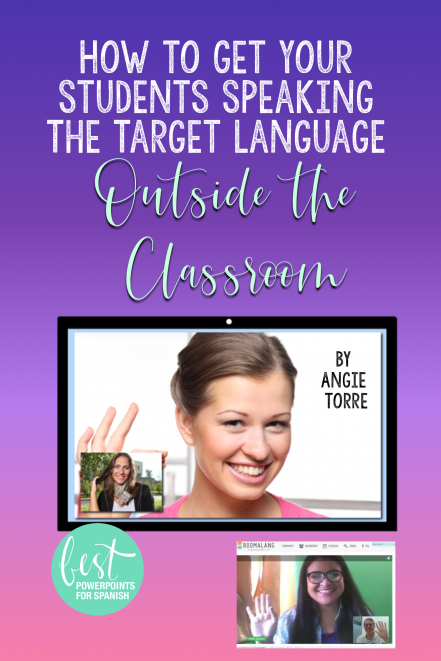 The typical 1:35 student-teacher ratio makes it difficult for students to get the interaction they need to acquire the language.  Authentic one-on-one speaking experiences are more effective and now, thanks to technology, there are many ways to provide those opportunities to your students.
Also, talking with a real person gets students excited about learning the language so they work harder to become proficient in and out of the classroom. Win-win!
You know the National World Language Standards, right? One of the five C's is, "Communities:"
Standard 5.1: Students use the language both within and beyond the school setting.
Standard 5.2: Students show evidence of becoming life-long learners by using the language for personal enjoyment and enrichment.
And you want to work towards the standards because….it impresses your principal.
NO! Because your students will become more proficient!
For years I struggled to find ideas to implement this standard with little success. But I realized how important it is to give students opportunities for real-world communication, the kind we strive to imitate in the classroom but with rarely the same results.  Communicating one-on-one with a native speaker is one of the best and most enjoyable ways to acquire a language.
How do we make this happen? How do we get students speaking the target language outside the classroom?
There are several ways to provide authentic communication connections.  Below, I will share my experiences with three AWESOME services.
What are they?
If you want to get your students speaking the target language outside the classroom, this is the way to go. Boomalang offers opportunities to speak with Spanish and French speakers representing 14 different countries with more to be added soon. I was surprised by how many different Spanish-speaking countries I had to choose from.
This service would be especially helpful for AP Spanish Students to acclimate to accents from different countries as they cannot predict which speakers will appear on the AP exam.  A good preparative exercise would be to require them to speak to people from different countries with different accents. (For more tips for teaching AP Spanish, click here: AP Spanish)
The fee is $40 for six 15-minute conversations, though you could spend as little as $16/student if you'd like. As you increase the amount of conversations, the price-per conversation drops–for example, to as low as $5.50/conversation.
Students speak with a native speaker one-on-one. (This is important to mention because some services only offer group discussions, not nearly as effective.)
Who pays?
 The school or the students pay for the service.  Next time your department is discussing where best to spend the limited resources, I suggest making authentic conversations a priority.
Who are the speakers?
Boomalang hires speakers from partner universities, mostly of university age or slightly older/younger who are trained to encourage and guide Spanish and French learners from all levels of proficiency. They leverage techniques in circumlocution and alternatives, as well as falling back on cognates to maintain flow.
The enchanting French speaker with whom I talked was on the Boomalang site.
You can see part of the conversation here:
The Process
The video conversation is similar to Skype.  The students log in and look at the list of native speakers, read about them, their age, city, hobbies.  They click on a photo to learn more about the person.
They then choose a person and click on his/her calendar. I found this process to be quite fun!
The teacher can verify (Woo hoo!) that the student had a conversation by looking at the dashboard.  He/she can also see how long the student talked and even listen to the recorded conversation.  The teacher cannot see the video, however.
If the student has technical difficulties or any trouble, he/she can get support by messaging through chat, which worked very well for me. A lightning-speed answer appeared instantly on my screen. No waiting.
How to Get Started
Boomalang will send you an invitation email which includes a link that says, "Click here to start".
After clicking, you will create a password and be prompted to complete your profile.
Create a profile. Complete all of the remaining information in your profile. You may add a photo if you like.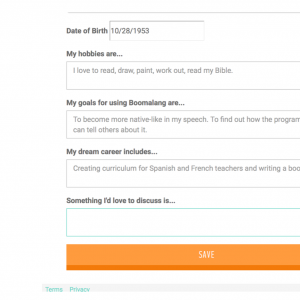 You then click, "COMMUNITY," and, "Schedule time with me," on any speaker you'd like. It was really easy, even for a non-digital native like myself.
If you would like more details or are interested in setting this up for your class, click here: Boomalang
I had a wonderful time talking to Margarita in Columbia.  The image was quite clear,  almost as if she were in the same room with me.  Here is part of our ten-minute conversation:
Talk Abroad works in much the same fashion as Boomalang.  It is available in Spanish, French, German, Italian, Portuguese, Japanese, and Arabic with over 15 countries represented.
You can purchase three 30-minute conversations for $40 or four 10-minute conversations at $7.50 per conversation per student, with a minimum of four conversations required. (10 minutes is a good amount of time for elementary but may be a bit short for high school, in my opinion.  30 minutes is a bit long for intermediate students but great for advanced or college students.)
Students may stay with the same partner or choose a new one in a different country.
Teachers provide the topics so the speakers cover conversational areas students need to practice.  Advanced students may have open conversations
Are the speakers trained?
Speakers are trained to use circumlocution to help with vocabulary gaps and to demonstrate patience as the learners attempt to communicate.
What if I have problems?
Talk Abroad provides technical and other support to students via chat which I used and found to be quite helpful.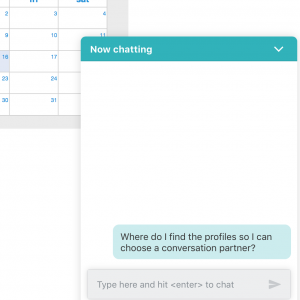 There is also a support page with full instructions. Click here: SUPPORT PAGE
Want more ideas about how to implement Talk Abroad into your curriculum or ready-made materials to use?  Click on the RESOURCES tab!
The Process
Create a student account. (Every time after that, log in)
Read the profiles and choose a conversation partner. Click on a photo to get more information.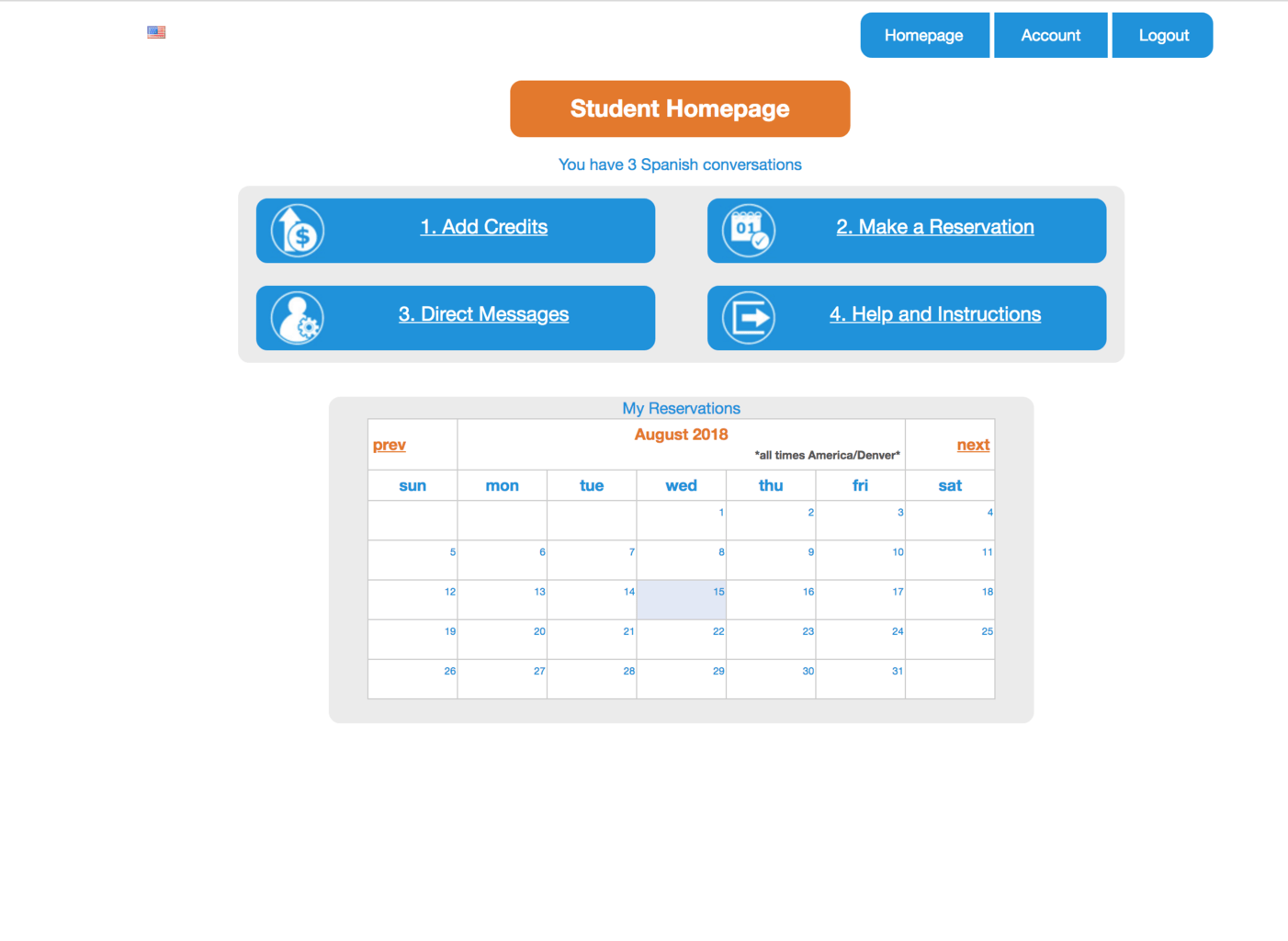 Look at the calendar and choose an available time. (Yay! The times show in YOUR time zone, not THEIRS! Very convenient!)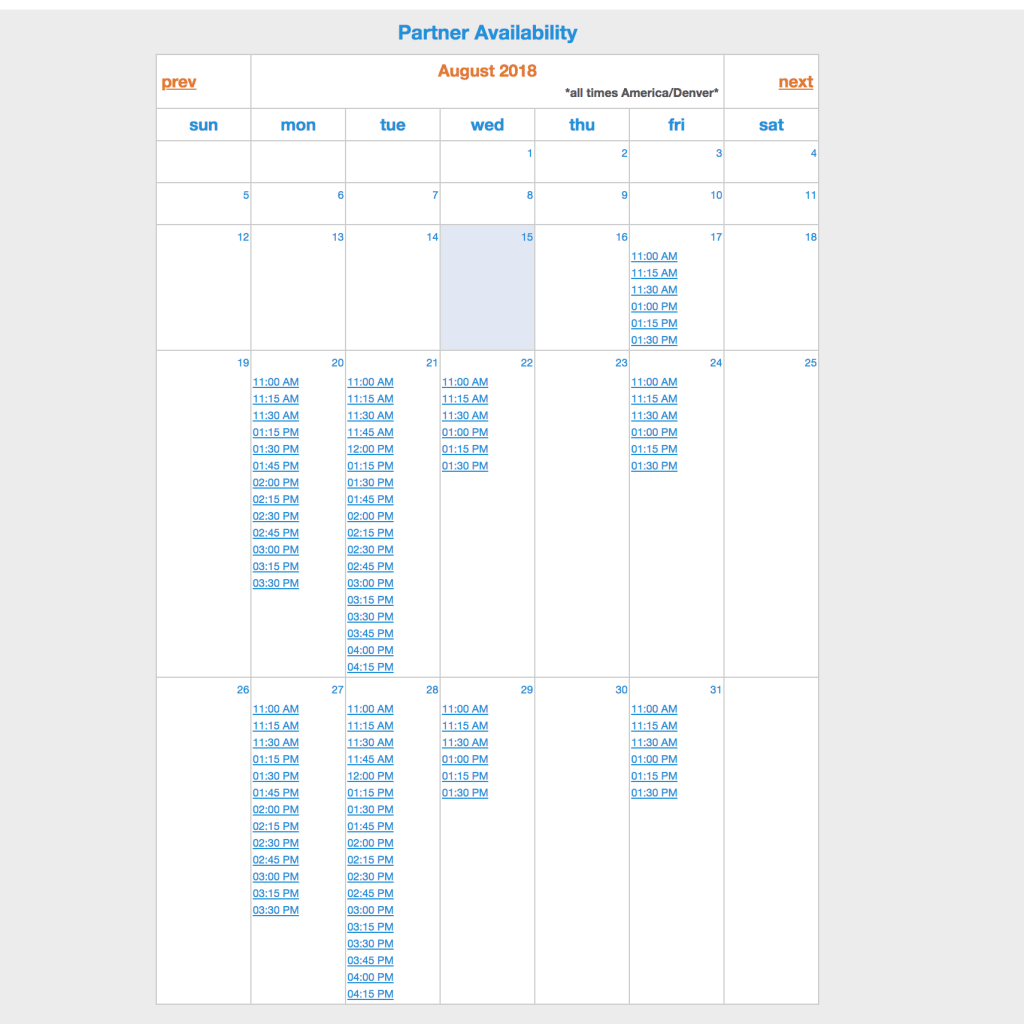 Ways to make the experience successful for the students:
Give students topics to discuss ahead of time, especially topics they have discussed in the past or you are currently studying.  For example: Food, for Spanish One; daily routine, for Spanish Two; what you used to do as a child, for Spanish Three; an article for Spanish Four and AP.
The following video (for Spanish teachers) demonstrates how to add and use the topics for boomalang.
Have students write out questions the night before for homework and turn them into you so you can correct any errors.
Assign post-conversation tasks.  For example: Listen to your conversation and make observations; summarize what you talked about; write the topics you discussed and your partner's answers to your questions; listen to the recording of your conversation to review what you didn't understand and to prepare for your next conversation; write questions for your next conversation.
Have students research the country of their partner: education system, culture, food, interesting / popular places before speaking to their conversation partner.
Make sure to tell students to use Google Chrome or Firefox browser.
Epals is FREE.
The teacher connects with a teacher in another country whose students exchange emails with his /her students.
Students email the native speakers.  My level one and two students enjoyed doing this and we even exchanged a class video session.  Their students wrote in English and mine wrote in Spanish (not ideal, in my opinion, but at least students were connecting with and communicating with real people).  Some of my students even video chatted with their partners.
How to sign up
Fill out the filters on the left side so the language you wish your students to speak pops up on the right. I put, "Spanish" as my language because I wanted my students  to communicate with native Spanish speakers.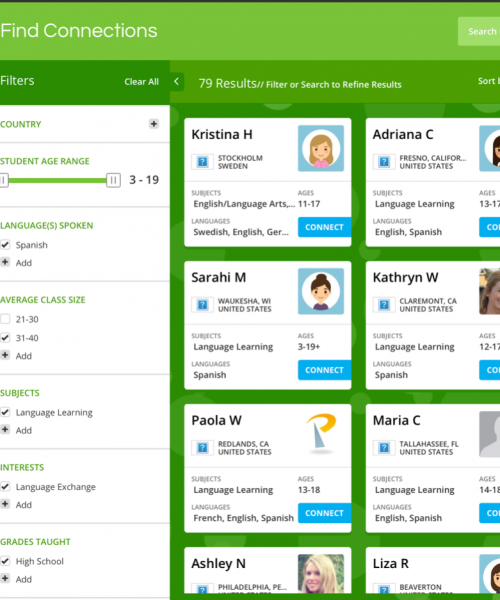 Log in
Choose a teacher and send an invitation.
My invites still say, "pending" but when they respond, we will begin emailing.
I did this last year and, honestly, I don't remember the details.  I think I got the list of students from the other teacher and assigned a student to each one.
TODAY'S FREEBIE: Here is the assignment I gave my students:
El correo electrónico – Email
Debes escribirle a tu amigo/a en España cinco veces. (5x)
Imprima (print) los mensajes o manda (send) los mensajes a: [email protected]
Otra opción:  Habla con tu amigo/a en FaceTime y graba (record) la conversación.  Mándame la conversación a: [email protected]
Cada (each) conversación o email vale diez puntos.
*************************************************************************************************
Now you have THREE ways to get your students speaking the target language outside the classroom.
And LOVING it!  While you're at it, take full advantage of these wonderful services and hold conversations yourself in order to maintain or improve your fluency.
In the classroom, the teacher/student ratio is 1:25 at best.   You can improve that ratio tremendously and fulfill the National World Language Standards at the same time while providing your students the best opportunities to become proficient.
In the next post, we will explore several other services and ways to get students speaking the target language outside the classroom. Stay tuned!
If you'd like to receive these freebies and teaching tips in your email, you can sign up on the  Home Page.  Just scroll down to the bottom.