Three Tips for teaching AP Spanish Language and Culture
Do you feel confident about teaching AP Spanish Language and Culture?  I didn't the first time.  Or the second time.  I wish I had had the resources and some helpful tips to make the ride less bumpy.
If this is your first or second time teaching AP Spanish, I hope I can make the experience less stressful and help your students to succeed with the following three tips for teaching AP Spanish Language and Culture: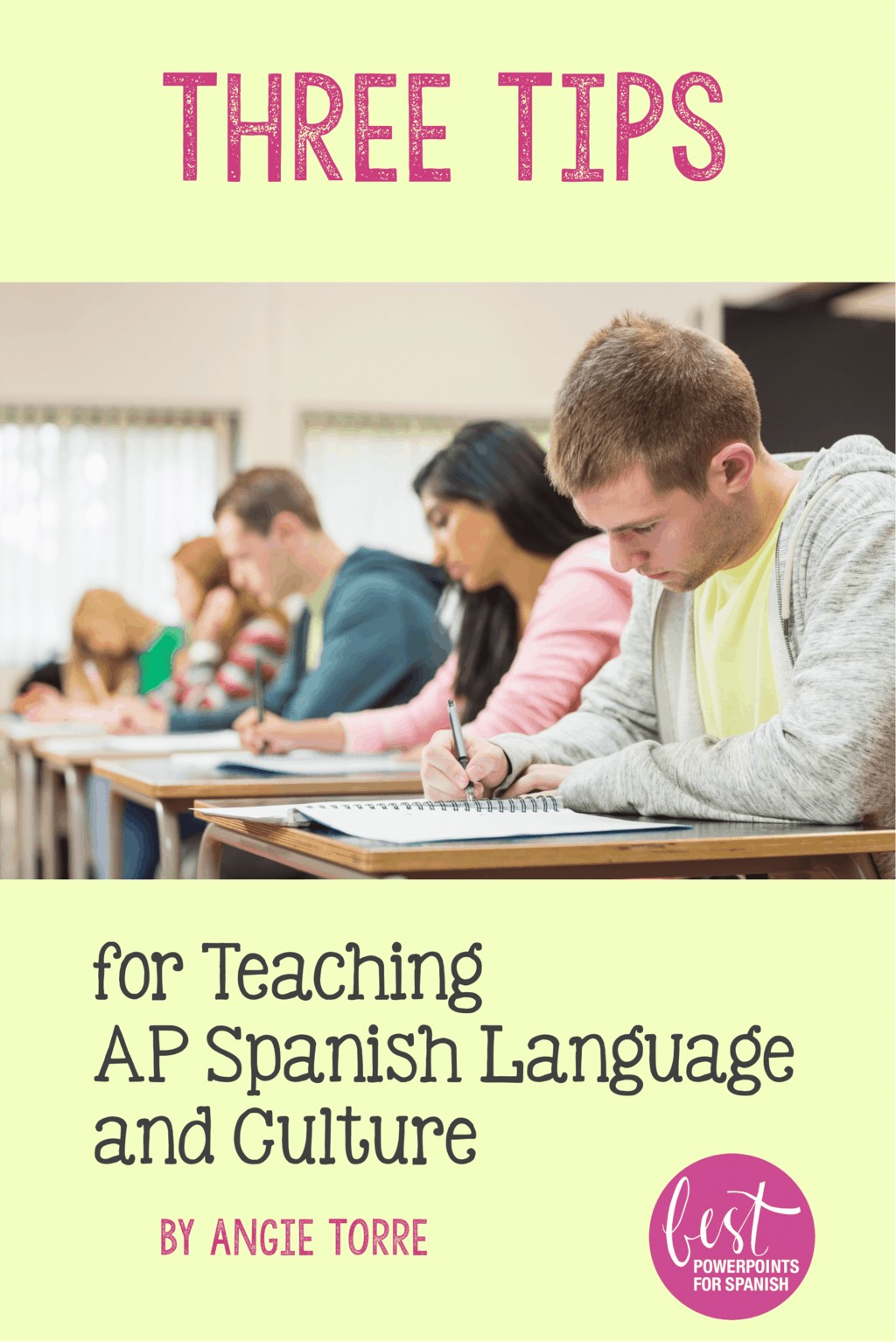 The Listening Part of the Test
The listening portion of the test is the most difficult part for non-native and non-heritage speakers. Before playing the audio source, pre-teach the different accents and have students repeat the words pronouncing them the same way as the native speakers of that particular country.
That way, students will be more apt to hear and understand the words spoken in the audio. Show them on the screen how the "S" is omitted in some countries, how the, "C" and, "Z" are pronounced in Spain, the, "ll" is pronounced in Argentina, etc.  Then, read portions of the script together out loud in the accent of the speaker.  Students need to be familiar with all types of accents because every year the speakers are from a different country and there's no way to predict which accent students will hear.
Also, play the audio in portions, stopping and repeating sections, especially in the beginning. Otherwise, students will be overwhelmed when they don't understand anything.  Tell students it is normal not to understand.  That will put their minds at ease. I told them even I had difficulty understanding some audio because of unfamiliar accents, background noise or bad quality of audio.
SaveSave
SaveSave
Native and Heritage Speakers
Enlist the help of the heritage and native speakers asking questions such as, "¿Cómo se dice esta palabra en tu país?  ¿Cómo dicen Uds. eso?" Make sure to point out at the beginning of the year that Spanish is spoken in 21 countries and they all speak it differently.  That doesn't mean that one way is correct and another is incorrect.  Show them a myriad of synonyms for one word, several of which they have probably never heard.  (That establishes your credibility – important for non-native instructors.) Also point out that there is colloquial speech, acceptable for talking with our friends but unacceptable in formal writing.
Why is this important? Because, right at the beginning, you head off statements like, "That's not how you say it.  You can't speak Spanish!"  When I first began teaching AP Spanish, those comments eroded my confidence in my ability to teach the class and also caused the students to doubt me.  As I became more experienced, I realized the heritage speakers had much to learn.  By seeking their input, I showed respect for their language and culture and also made them aware, and respectful of language differences in different countries.
La "conversación simulada":
Tell students to underline key information, place, time, person with whom one is speaking.
Tell students to use an index card to cover up the lines of conversation below where they are so they don't lose their place. If they are on the wrong line, the entire dialogue will be incorrect.
Have students work in pairs in the beginning. It's less anxiety-producing and more fun for them.  I played the dialogue and one person practiced in front of his/her partner.  Then I played it again, and they switched places.  The third time, they separated and recorded their dialogues.  This practice also helped the students get familiar with the structure and requirements of the conversación simulada.
When the College Board overhauled the AP Spanish Language and Culture Exam I had just spent a year working 12-hour days to create what I thought were awesome resources for AP Spanish.  I was NOT happy.
So, I began searching the internet for AP Spanish materials.  I was not going to do that all over again.  Alas, no such materials revealed themselves and I was back to square one.  One more year of 12-hour days.
Now the good news:  I have done all the work for you.  Why should you kill yourself while your colleagues who teach the lower levels go home at 3:00, leaving you to correct essays for two hours a day?  Only to leave an unfinished stack on your desk as, rubbing your throbbing temples, you haul your backpack out the door.
My AP Spanish Lesson Plans and Curriculum for an Entire Year  are kid-tested:  During the five years that I taught AP Spanish, all my students passed except one, and most of my students are non-Spanish speakers.  Also, all my students who skipped Spanish Four entirely, going straight from Spanish Three to AP Spanish passed the test, and with less time to prepare than students on a regular schedule, only 3.5 months on the block.
This curriculum meets all the Learning Objectives set forth by the College Board and is based upon the three modes of communication: Interpretive, Interpersonal, and Presentational and the six themes:  La belleza y la estética, la vida contemporánea, las familias y las comunidades, los desafíos mundiales, las identidades personales y públicas, y la ciencia y la tecnología.
More good news:  most schools will pay for this curriculum when they realize that it will help students succeed on the AP Spanish Test and may boost the school's AP Scores.  Ask your school to pay for the AP Lesson Plans and Curriculum for an Entire Year and then sit back because all you have to do is correct papers.  No prep work for you!
Those lessons are based on Triángulo aprobado. I just posted the AP Spanish Lesson Plans and Curriculum for the new, updated version of Vista Higher Learning. Click on the following link to access them: AP Spanish Vista Higher Learning
Here are some sample PowerPoints from the curriculum
El ensayo persuasivo
El correo electrónico
La presentación oral
Want to know more about the new AP Spanish Lesson Plans and Curriculum based on the updated versions of Vista Higher Learning AP Spanish Language and Culture Test Prep booklet and Temas? Click to watch the video below.
These lesson plans do everything for you.  All you have to do is teach, correct, and go home. But don't take my word for it. Listen to what a consumer has to say about them. Dowler Wheat talks about her how the lessons helped her in the video  below.