What Do I Teach After the AP Spanish Exam?
It's the day after students have taken the AP Spanish exam. They have worked diligently for months and now expect a reprieve from the pre-test rigorous curriculum. Do you continue teaching as before or do you change course? What do you teach after the AP exam?
Expect a collective moan when you tell students to read an article, listen to an audio, and answer the comprehension questions. What!? We worked our butts off! It's reward time!
That's true, of course.  But it's also true that the AP Spanish Language and Culture class is a course with instructional requirements that students still must fulfill.
I continued assigning some practice activities for speaking, reading, listening and writing to build on my students' skills and vocabulary. But I also interspersed fun activities we didn't have time to do before. Here is a list of the activities.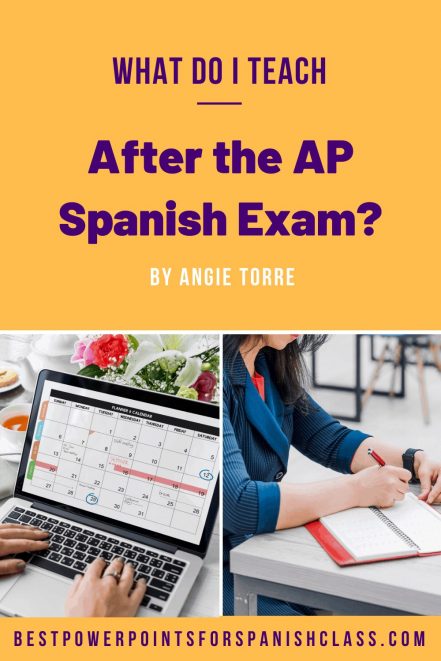 EIGHT ACTIVITIES THAT WILL KEEP YOUR STUDENTS ENGAGED AND STILL LEARNING AFTER THE AP SPANISH EXAM
AKINATOR
Play Akinator
Students think of a person and the genie asks questions until he guesses the person. It's fun for students and still contributes to their proficiency because it provides comprehensible input. To help students think of famous people, here is a list of famous Spanish speakers: Hispanohablantes famosos
VIDEOS
Students watch illustrated children's videos. They have focused intently for months on non-fiction readings and audios, which require much more concentration and mental discipline than stories. These videos are a great brain break but they are still comprehensible input and great listening practice.
VIDEOS
Students watch the old Disney movie, "Ferdinando." I know it's old but it's super cute and students like it.  Here is the link: Ferdinando
Click on the link to get the vocabulary and activities for Ferdinando: Ferdinando Activities
Click on the link to get the digital vocabulary and activities for Ferdinando for distance learning: Ferdinando Activities
MOVIES
Students watch Bajo la misma luna. They LOVE this movie! Plus, it improves their listening skills and their vocabulary and exposes them to aspects of Mexican culture. It also builds awareness of the struggles of illegal immigrants in this country.
The vocabulary list helps students understand the movie and the activities recycle the vocabulary and assess comprehension. Again, it's GREAT comprehensible input.
COMMERCIALS
Students watch Spanish commercials, then write and act out their own 90-second commercial in a group. I showed students commercials from Teachers Discovery, but they enjoyed finding their own on the internet. They researched in groups on different computers.
Here are a few examples from the internet. One has subtitles. It is preferable for students to choose commercials WITHOUT subtitles as this is a listening assessment.
Click on the link to get the student instructions for the anuncio commercial:
Click on the link to get the rubric: Directriz para el anuncio commercial
RECIPE
Students prepare a recipe from a Spanish-speaking country and do a three to four-minute oral presentation explaining how they prepared the dish. In order to do this without the aid of Google Translate (UGH!), they will need a list of vocabulary.
Confession: Even I need a vocab list. Even though I lived in Spain and Mexico, I didn't spend much time in the kitchen. And when I lived in France, I accidentally put cayenne pepper in my apple pie instead of cinnamon. My poor French friends didn't get to taste American apple pie. But I digress…
To get the vocabulary list, instructions, and rubric click on the following link: Las recetas
Making and presenting cultural dishes is one of the students' favorite activities. They not only learn a ton of practical vocabulary, get a taste of culture (pun intended), and practice their speaking skills, but they get to eat the result. Fiesta every day!
Before assigning this activity, pre-teach the vocabulary and play Kahoot with them.
Make sure students sign up for the recipe they are going to make and present, so you don't have duplicates. I also prohibit tacos, enchiladas, burritos, and any Mexican dishes that are well-known. Here is the sign-up sheet I use: El registro de entrada
DEBATE
Students get into groups and participate in a debate. Click on the link to get the vocabulary, instructions, possible topics for the debate, and rubric: Debate
This activity, although challenging, is highly beneficial to students because it engages them and builds their speaking skills.
TELENOVELA
Students watch episodes of a popular telenovela on Netflix. My students watched Águila Roja and Corazón Salvaje but I think the rage right now is, "Gran Hotel." (It certainly is the rage for me. I'm hooked!)
After watching an episode, students choose a character and pretend to be that person. They write facts about the person and then write a journal from their perspective.
The following day, students get into groups and write the next episode. (It's really fun to see how many students come close to the video version when we watch the real episode the next day.)
Click on the link to get all the activities and rubrics: Telenovela
Click on the link to get the digital activities for distance learning: Digital Telenovela
SONG
AND MY FAVORITE ACTIVITY:
Students find a Spanish song on the Internet. They write or type the lyrics in Spanish and in English including the country of origin. They write one or two paragraphs explaining why they like the song. They also research the singer and write a biography of him or her including childhood facts, interests, family, his/her career as a singer, and who influenced him or her.
Then, they play or sing the song to the class. Some students have knocked my socks off with their performances.
And, of course, students will need vocabulary in order to succeed on this task. Click on the following link to get the vocabulary list: Music Vocabulary
I hope this post has given you some ideas and resources to facilitate teaching after the AP Spanish exam. And don't forget about your incoming AP Spanish students! Here is the SUMMER HOMEWORK I assign to keep students exposed to Spanish and prepare them for each section of the exam. Check it out: AP SPANISH SUMMER HOMEWORK
If you would like all the lesson plans with the step-by-step details here are the following links:
AP Spanish Lesson Plans and Curriculum for Triángulo aprobado
AP Spanish Lesson Plans and Curriculum for Vista Higher Learning
Click on the following link for more Tips for Teaching AP Spanish Language and Culture.
If you would like to receive more freebies and teaching tips in your email, subscribe to my monthly newsletter: BestPowerPointsforSpanish  Just scroll down to the bottom and click, "Sign up."
Don't miss out on freebies! Make sure to follow my STORE in order to get notified of updates on products, free resources, and new products.
Happy teaching!
Connect with me on social media, too!