How to Teach the Argumentative Essay for AP Spanish for Best Results
When I first started teaching AP Spanish, I panicked. How was I going to teach students how to write an argumentative essay for AP Spanish Language and Culture when I had never learned? (Or, if I HAD learned, that information was irretrievable from the depths of my brain.)
I went running to the English teachers at my school asking for direction. And they came through.
Using their templates and resources (I spent months reading books), I created PowerPoints and activities in Spanish to help my students succeed on the argumentative essay (previously called the persuasive essay). The curriculum took several years to perfect.
During this period of trial and error, I revised the lessons to further help students do their best writing. And they DID some excellent writing, organizing their essays, using transitions, and supporting their thesis statements. I was so proud of them!
I'D LIKE TO SHARE THE 15 STRATEGIES I USED THAT HELPED THEM SUCCEED ON THE ESSAY PORTION OF THE AP SPANISH LANGUAGE EXAM.
---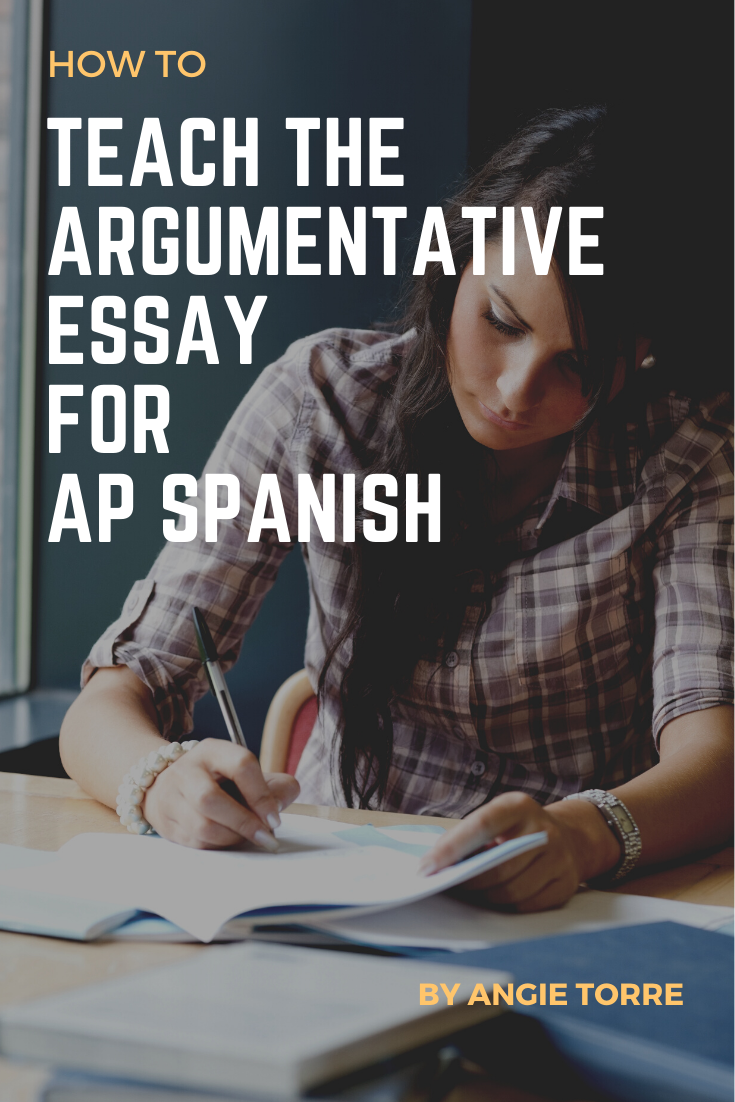 1. Don't assume anything. Begin at the beginning
A novice teacher mistake (Yes, I'm talking about myself!) is to assume students know the basics.
Many of them don't. Teach each concept from the bottom up, one step at time. First, teach students how to write a sentence, then a paragraph. Don't assume students know how to capitalize words at the beginning of the sentence and end with a period, or that they even know how to keep to one topic in a paragraph. (Stream of consciousness writing anyone? UGH!) Do several practices, then give them incorrect sentences and paragraphs and have them write correct ones.
2. Teach the vocabulary necessary for writing a convincing persuasive essay.
Provide students with the vocabulary for expressing cause and effect, addressing opposing views, citing sources, introducing topics, expressing opposing viewpoints, and making comparisons. Teach them transition words and phrases as well as synonyms to prevent repetition of words. Give them lists of vocabulary that they can use as a reference as well as model essays using the vocabulary.
3. Teach them how to write a thesis statement. Begin at the beginning.
Before teaching students how to organize their essays, teach them how to write a thesis statement with three reasons and practice with them until they have mastered it. Show students model thesis statements.
---
4. How do you get a 5 on the AP Spanish Essay? Practice, practice, practice!
Don't move to the next step until students have thoroughly practiced and mastered the previous step. The most important step is the writing of the thesis statement. Once that is perfected, students are on their way to organizing their essays. And organization is KEY! I used to ask my students repeatedly, "What's your point?"
Give students plenty of model thesis statements. Have them analyze good and bad "tesis con tres razones". Then, in pairs, direct them to write their own. Choose exemplary thesis statements from student volunteers and show them to the class. Project sub-par statements from College Board examples and have them tell you how to improve them.
5. Teach students how to organize their argumentative essays for AP Spanish.
I spent a large chunk of my time correcting the organization of the essays as well as the writing. Students need to be organized in their thinking. Give them an outline template and tell them to write "un bosquejo" using the template. Here is the one I use.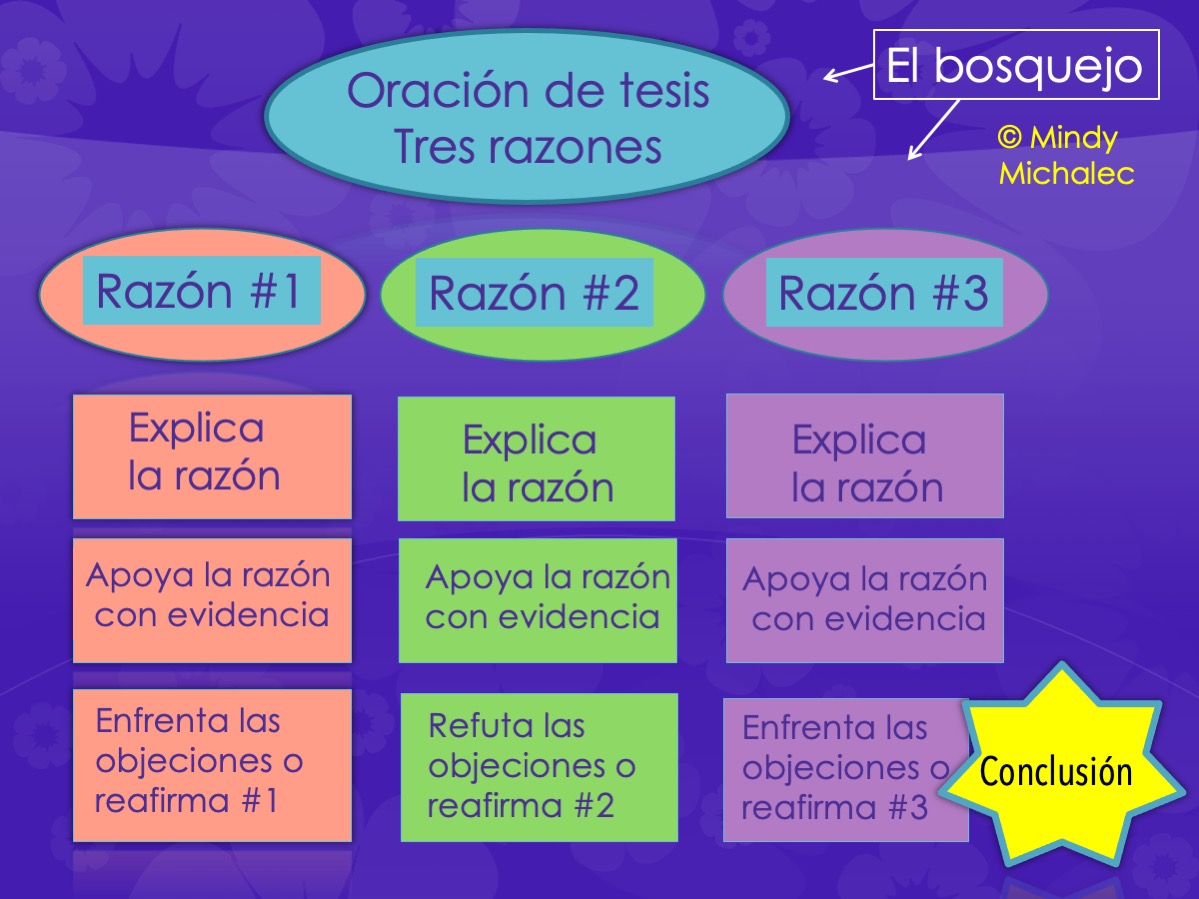 It's also helpful to provide students with a graphic organizer to help them plan.
6. Teach students how to write an introductory paragraph.
Model how to include the requisite components of the intro paragraph: the hook, the thesis statement with three reasons (a strong opinion), some effects, and a conclusion or transition. And, of course, practice, practice, practice. Tell students to pair up and write an introductory paragraph.
7. Next, teach students how to write developing paragraphs.
Move on to paragraphs and teach them how to write topic sentences that correspond to the three reasons in the thesis. Teach the developing paragraphs separately. Have students peer edit using a checklist. If not possible, give samples of student work with no names or samples you have made up.
8. Then, teach students how to write a conclusion.
Model all the required elements of a concluding paragraph: propose a solution or action, address the opposing arguments, reaffirm the thesis, end with a strong statement.
9. Teach and practice transitions.
Give students three paragraphs with no transitions and have them write connecting words or sentences.
10. Analyze model argumentative essays for AP Spanish.
After teaching students the components of each part of the essay, have them analyze a model essay and label the parts: 3 reasons, topic sentences, transitions, hook, topic sentence, evidence. (I divide the class up and use this activity as a competition.)
AND NOW THE SOURCES!
11. Focus on the question.
Direct students to read and underline the question.
Have students read the written source and listen to the audio underlining and recording any information that answers the question.
12. Ensure students comprehend the written and audio texts.
Tell students to write a short title for each paragraph to help them thoroughly understand the written source. Occasionally, I had students write "una síntesis" and lift their white boards to show me what they had written.
For the audio texts, I had students practice pronouncing words using the pronunciation of the speaker's particular region, for example: omitting the "s," practicing the Castillian "z" and "c." They also previewed and practiced the vocabulary they would encounter before reading or listening to the texts.
13. Insist students make a decision.
After reading and listening to the sources, students must make a decision: Yes, no, or both. They can't be on the fence and they MUST not resort to summarizing the sources. Remind students to write THEIR opinion, not to begin with the sources. You will have to keep repeating this as students will initially summarize the sources instead of writing their own thesis statements. Ask them, "How can you use the sources to support YOUR thesis? Insist they use the sources ONLY to support their position. Show them several possible examples of thesis statements for each position, yes, no, or both.
14. Teach and practice the formal register.
Teach students how to use the third person instead of the first and second. Give them informal sentences with the first and second person and have them convert them to the third person, then do the reverse. These FORMAL ESSAY TASK CARDS help students practice.
AND NOW THE HARD PART
15. Give frequent feedback.
This is why so many teachers don't want to teach AP Spanish. In order for students to improve their writing, they need frequent feedback, which, translated, means HOURS of daily correcting. No life. I'm serious. Tell your family members or significant others that, for a few months, you will be unavailable.
I corrected the essays the first time using codes. I modeled for them how to use the codes to correct their essays. I circled the errors and gave the papers back to students to correct using the codes. I actually corrected each essay twice, first for organization (Does it have an introduction, a thesis statement with three reasons, corresponding topic sentences, transitions, conclusion, supporting evidence…?) Then, I corrected for grammar, vocabulary, and fluency.
After the students turned in the revised versions, I corrected them twice again, for organization and grammar, this time writing in the corrections and giving them a grade. I staple their essays to the College Board Rubric, circling the areas on the rubric where they need to improve.
In the five years that I taught AP Spanish, only one of my students did not pass, so I know these strategies work. I believe they will work for your students also.
All of these tips and activities are included in my PowerPoints and Activities "How to Write an Essay for Spanish Three and Four" and "El ensayo argumentativo."
Teaching AP Spanish is rewarding, but also a time sucker. If you would rather not spend hours writing lesson plans in addition to correcting a mountain of essays and other assignments, use the ones I have created. Everything is done for you! All you have to do is teach, correct, and go home. Click on the link to see them.

AP Spanish Lesson Plans and Curriculum for an Entire Year: Triángulo aprobado
AP Spanish Lesson Plans and Curriculum for an Entire Year: Vista Higher Learning and Temas
Here is the link to all the AP Spanish PowerPoints
If you would like to give your Spanish Four students a good foundation in expository essay writing, essential to success in writing an argumentative essay, click on the following link: How to Write an Essay in Spanish No-Prep Lesson Plans and Curriculum
I hope these strategies are helpful to you as you guide your students to mastery of the Argumentative Essay for AP Spanish.
In case you missed the other posts related to AP Spanish, here they are:
Three Tips for Teaching AP Spanish
What do I Teach After the AP Spanish Exam?
Why I teach AP Spanish the Way I Do
If you would like to receive these blog posts with teaching tips and freebies in your email, subscribe to my monthly newsletter, Best PowerPoints for Spanish and French. Just scroll down to the bottom and click, "Sign up."

Connect with me on social media, too!
Instagram


LinkedIn


Pinterest


YouTube