How My Student Became Fluent in Two Years
Would you like to know how to become fluent in two years?
The best way to become fluent in a second language is to converse, one-on-one with a native speaker.  Actually, that is, in part, how I learned Spanish.  In a regular classroom, the typical student-teacher ratio is anywhere from 1/36 to 1/25.  How is a student going to get the required exposure to reach proficiency with so few opportunities to speak and interact in the language?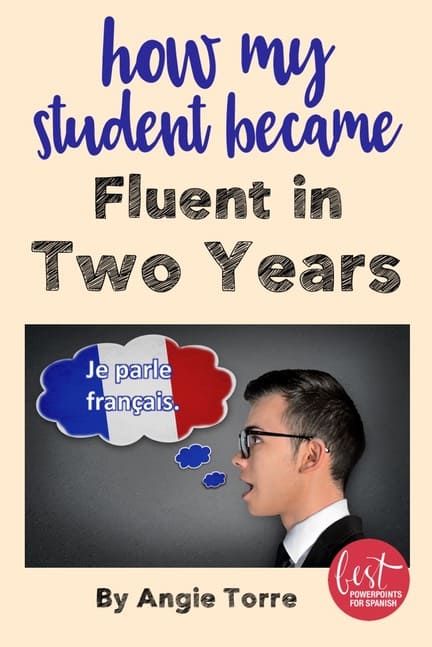 When I was working as an illustrator/graphic artist, a co-worker asked me to tutor him in French during our ten-minute breaks.  TEN MINUTES!  I agreed.  For two years, I spoke to him in French, guiding and teaching him as I went but, mostly, speaking to him in French.
Approximately two years later, he was fluent and ready to travel to France.  Which he did.  He speaks French to this day.
How can we duplicate that experience for our students?
When I first began teaching, I was greatly frustrated by the impossibility of the situation.  So, I sat down and thought about how I could expose my students to more one-on-one language.
Then it came to me– MULTIPLY THE PRESENCE OF THE TEACHER in the classroom!
And that's what I did.
I created an activity that allows EIGHT times more language interaction than normal and I am offering it to you for FREE.  It is one of my most popular products.  You can use it for repetition in context of any vocabulary or concept or as an END-OF-THE-YEAR ACTIVITY to recycle the vocabulary and provide tons of language in context.
I created a short version just for the future tense.