How to Make the Preterite Tense in Spanish Fun
Drill and Kill - BORING!
When you think of preterite practice, do you think of boring conjugations, drills, and writing practices?  How do you make the Preterite tense in Spanish fun? There are many activities that lead students to proficiency while captivating their interest and keeping them actively engaged.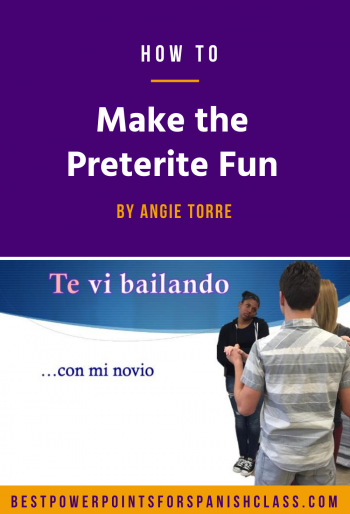 Here are a few:
Jeopardy, Kahoot, stations, competitions, and most importantly, TPR Stories make the preterite not only fun but easy to assimilate because of the repetition in context.  Instead of conjugation drills, tell stories that keep the students engaged and wondering what will happen next.
The Irregular Preterite TPR Story PowerPoint is one of my most popular with teachers and students.  The irregular preterite is repeated throughout the story and it is ridiculous enough to captivate the interest of the students.
Also, play games that force students to write complete sentences about what happened in the past. If you assign games that students are already excited about, they will be super-engaged. Since students love breakout rooms, digital escape rooms are guaranteed winners. Once students have learned all of the preterite, including the -ir stem-changing verbs, they will have a blast trying to escape from the locked car in this Spanish Digital Escape Room for the Preterite Tense.
Digital Escape Rooms are also great for distance learning. If you'd like to know more about Escape Rooms, click on the following link: 5 Reasons to Use Popular Digital Escape Rooms
Do you need PowerPoints for teaching the preterite? Here are two of my most popular Preterite PowerPoints:
Preterite PowerPoint, TPR Story and Interactive Notebook Activities
Spanish Irregular Preterite PowerPoint
Spanish Preterite Power Points and Curriculum  give you everything you need to teach the preterite and enable your students to speak proficiently about what happened in the past.
Don't have time to write lesson plans? These Spanish Preterite Lesson Plans and Curriculum do everything for you so all you have to do is teach, correct, and go home. They include tons of stories, games, and engaging activities.
HOW TO MAKE THE PRETERITE FUN FOR TEACHERS
Well, maybe not FUN, but definitely easier! Google Forms Quizzes do everything for you. They are autocorrecting and editable, so you don't have to spend time creating and correcting your own tests and activities. Below are a few ready-made assessments you can use:
The Preterite Tense in Spanish Google Forms Activities
Spanish Preterite Tense Dar and Ver Google Forms Quiz
GET STUDENTS TALKING IN ABOUT THE PAST IN SPANISH
Once students get enough comprehensible input, get them to talk in pairs and groups. The great thing about paired activities is that students have training wheels, i.e., correct questions already written out to guide them. When answering, they often use the given structure to answer, only needing to respond with the appropriate verb conjugation. And they're FUN for students!
Below are 17 paired and group activities which include LISTENING, SPEAKING, and WRITING activities, competitions, stations, information-gap tasks, and many visuals. Students ask and answer questions, record their partner's answers, obey prompts, and complete many other tasks.
The Eight-Stations Activity is super popular; kids beg to play it again. It keeps students speaking Spanish the entire period.
Spanish Preterite Tense Paired and Group Activities
Preterite Tense in Spanish Eight-Stations Activity
Don't drill and kill the preterite tense in Spanish.  Tell stories, play games.  Make the preterite fun and soon your students will be talking fluidly about what they did and what happened in the past.