5 Reasons to Use Popular Digital Escape Rooms
What are digital escape rooms and why should you use them in your world language class? I will answer both of those questions in this post.
Why should I use a digital escape room?
First, let's talk about the problems a breakout room solves.
PROBLEMS
Lack of student buy-in. "I dare you to entertain me."
Lack of student focus. Grammar anyone? If it's not a video game or movie, the attention span is a minute. (Yes, I teach grammar in between my comprehensible input.)
Lack of student engagement. You're lucky if 80% connect.
Lack of student persistence. Mental discipline is not what it used to be before television and instant technology. Young minds are programmed to focus only if the stimulus is visual and continuous.
Lack of a physical classroom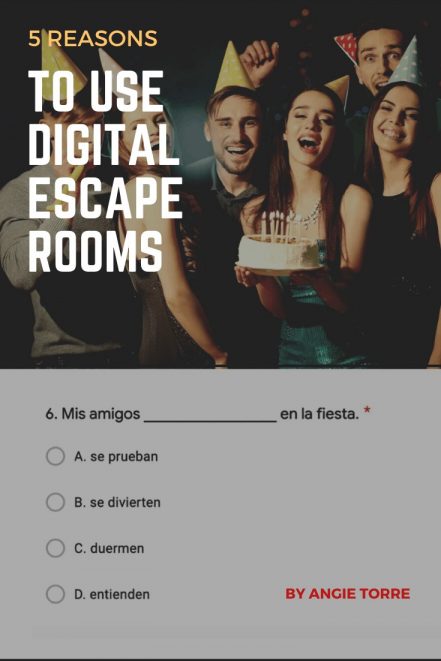 Digital Escape Rooms solve all these problems. Here's how.
Students LOVE Escape Rooms. It's the culture of young people today! When you tap into what they are already doing, you get automatic buy-in.
How do I know this?  When I was working out with my 20-something fitness coach, a.k.a., my tormentor, he would talk to me about how much fun he and his friends were having in Escape Rooms. I said, "What's an Escape Room?" Being rather claustrophobic, I thought that sounded like the last place I'd want to be. But, apparently, breakout rooms are all the rage for Millennials and Generation Z. So, wouldn't you want to incorporate a task into your lesson that your students already love to do?
Students LOVE all things digital so when you assign a Google Drive Activity, it's likely you will get 100% student engagement. I always did. Even my low performers tapped happily away.
3. Ask students to pay attention while you explain how to use double-object pronouns and you'll lose half the class. Tell them they will be playing an Escape Room and they won't be able to escape unless they complete the activities, and they're hooked!
Most tasks that require intense focus will find the class secretly texting their friends or staring into space after a few minutes. But, breakout rooms reel students into laser focus until they succeed in escaping. And then, they'll beg to play another one!
4. You don't need to be in the classroom to assign a digital activity. You can assign an Escape Room virtually. Just give your students the link to the Google site, share the answer sheet with them and tell them to turn in the answer sheet to you when they have finished (proof they have completed all the activities correctly.) You can also require them to take a selfie with the message, "Felicidades" in the background so you know they didn't cheat. Great for distance learning!
Teacher, Alicia Machado gave me that idea. This is what she said about the Escape Room for the Preterite Tense:
I asked my students to complete a google form exit ticket to get credit for the activity.   On the exit ticket they needed to write their names, whom they worked with,  a selfie that included the last message for the escape room that says felicidades (I didn't tell them what it said) and they needed to write all the keys they have typed in.
What is a Digital Escape Room?
Just as in a physical breakout room, students must follow clues in order to escape. Each clue leads to an activity that students must complete, then another clue, until they find their way out.  They must complete each task CORRECTLY before they can proceed to the next clue.
The following are examples of activities used in an escape room:
Answer the questions in a Google slide
Complete the sentences
Watch the video and fill in the cloze activity
Choose the correct answer
Listen to the song and fill in the missing words
Move the objects to the correct location
Read an article and answer questions
Answer multiple-choice questions in Google Forms
Here are some examples of clues you can use:
Colored letters in a text
Words in an article
Hidden items in a photo that students click on
Coded answers (B=2; C=11, etc.)
Fake newspaper articles with hidden messages or letters (Newspaper Clipping Generator)
I almost always include a puzzle in my escape rooms, even though they do not fulfill any instructional goal, because they give students a brain break, and they're fun. I make them super easy, so they only take a minute or two, and then students go right back to reading, listening, interpreting, and communicating with the language.
Below are previews of some digital Escape Rooms I have created to give you an idea of how students progress from one clue and activity to another:
La casa y los quehaceres Escape Room
How do you make an escape room?
You can make an Escape Room in Google Drive using Google Forms and outside apps, such as EdPuzzle, jigsawplanet, YouTube, ifaketextmessage, and Newspaper Clipping Generator, to name a few. However, be prepared! It's a mentally intense, time-consuming task and a difficult process, requiring 15 simultaneously open tabs.
Here is the tutorial I used when I was first learning. ESCAPE ROOM MANUAL
If you don't have the time and you'd rather use a ready-made Breakout Room, the ones listed below might be just what you're looking for. And they are already student and teacher-tested! (A must for Escape Rooms because it's so easy to miss a step and derail the entire chain of tasks.)
Spanish Body and Health Digital Escape Room
Spanish Object Pronouns Digital Escape Room
Digital Escape Room for Ser and Estar
Spanish House and Chores Digital Escape Room
Digital Escape Room for the Preterite Tense
Digital Escape Room for Spanish Stem-changing Verbs
Spanish Digital Escape Room for Comparisons and Superlative
Spanish Digital Escape Room for the Present Subjunctive
Or, save 20% and get all of them in a bundle: Digital Escape Room Bundle
What are Google Drive Activities?
Google Drive Activities are similar to Escape Rooms in that they are digital and of high-interest to students because they get to move pieces around. And, well, they're digital.  They provide comprehensible input AND writing practice. They are also super easy to correct.
Boom Cards and Interactive PowerPoint Games are another type of digital activity. THE PRO of these types of tasks is they self- correct! That's right! NO CORRECTING FOR YOU!
Click on the links below to see examples:
Spanish Stem-changing Verbs Interactive PowerPoint Game
Spanish Numbers Interactive PowerPoint Game (FREE!)
THE NEGATIVE?  They only provide recognition practice, not production.
Click on the following link if you would like to learn more about How to use Google Drive Activities in your World Language Classroom.
Don't miss out on freebies! Make sure to follow my STORE in order to get notified of updates on products, free resources, and new products. Happy teaching!
If you would like to receive these blog posts with teaching tips and freebies in your email, subscribe to my monthly newsletter: BestPowerPointsforSpanish  Just scroll down to the bottom and click, "Sign up."
Connect with me on social media, too!