How to Write Effective World Lesson Plans, Simplified
Would you like to know how to write effective lesson plans?  Honestly, writing World Language lesson plans can be overwhelming at times.  At the end of the day when my brain is most fried, I not only have to be creative but I have to make sure to include all the important elements. So, I'm going to SIMPLIFY the process for you.
How to Write Effective Lesson Plans
       What are the Basic Parts of a Lesson Plan?
A lesson plan must contain certain essential components in order to engage students and lead them to proficiency.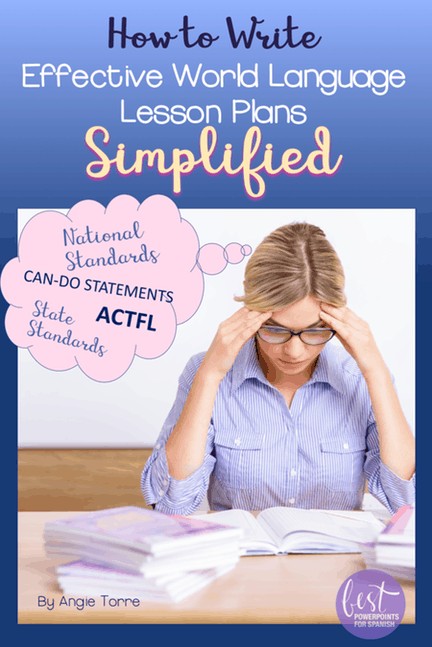 The first component, and the most important, is the learning objective.
Before determining my learning goals, I must first look at the standards.  Um…which ones?  The National Standards, the State Content Standards, the ACTFL Can-Do Statments, The ACTFL Proficiency Guidelines ?
Agh!  I'm so overwhelmed!
Using "Can-Do Statements" is helpful in finding objectives and you should definitely know your State Content Standards.  However, consider my simplified version:  Embed culture (with comparisons of students' own and that of Spanish-speaking countries) and knowledge of other subjects matters; assign tasks requiring the use of the target language outside the classroom; and provide opportunities for students to read, write, speak and listen to authentic resources, not necessarily in every lesson. Now, let's begin planning our daily lesson.
How to write effective lesson plans: Know what your learning goal is. Before creating a lesson plan I always ask myself, "What do I want my students to be able to do at the end of this lesson?
If I don't know where I'm going, I'll never get there.  
First, what function do I want them to perform?  This function should be part of a THEME or topic.  Let's pick "celebrities," as an example, and compare some American stars to a few Spanish-speaking ones (Embed culture).
For example, students will:  Talk and write about famous Spanish speakers; write a comparison of American singers and Spanish singers; describe themselves and others orally and in writing; and write an essay describing the physical appearance and personality of friends, family members and celebrities.
Below are learning objectives taken from my lesson on describing people.  (On the left is a list of items needed for this lesson.)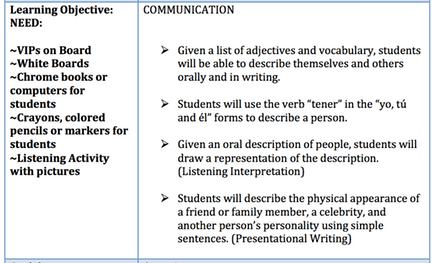 The goal statement must be specific, focusing on action verbs:  Students will write about, listen to, identify, talk about, present orally…"  The more specific it is, the more likely the students will reach the goal.
Second, what knowledge (vocabulary, grammar, cultural facts) do they need to know in order to achieve these goals?  At this point, I make a list of vocabulary and related expressions that will help my students express themselves on this topic.  Otherwise, my students will speak English or use Google Translate because I have not supplied them with the sufficient vocabulary to accomplish the tasks I've given them.
Vocabulary List
Related ExpressionsNecessary  Grammar

   Next, I develop an assessment and accompanying rubric to verify the students can demonstrate the learning objectives in real-life communication.  I always model what the finished product will look like (e.g., "Here's an example of what an A looks like") and give the rubric to the students at the beginning of the lesson so they know exactly what is expected of them.  Otherwise, the results will inevitably miss the mark.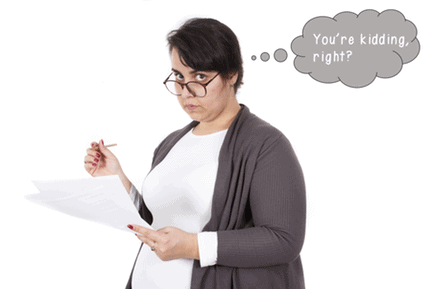 Here is the model I used for the biography students wrote using the adjectives. (Of course, it will have to be modified now that we have a new president.)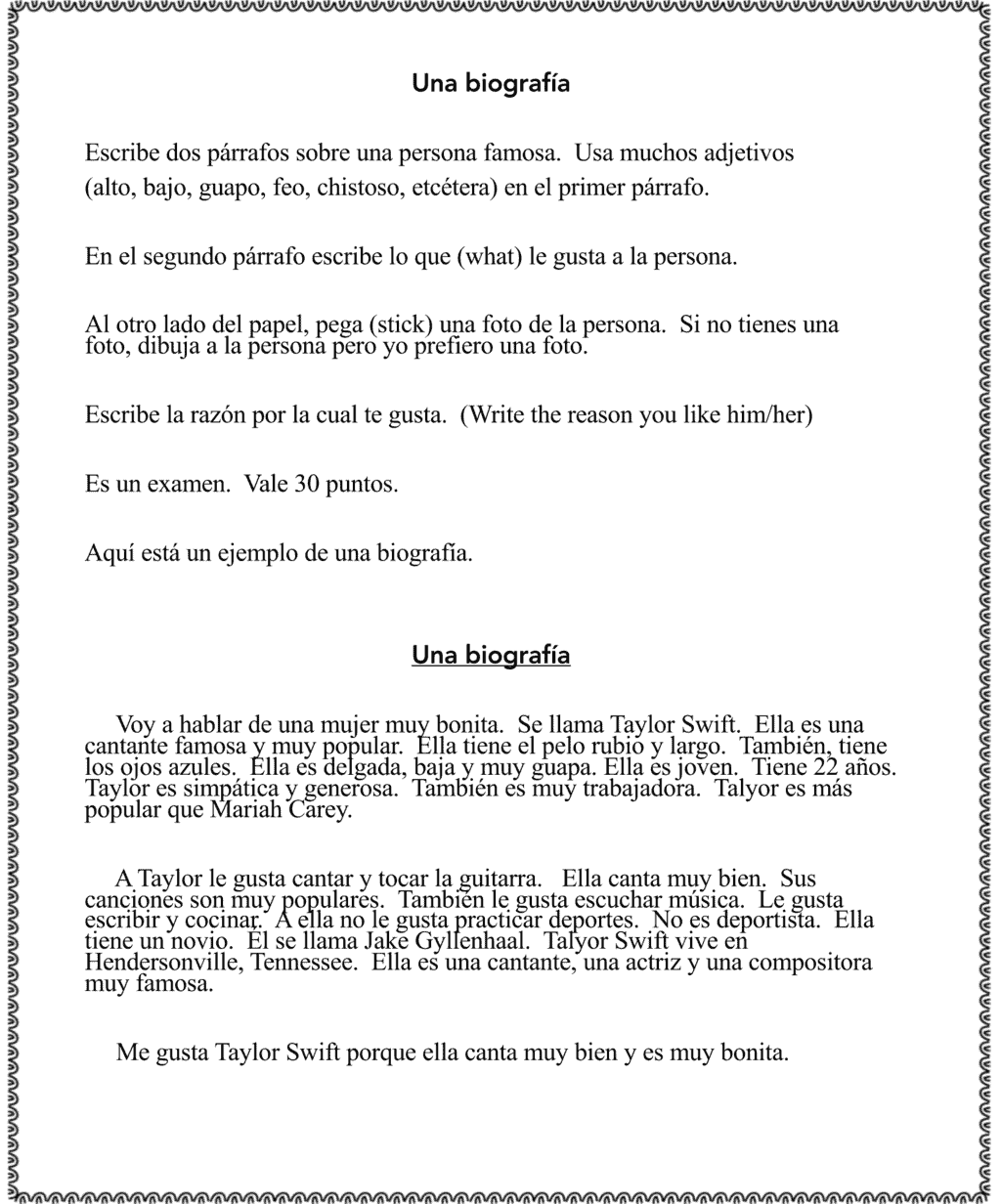 Here is the rubric: (Later on, and in succeeding levels, the rubrics will be written in Spanish.)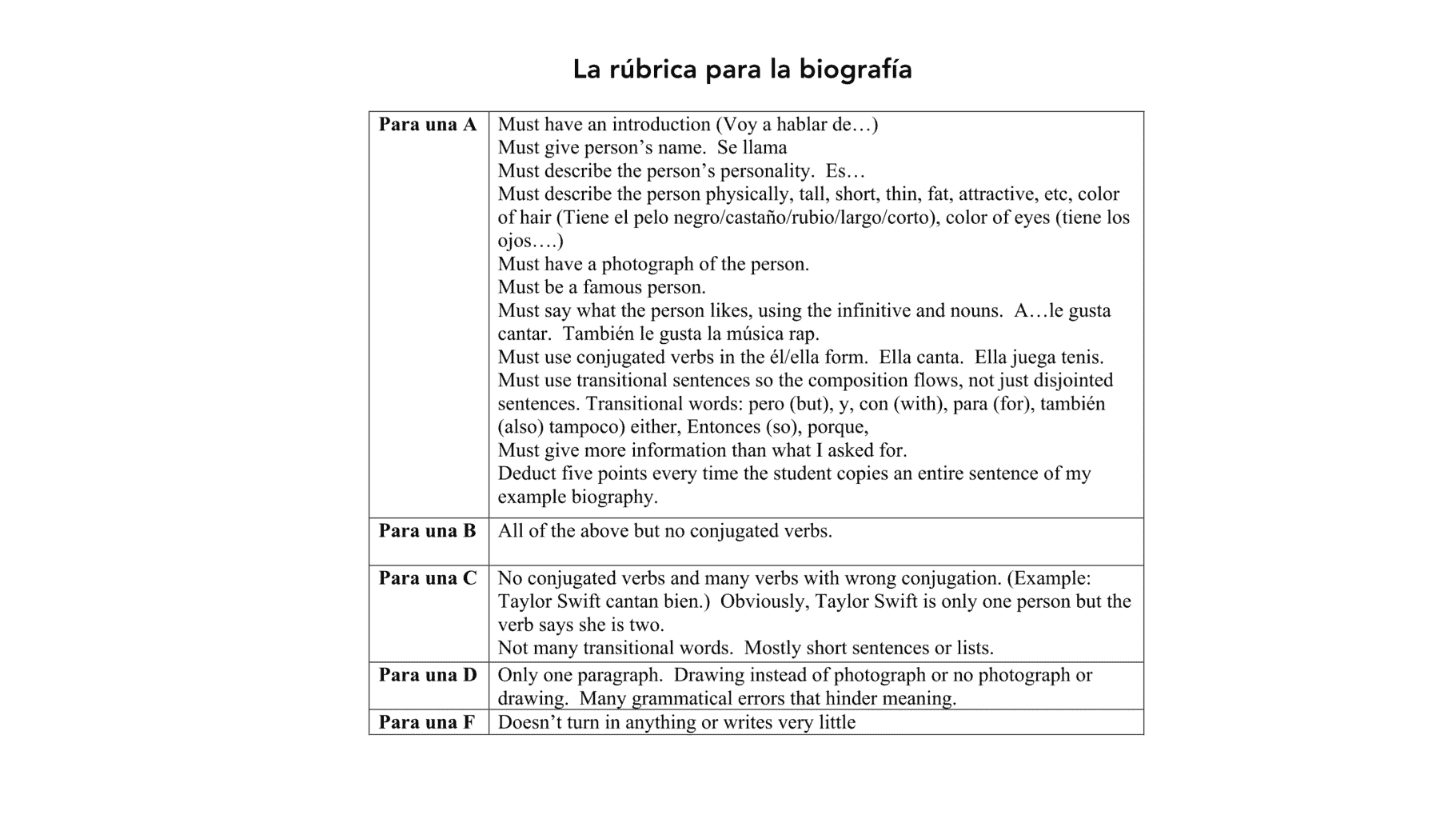 Once I know exactly what I want the students to be able to do, I begin to brain-storm the strategies, resources, and activities that will get the students where I want them to go.

This is the first in a series of eight blog posts on how to write an effective world language lesson plan. Here are the following seven posts:
To receive freebies and notifications of new products, click on the following link to follow my store: ANGIE TORRE
SaveSave
SaveSave
SaveSave
SaveSave
SaveSave
SaveSave
SaveSave
SaveSave
SaveSave
SaveSave
SaveSave
SaveSave
SaveSave