How to Make Remote Teaching Easy with Go Formative
Will you be teaching online in the fall? Want to make remote teaching easy? Are you tired of juggling a million usernames, passwords, sites, and notifications? Of spending hours converting resources to digital? Of trying to collect work from students? Of students cheating? Of wondering how to provide comprehensible input for distance learning? Let me tell you about a super awesome site that will make remote learning easy. It's called, Go Formative.
In this post, I will quickly summarize the benefits of Go Formative and then let three other veteran users of the program give you the details. I will tell you why you want to use it and how to use it to convert existing documents to digital.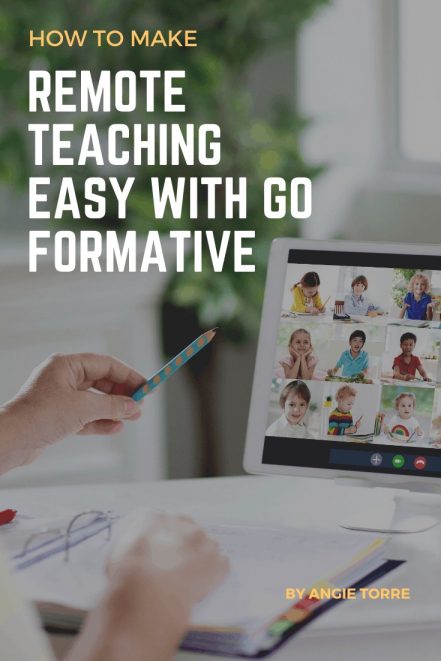 THE MAIN BENEFITS
The greatest benefit of using Go Formative is this: Students only have to go to one site for all their assignments. Many teachers and students complained during the remote learning that they were overwhelmed with all the different sites they had to assign and go to, (FlipGrid, EdPuzzle, Google Voice, Google Forms) but when you use Go Formative, you can embed all those sites into your formative and students always stay in one place. You don't have to bounce around.
It saves tons of time. You can use your own resources for distance learning with very little work and set them up for auto correct. You don't have to spend hours converting your resources into digital! (See video tutorial below.)
You can use it for COMPREHENSIBLE INPUT.  Just put in your instructional audio or video, and students answer with an audio response.
No need to correct. You can put in an answer key and the system auto grades it for you. Woo hoo! You only correct open-ended questions. More time saved!
You can randomize the order to thwart cheating. That solves a huge problem of online learning.
I interviewed teacher Christina Margiore, AKA Super Señora, a veteran user of Go Formative. In the video below, she talks about why she loves Go Formative, how she uses it to convert existing resources into digital, to assign and assess student work, to provide comprehensible input, and much more. Take a look!
SOME BASIC INFORMATION AND OTHER BENEFITS
It costs only $12 a month. If your school won't pay for it, it might be worth it to pay it yourself.
You see live student responses in 15 seconds.
You can create assessments and assignments.
You can add audio, embed, images, text, messages, or video.
Students can answer with audio response, essays, multiple choice, short answers, T/F.
You can upload your own questions or search existing questions in the library. There are quite a few but I found that many use translation.
Student answers appear instantly, and you can type feedback. You can include emojis or images, videos. You can even choose several students at once and give feedback to them all at once, saving time.
It syncs to Google Classroom.
HOW TO USE GO FORMATIVE TO MAKE REMOTE TEACHING EASY:
Click, "New Formative" and the plus icon to add questions, images, audio, multiple choice, T/F, short answers re-sequence (great for interpretive tasks), video, etc.
Click on the plus button to continue creating your assignment or assessment.
Click on the eye on the top right to see how it looks from the student's perspective. Click on devices (WAY COOL!) to see how it will look on each device.
Click, "assign" and choose a class. Voila!
You can add speaking directions (of course, you will want to do that to give students more oral input) and students can also record their responses. (Wow! FlipGrid, Google Voice, and Google Forms plus so much more, all rolled into one!)
Below are three other helpful tutorial videos on Go Formative.
MAKE REMOTE TEACHING EASY: READY-MADE RESOURCES TO USE IN GO FORMATIVE
Teachers have said teaching online presents new problems: 1. Students aren't engaged and 2. Teachers find it hard to provide comprehensible input.
Videos and TPR Stories are great comprehensible input and students LOVE Google Drive activities, especially Escape Rooms.
Below are some ready-made resources that work well for distance learning, provide CI and engage students.
Click on the links below to get the FREE resources, La ropa Google Drive Activity, Dos verbos Video and Pedir Preguntar TPR Story.
Pedir Preguntar TPR Story PowerPoint
Click on the links below to get more CI and digital resources for distance learning.
Spanish Videos for Comprehensible Input
Spanish Google Drive and Digital Activities
Don't miss out on freebies! Make sure to follow my STORE in order to get notified of updates on products, free resources, and new products. Happy teaching!
If you would like to receive these blog posts with teaching tips and freebies in your email, subscribe to my monthly newsletter: BestPowerPointsforSpanish  Just scroll down to the bottom and click, "Sign up."
Connect with me on social media, too!