Absolutely Everything You Need to Teach Spanish One Effectively
In this post, I will talk about the challenges of teaching beginning Spanish and how to overcome those challenges. I will also show you everything you need to teach Spanish One, and provide links to the resources, paid and free (including 100 memes and attention getters).
Spanish One is my least and my most favorite class to teach. It's my favorite because there is not a huge disparity of proficiency in the class. Most students cannot communicate in Spanish and I get to start from the beginning.
It's my least favorite because I must use the target language even though students have no foundational vocabulary. Therefore, I need to use more visuals and realia in order to provide comprehensible input. Literally everything I say must be accompanied with an aid to help students comprehend my message. Beginning Spanish is also challenging because students are less mature, easily distracted, less focused. The flip side of the coin, however, is that they have tons of energy and are a fun group to interact with, if you have all the right resources and strategies.
---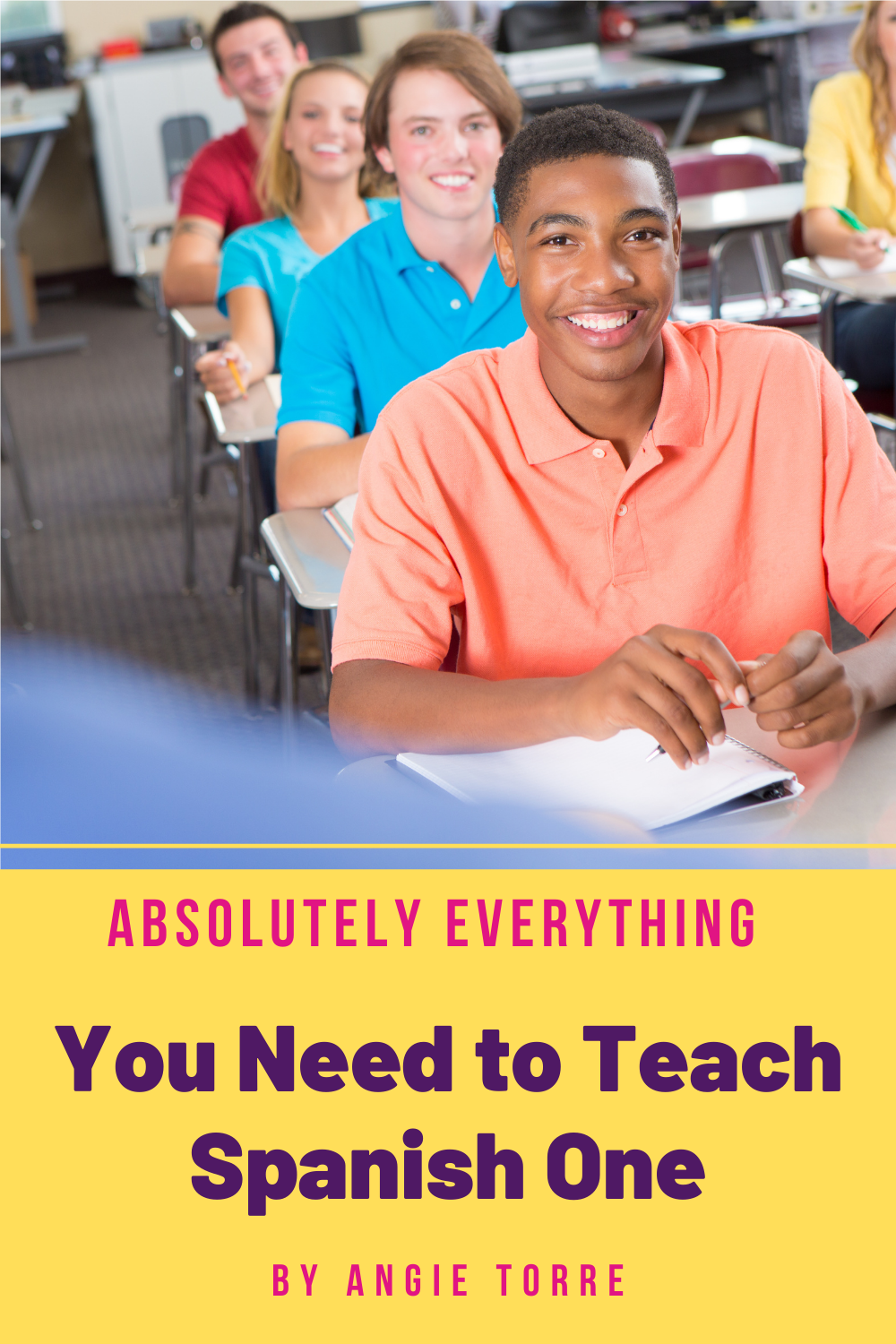 Engaging materials and well-written lesson plans decrease off-task behavior. It has taken years (31 to be exact) to develop and student-test these materials and lessons. Now I will share them with you.
LIST OF EVERYTHING YOU NEED TO TEACH SPANISH ONE
Visuals: PowerPoints, realia, Internet
High Frequency Words and Word Walls
Comprehensible Input: Stories, Listening activities; videos; Gestures and Drama
Hands-on Activities: Interactive Notebook Activities, Google Drive Activities, Digital Escape Rooms
Culture
Games and competitions
Student Handouts
Paired and Group Activities
Classroom Management and Instructional Strategies
Homework
Bell Work
Grammar Instruction
Well-written Lesson Plans
---
1. VISUALS
Since most level One students don't understand Spanish at all, you need a ton of eye-popping visuals. Visuals, so they will comprehend, eye-popping, so they will be engaged, and funny is even better. For visuals I rely on the following:
Here are a few examples:
El tiempo y las estaciones PowerPoint
2. HIGH-FREQUENCY WORDS AND WORD WALLS
In order to teach using the target language, students need a constant visual reference to help them express themselves. Put high-frequency words around the room such as, "hay, tengo, ¿puedo?" etc. Also, label all the objects in the room so that they can easily talk about them when they need to.
Here are a few examples:
Posters and Labels for High-Frequency Words
Spanish Classroom Objects Posters and Word Wall
The most essential ingredient in every world language classroom is comprehensible input. Without it, students will not acquire the language. They will say, ten years from now, "Yeah. I took Spanish but don't remember any of it." Below are some of my favorite ways to provide language in context.
Weather Vocabulary Listening Activity
Interactive Notebooks and Google Drive Activities are my go-to activities for keeping students engaged. The notebooks keep students organized, accountable for their own work, and on-task because they are hands on. Below are a few examples:
La ropa Interactive Notebook Activities
La comida Interactive Notebook Activities
The Google Drive and Digital Activities almost guarantee 100% student participation. Students love moving things around and working on the computer. Also, Google Drive activities are better than pencil and paper for practicing concepts in which word order is different in Spanish than in English. They are perfect for practicing the formation of questions and position of adjectives for example, because students move the parts of speech where they belong.
Here are a few examples of digital activities:
Las preguntas Google Drive Activities
Spanish Adjectives Google Drive Activities
Classroom Objects Google Drive Activities
Spanish Weather Vocabulary Google Drive Activities
Los días y meses Google Drive Activities
You MUST HAVE a few digital Escape Rooms in your repertoire. Students LOVE them! Below are a few examples:
5. CULTURE
Culture is a huge part of language because practices shape it. (And it's one of the national standards so we must teach it.) It's not only an essential component of the curriculum, it draws students in because learning traditions and habits of Spanish speakers is MUY INTERESTANTE!
Below are a few examples of cultural lessons:
6. GAMES AND COMPETITIONS
It's easy to get in a rut when teaching, resorting to the same games and closure activities. Keep adding to your repertoire to keep lessons interesting. Below are a few games my students love:
La ropa BINGO (Comprehensible input because the input is in complete sentences)
The Dating Game (super fun and hilarious)
Numbers Interactive PowerPoint Game (FREE)
Minimaratón (Trivial Pursuit)
Ball Game (FREE – My students love this competition. It gets them up and moving and is great for review or closure activities.)
Students need a visual reference that clearly explains a grammatical concept or lists the vocabulary.
An effective way to get students to participate is to lower the affective filter. In other words, make them feel safe speaking. One way to do that is to have them practice with their peers before they speak individually in front of the class. Below are a few examples of paired activities for listening and speaking.
Classroom Objects Paired Grab Game: Listening Activity
9. CLASSROOM MANAGEMENT AND INSTRUCTIONAL STRATEGIES
If students aren't listening, they won't hear the target language. And they won't learn. I highly recommend attending the Fred Jones Tools for Teaching Workshops. His training transformed my classroom environment and student engagement.
10. HOMEWORK
Anti-homework theories notwithstanding, I assign work to be completed outside the classroom. Research tells me language is learned in little chunks over long periods of time. There is not enough time during the class period for students to assimilate the language. They need more practice.
11. BELL WORK AND ATTENTION GETTERS
Bell Work is a must for students and teacher. The students need to plug back into the prior lesson and the teacher needs a few minutes of quiet in which to take roll and set up for class. The bell ringers in the following bundle have a ton of fun visuals and review questions. Spanish One Bell Ringers
Attention getters serve to hook students into the lesson with humor. I often use jokes, songs, or Pinterest memes that are related to the topic we are studying. Here is the link to 100 FREE Spanish One Attention Getters.
12. GRAMMAR POWERPOINTS AND INSTRUCTION
Oh no! Grammar! The dirty word!!! Yes, I formally teach grammar. Not because students acquire language through grammar (They don't) but because they become literate by studying grammar and writing conventions. I want students to be literate as well as fluent. By that I mean, I want them to spell correctly and express themselves well in written form. I begin with the grammar concept but reinforce it with TONS of repetition in context and CI. Or I begin with CI and explain the grammar afterward. The emphasis is still on input.
Grammar needs to be clearly explained, step-by-step, in short bursts with checking for understanding every few slides, practices, and closure. Below are a few examples of grammar PowerPoints.
Los adjetivos posesivos PowerPoint
How to Form Questions in Spanish
Estar Places and Emotions PowerPoint
13. WELL-WRITTEN LESSON PLANS
A well-written lesson plan is the best classroom management, or at least, a huge component of creating an optimum learning environment. But, learning how to write effective lesson plans can take an entire career. It can be overwhelming! There are so many necessary components: standards, learning objective, equity, comprehensible input, student-centered, lowered affective filter, assessments… It took eight blog posts for me to address the topic. Here is the first one: How to Write Effective World Language Lesson Plans: Simplified
However, if you'd rather not spend hours and hours writing your own lesson plans, use the "Todos Preparados" Lesson Plans and Curriculum. They not only have all the necessary components of an effective world language lesson, they also have all the resources you need (including all those mentioned above), printable and digital assessments, digital versions for all resources, AND classroom management and instructional strategies interwoven into them. ALL YOU HAVE TO DO IS TEACH, CORRECT, AND GO HOME!
If you would like all the curriculum but still want to write your own lesson plans, click on the following link: Spanish One PowerPoints and Curriculum
I hope you have been able to find some helpful ideas and resources for your beginning Spanish class and perhaps everything you need to teach Spanish One.
If you would like to receive these blog posts with teaching tips and freebies in your email, subscribe to my monthly newsletter, Best PowerPoints for Spanish and French. Just scroll down to the bottom and click, "Sign up."


Connect with me on social media, too!

Instagram


LinkedIn


Pinterest


YouTube