How to Teach a Successful Combination Class and Keep your Sanity
When my principal told me I would be teaching a combo Spanish Four and AP class, my heart sank, and I immediately began to stress. Stomachache, tension headache. How was I going to survive with an extra prep to write, and the pressure of knowing admin would be looking at my students' scores?
I had already done the requisite hyperventilating about teaching the AP Spanish class. I wasn't sure I was up to it. And now TWO different levels in one class?
I learned there were not enough students to warrant having a separate advanced placement Spanish class. So, I had to teach a combination class. How do you teach two classes at the same time and keep your sanity? I will tell you how I did it.
But first, I'd like to vent.
COMBINATION CLASSES ARE NOT GOOD FOR HIGH SCHOOL TEACHERS OR STUDENTS
Merging middle or high school world language grade levels is not optimum to say the least. It punishes both teachers and students. (BTW: If you are an elementary teacher, here is a post to help you: How to Teach a Combination Class)
HOW IT PUNISHES THE COMBO TEACHER
Teachers today have too much on their plates already! For a combination class, we must write two lesson plans instead of one, (for the same pay) and that is the hardest part of the job, in my opinion. That added about two hours of planning time to my day.
Also, there is no downtime for the teacher. He/She is always on, running from one group to the next, teaching while one group practices, then switching. When teaching only one level, the instructor gets a mental and physical break while students practice. Of course, we walk around, answer questions, guide, but that takes a different amount of energy than the song and dance of direct teaching. Broadway actors have nothing on us.
Lastly, it is a HUGE challenge to maintain good classroom management.
---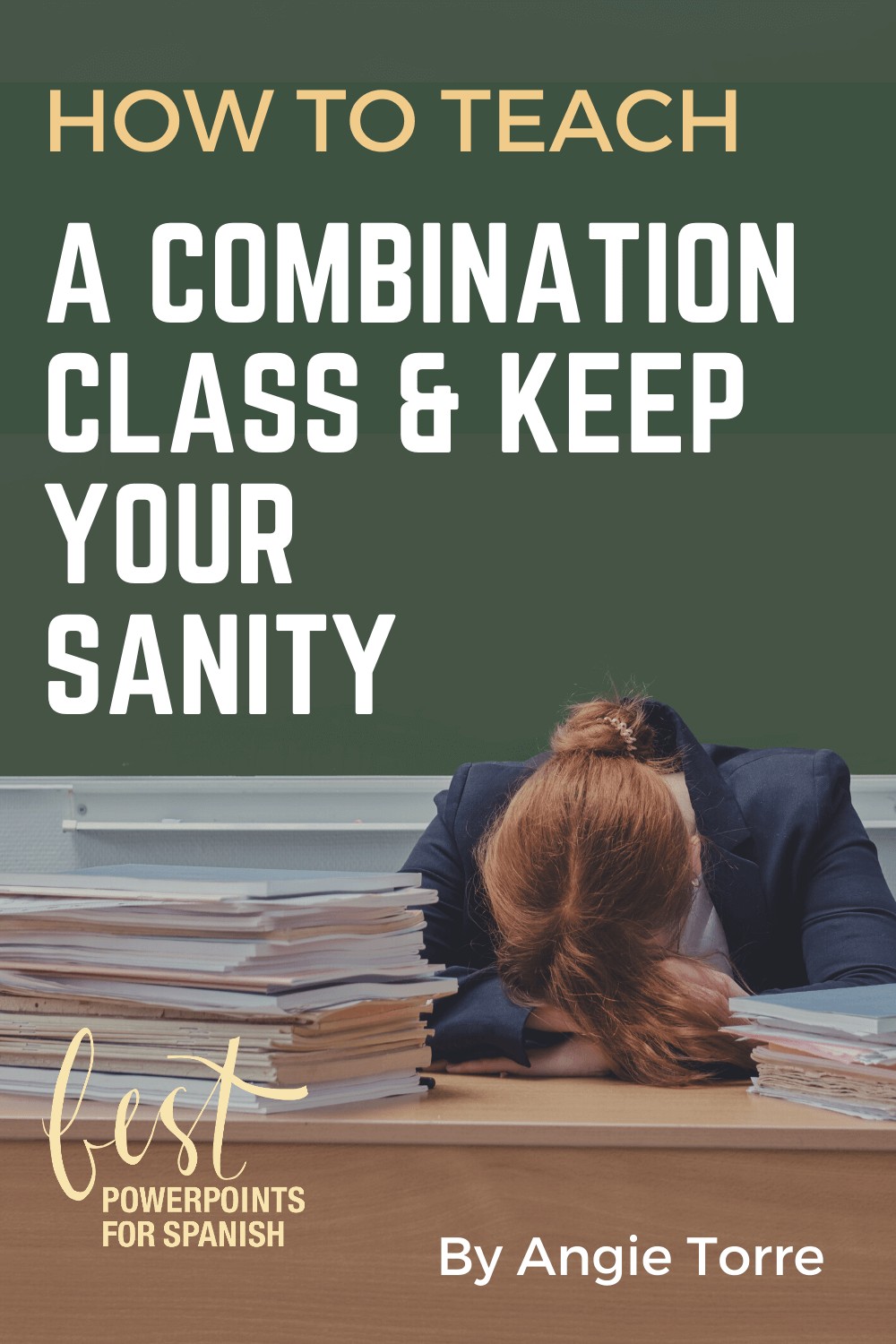 HOW IT PUNISHES THE STUDENTS
Students suffer from a lack of support and attention. The teacher is unavailable to answer questions during practice time so they must fend for themselves or rely on other students.
I guess we've progressed a bit from the one-room classrooms of a century ago. But not much.
OK, I FEEL BETTER NOW. I HATE INJUSTICE, DON'T YOU?
After I taught the Spanish Four / AP combo class, I decided to do all in my power to entice students to take the AP Class. I advertised in the school paper, in the school media (TV), and sent letters to parents about the program. The following year, I had enough students to teach a separate class. Yay!
NOW, BACK TO REALITY. HOW DO I TEACH MULTIPLE CLASSES IN ONE CLASS?
---
TEACHING TIPS FOR A COMBINED CLASS
When the above scenario is not possible, we must teach two different grade levels in one classroom. Here is how I taught the Spanish Four / AP class.
WARM-UP
I gave a warmup to both classes while I took roll and completed my preparatory tasks. Usually, I gave different warmup activities to each group.
DIFFERENTIATE
I gave the more advanced class detailed instructions similar to those I would leave for a substitute because I would not be there to clarify or answer questions. Students had to work independently. Many AP tasks involve reading, listening, and answering comprehension questions which can be done, though not optimally, without a teacher present. This is an exception in most cases, however.
EFFECTIVE LESSON PLANS FOR A COMBINATION CLASS
It must be said: It takes three times longer to write lesson plans that you would leave for a sub and the same is true if you are writing lesson plans that students must follow in your absence. That's the unfortunate reality.
HOW TO MOTIVATE THE INDEPENDENT STUDENTS
It's important to note that AP Spanish students are highly motivated because they know that, to pass the exam, they must put in the work. However, even with that catalyst spurring them on, I made sure to include good tension in the lesson. By that, I mean, telling students (in the target language, of course) what the learning objective is and what they will be DOING at the end of the lesson to demonstrate mastery.
FOR EXAMPLE:
Today, you will listen to an audio and answer comprehension questions. The activity is worth 15 points. Then, you will read an essay and assign titles to each paragraph. This activity is worth 30 points.
When working with lower levels in a combination class, it is imperative to begin the lesson with good tension. Otherwise, students will not spend the time productively and they will not learn.
SPANISH TWO EXAMPLE:
Today we're going to study the direct and indirect object pronouns. Then, there will be a competition.
STUDENT POPULATION
Administration plays an important role in supporting the teacher and promoting the success of students in a combo class. Since combination classes are far from ideal, the administrators and counselors must place higher-performing students into such classes. Otherwise, classroom management problems hinder student learning.
Keeping class sizes smaller also aids the learning process.
TEACH AND PRACTICE
The best way to teach students of different skill levels is to follow a teach and practice cycle. I taught the lower level, then gave them a practice activity so they could master the concept. Then, while they were doing the activity, I would RUN to the other side, answer questions, go over the activities, and teach them, or give instructions for another task. IT WAS EXHAUSTING!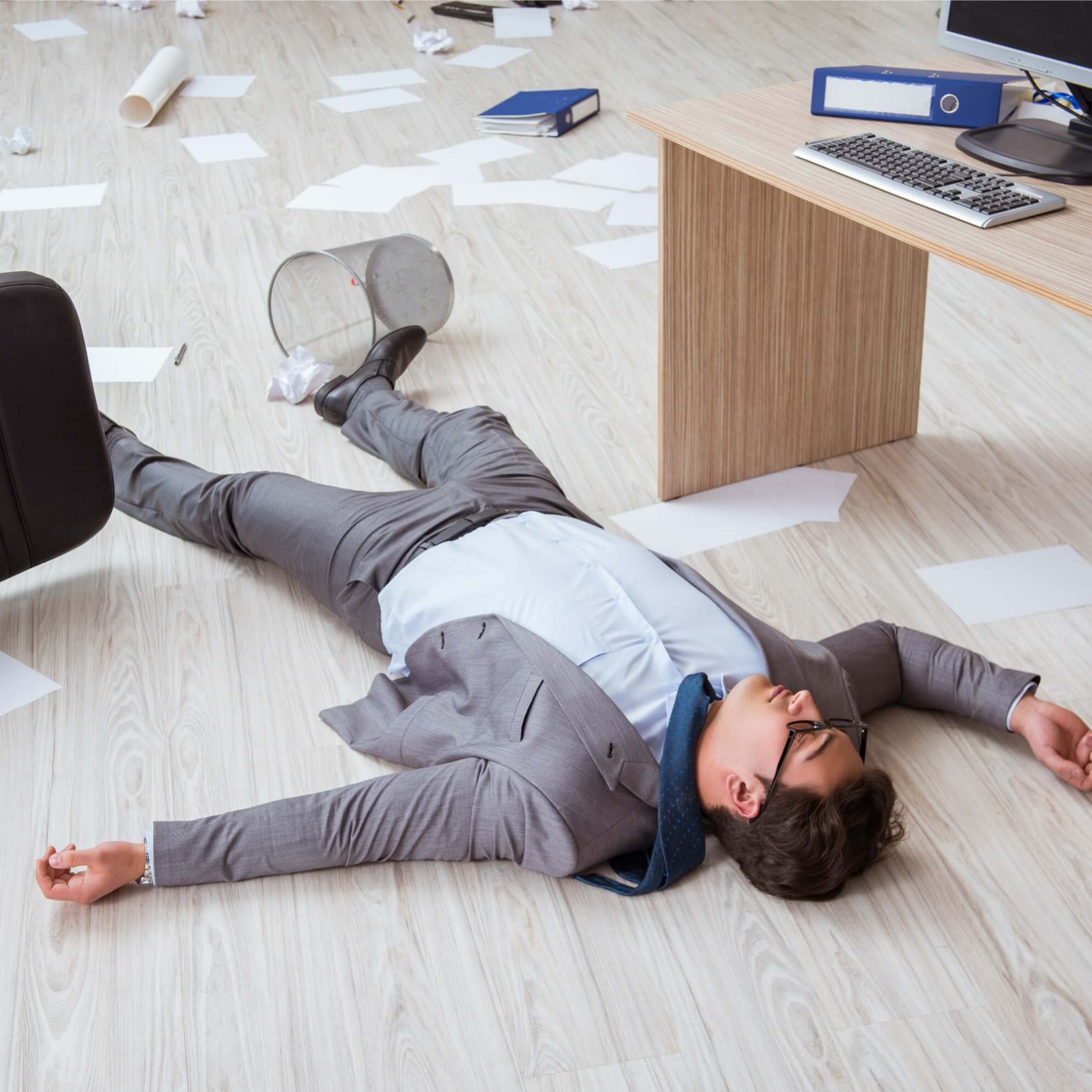 WHOLE CLASS INSTRUCTION
Some of the instructional objectives and standards are the same for Spanish Four and AP, and this is also true for all other levels, so I recommend whole group lessons when possible. I taught the concepts and main ideas together when they overlapped. Of course, the AP students were more advanced so, even though the concept was the same (subjunctive, for example) I gave them a more difficult practice and homework.
INDEPENDENT STUDENT WORK
Comprehensible input is a necessary component of any lesson plan since students acquire the language through meaningful messages and repetition in context. A good task to give one group of students while you are directly teaching another is reading with pre and post-reading activities.
Another good choice for independent work and CI are videos. They are so much fun for students! They can watch the videos on their cell phones (if allowed) or in an adjacent room. Speaking of which…
PHYSICAL LOCATION PROBLEMS OF A COMBINATION CLASS
I once observed an elementary teacher conduct a combo third/fourth-grade class. The noise was intense and the class chaotic. This doesn't mean students weren't learning. It just means it was more difficult for them to concentrate because they were in such proximity to the students in the other class.
When I taught the split classroom, my advanced students were in the adjacent room where I could see them, but they were not distracted by what we were doing. I recommend this arrangement when possible.
DAILY SCHEDULE SETS
There was never enough room on my board to display all the messages I wanted to convey. However, I wrote the daily agenda and homework for each class on different parts of the board and on different boards.
TEAM TEACHING IN A COMBINATION CLASS
By team teaching, I am referring to my other helpers: Teaching assistants (T.A.s) and higher-performing students. Sometimes, after explaining the competition to my lower-level students, I would have my T.A. officiate and/or mark the points.
I also put students into pairs and groups of different ability levels so they could help each other. However, that was a challenge when trying to keep the class functioning in the target language. When I did that, I always gave students a list of interactive vocabulary and expressions useful for the particular activity. Partner and group work also fosters community.
DON'T REINVENT THE WHEEL
The most time-consuming part of teaching, particularly AP classes, is lesson planning. I have some free AP Spanish resources that may save you time. Click on the following links to get them:
FREE AP Spanish Lesson Plan on the Argumentative Essay
I have also spent years writing daily lesson plans for Spanish Four and AP. They are student-tested and they do everything for you! All you have to do is teach, correct, and go home. Click on the links below to get them
Spanish Four Lesson Plans and Curriculum for an Entire Year
AP Spanish Lesson Plans and Curriculum for an Entire Year, Vista Higher Learning
AP Spanish Lesson Plans and Curriculum for an Entire Year, Triángulo aprobado
THE GOOD NEWS
All my Spanish Four students succeeded with several of them advancing to AP Spanish the following year.
All my AP Spanish students passed the AP Spanish Language and Culture exam with high test results at the end of the year.
I was spent but happy.
I hope my experience helps you navigate the challenges of teaching mixed-level classes, lessens your anxiety, and provides you with some effective ways to teach classes of split grades. If you have any questions, I am happy to answer them. My email address is [email protected]
OTHER BLOG POSTS THAT MAY INTEREST YOU:
Three Tips for Teaching AP Spanish Language and Culture
Simple Tips on How to Teach the AP Spanish Email Correo
How to Teach the Argumentative Essay for AP Spanish

If you would like to receive these blog posts with teaching tips and freebies in your email, subscribe to my monthly newsletter: Best PowerPoints and More for Spanish and French Just scroll down to the bottom and click, "Sign up."
To receive freebies and notifications of new products, click on the following link to follow my store: ANGIE TORRE
Connect with me on social media, too!